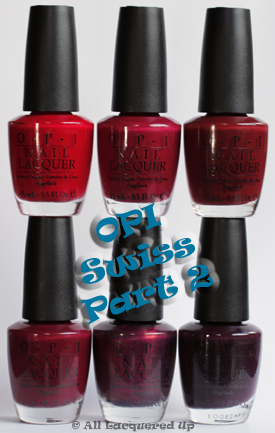 So today I have the second half of the OPI Swiss collection for you.  Like the backdrop for the white cross on the Swiss flag we're in all red territory.

I'm sure it's no surprise to you to hear that the idea of doing an all red post doesn't exactly jazz me.  It's just never been my color.  I have a few staple reds that I turn to again and again but overall it's just not my bag.

However, because I know there are people as fanatical about reds as I am about greens I wanted to share them with you.  And because the formula of all six of these polishes is so stellar, I actually liked a couple of them enough to add them to my stash.  Curious about which ones I gave high marks? Read on to find out!

Application and Formula: OPI is a 3-Free brand. They made the switch to 3-Free in 2008. You can identify an OPI with the 3-Free formula by the green lettering on the label. Bottles with black lettering have the old formula. Always check the labels to be sure. The OPI Pro Wide brush is flat, wide and medium in length. It's of an average stiffness and easily spreads out on the nail when pressed. The only downside to the Pro Wide brush is that it can be too wide for slim fingers or little toes.
Like the first half of the collection the application was perfect. They flowed easily on the nail making it simple to get a flawless three stroke application. Though unlike the first half, the pigmentation is spot on! All of the polishes were completely opaque with two coats though the darker cremes are so packed with pigment they barely needed the second coat. This may not be my fave color family but I can still appreciate an outstanding red creme.
Color So Hot It Berns is a bright red creme like the color in the Swiss flag.  It's slightly warm but not orange-y.  We're not talking tomato territory here.  To my eye, it looks pretty neutral in the bottle so it may just look warm against my skin.  You can see slight VNL (visible nail line) with this one but my tips tend to stand out.  With a ridge filler, that wouldn't have happened.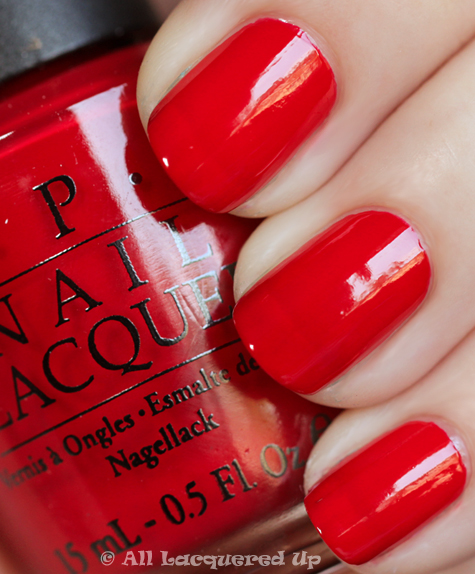 From A To Z-urich is a burgundy red creme.  When I say burgundy I don't mean the deep, dark wine we associate with the word but more like the actual color of burgundy when it's poured in a glass.  This is really lush with its berry undertone.  Though can I complain about the name for a hot second?  I know that OPI is all about the play on words but the overuse of dashes in their polish names make searches challenging. Don't you agree?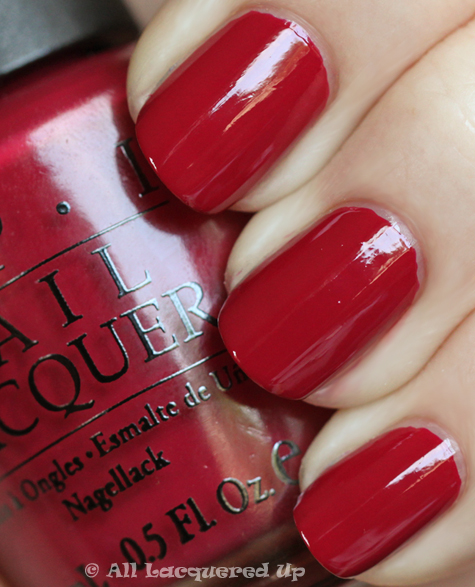 I'm Suzi and I'm A Chocoholic is a warm, brick red creme.  I know it's described as being chocolate but it's just not brown enough for that.  This is more like a paver stone than a candy bar.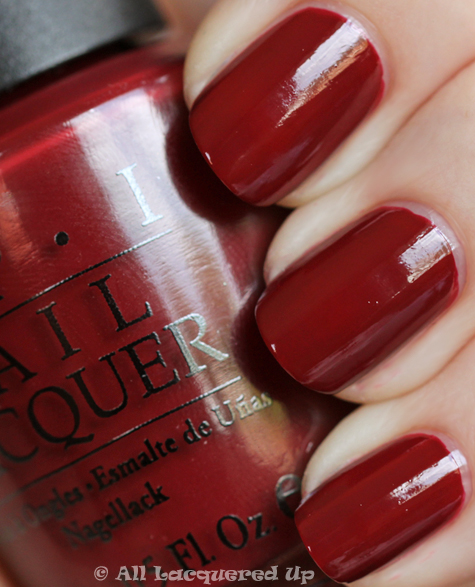 Just A Little Rösti At This is a deeper version of From A to Z-urich.  They have similar undertones with their berry bases and look a lot like sisters.  Rösti being the older, more seasoned, darker sibling.  I have to give OPI props for this name though.  I don't know why but it makes me a chuckle, in a good way.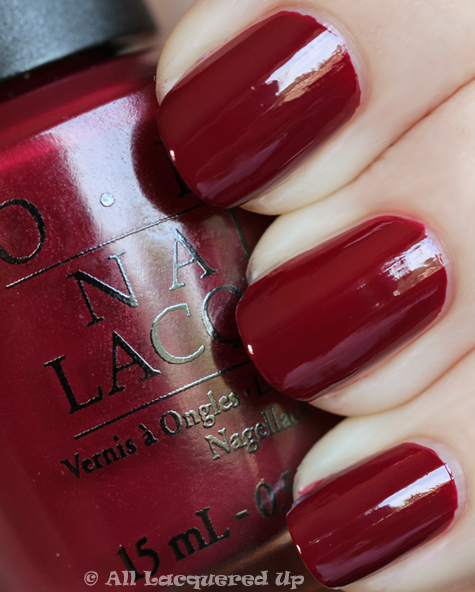 Diva Of Geneva is the lone shimmer in this group and with its ribbons of rosy metallic glimmer, it definitely stands out.  The shimmer looks more like a pearl than a shimmer as it lights up the deep magenta base.  I'm really digging this one though it strikes a resemblance to one of the 90210 shades, no?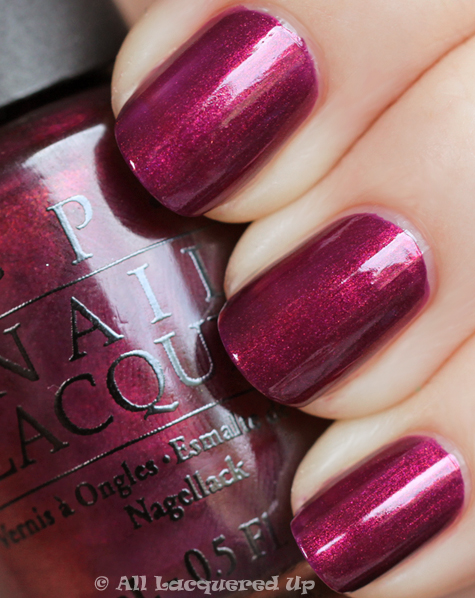 William Tell Me About OPI is a vampy, raisin creme.  In the bottle I thought it was more of a blackened plum, a lighter version of Lincoln Park After Dark, but on me I see hints of brown.  Based on the bottle shade I certainly wasn't expecting that.  I do like that it's light enough to escape "almost black" territory which has always been my main issue with fan fave LPAD.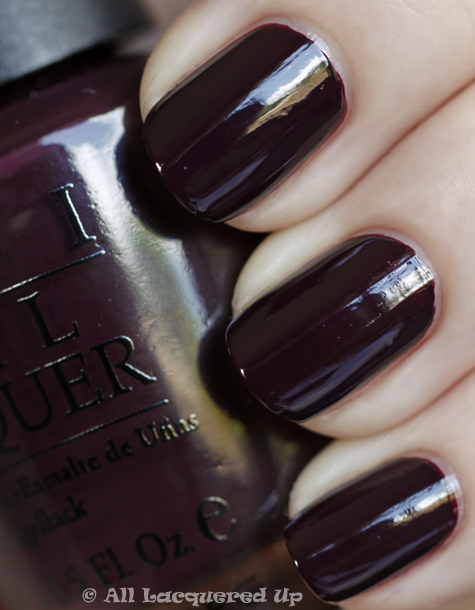 Bottom Line: The first half of the Swiss collection has my heart, no doubt, but if you're in the market for some high quality reds these won't let you down.  I'm personally hanging on to From A to Z-urich and William Tell Me About OPI.  They both fill needs in my collection and their flawless application and finish impressed me.  I think overall the Swiss collection contains some great basics to round out a collection but long time polish haulers may want to take a pass.
The OPI Swiss Collection officially launches August 1, 2010 but I hear it's already popping up on shelves across the country. OPI polishes retail for $8.50/ea for a .5oz bottle and can be purchased at salons nationwide including chains like Beauty First, JC Penney Salons, Regis, Trade Secret and ULTA.
So which Swiss colors made your cut?  Have any of the reds impressed you?  Fanatics with an undying love for red, do you see any shades here that are truly unique or must-haves?  I'd love to hear from people who take their reds as seriously as I do my greens.
Remember, let's hear those comparison requests. Don't forget to get your Vintage Vixen & RBL requests in by tomorrow, Friday, before I finish them this weekend.
Disclosure: Product samples were furnished by OPI. For more info view my Disclosure Policy.