TGIF Fanatics! I say we start this weekend off right with a punch of color from the China Glaze Avant Garden "Blooming Brights" collection.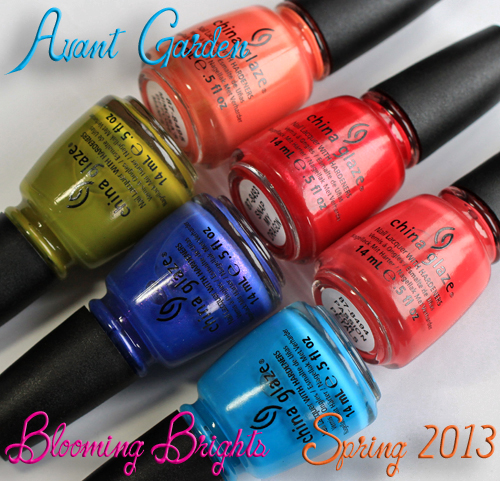 If the subtle softness of the Avant Garden "Pastel Petals" isn't your thing, then these bold, kicky shades will fit the bill. I just finished my weekend manicure using two of the shades (see below). Now, that's my kind of "happy hour."

Formula & Application: China Glaze is a 3-Free brand with a round brush that is both medium in length and firmness with enough give to allow for ease of control. The cap is slightly tapered and made of smooth plastic that is comfortable to hold.
The creme polishes in the collection apply with a squishy, jelly-like texture that is easy to maneuver. With the exception of Budding Romance they are very well pigmented so I only need two coats for full coverage. The three shimmers were much smoother and more pigmented than the ones in the Pastel Petals collection though the shimmer is finer, not as fleck-like. They too applied flawlessly requiring only two coats.

China Glaze Budding Romance is a mossy, yellow-green creme. Pea Soup would be a better name for this color. I know there is a small, but vocal, legion of fans for this type of funky green nail color, I'm just not one of them.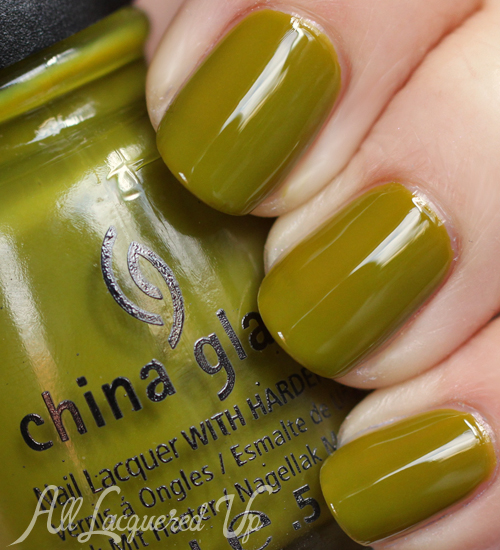 China Glaze Fancy Pants is a vibrant indigo with fine bright purple shimmer. The shimmer isn't overly prominent on the nail but it gives the color an overall glow that is pretty spectacular.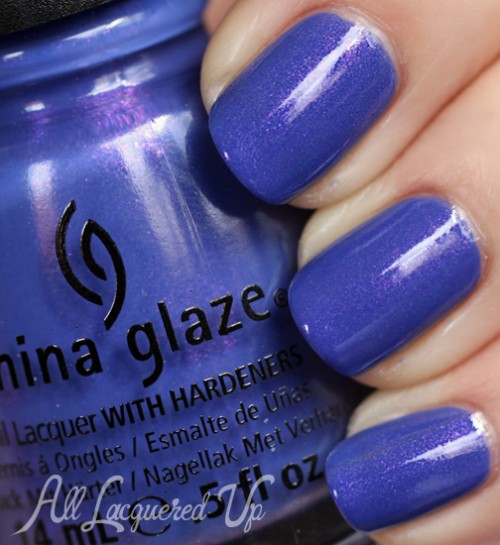 China Glaze Mimosa's Before Mani's is an orange-leaning coral with gold shimmer. The gold gives the overall look a sun-drenched peach quality.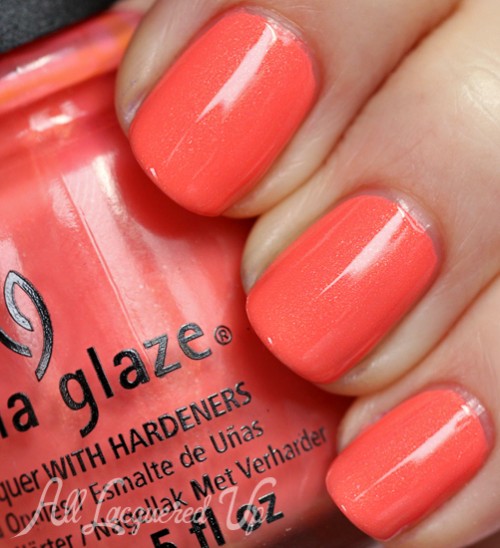 China Glaze Passion for Petals is described as a salmon pink creme but to my eye it's more carnation pink. Though I guess if we're talking raw Coho salmon, I would agree.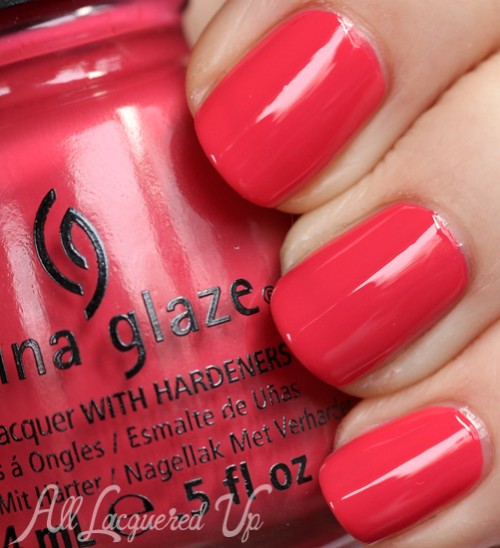 China Glaze Snap Dragon is a scorching fuchsia with fine bright pink shimmer. China Glaze describes it as a red but it's too pink to me.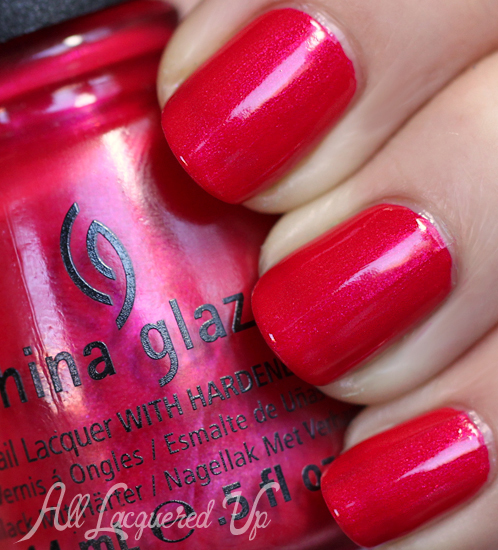 China Glaze Sunday Funday is a bright true blue. Therre's no aqua leanings or purple undercurrents. It has that look of a brand new pool liner, before the sun and chlorine fade it to a sky blue shade.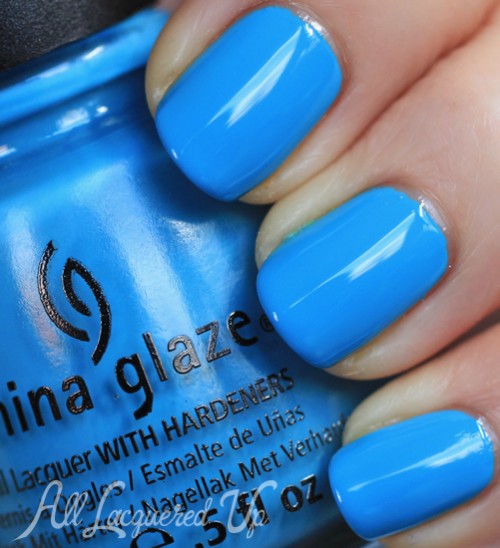 I've been loving all the Sideways French Manicures that have been popping up on Instagram and Pinterest, like this one by StephStoneNails, so I decided to take a stab at it with Snap My Dragon and Fancy Pants. I used French tip guides to get a precise line and I really love how it turned out.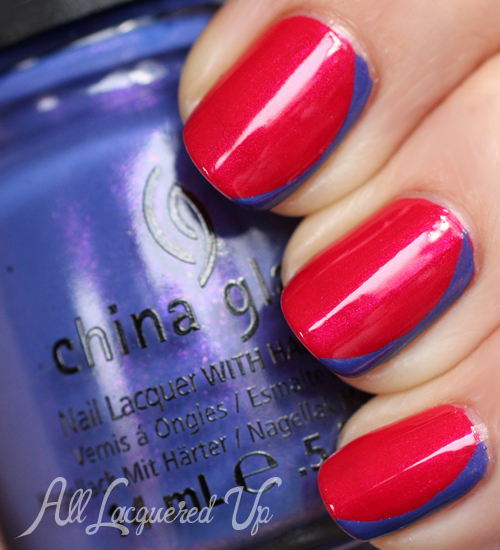 Bottom Line: Fancy Pants is beyond gorgeous and I know it will be one of my go-to pedicure colors this summer. It's a MUST in my book. Sunday Funday is a great addition to your collection if you've been looking for a true bright blue that isn't neon and while I'm not normally drawn to shades like Snap My Dragon, its intensity pulls me in. As much as I love greens, Budding Romance is one of the worst shades I've ever worn. I don't "get" that type of color and it doesn't "get" me or my skin tone. Sorry, not sorry.
The China Glaze Avant Garden "Blooming Brights" are available now at salons and professional beauty supply stores nationwide including Sally Beauty and ULTA. To locate a retailer near you, visit ChinaGlaze.com. China Glaze nail polishes retail for $7/ea for a .5oz bottle.
Thoughts on the Blooming Brights? Which ones will you be adding to your collection? What do we think of the Sideways French Manicure? Is this a look you've tried or are willing to try?
Disclosure: Product samples were provided by reps for China Glaze. For more info view my Disclosure Policy.