How many of you joined me in playing, "Irish for a Day" yesterday? Here in Cleveland, thousands of us faux-Irishmen braved the chilling temps to watch the St. Patrick's Day parade, bar hop and don more green than Lady Gaga's Kermit the Frog dress. While lots of people worked up elaborate ensembles, I relied on my Lucky Charms tee & pool felt-colored pea coat and focused on my nails.
Being the green nail polish fanatic that I am left me with Helmer drawers filled with decisions. I pulled over 15 colors and tried multiple nail art ideas on practice wheels, to the point that I ended up wasting too much time to actually execute them. Typical me!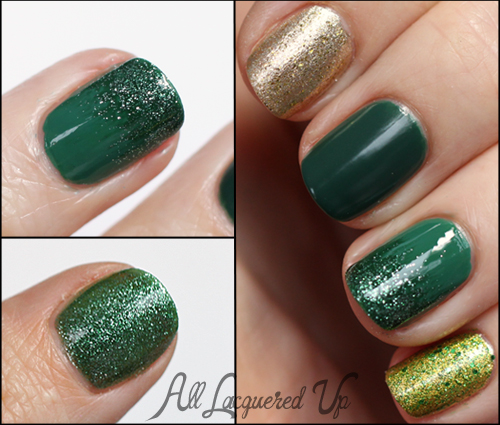 At the end of the day, I spent all that time working on something only I would notice. I mean we are talking about being surrounded by drunks who could care less about nails. So, I just slapped on the colors I was drawn to most. A different color on each nail, adding a layer of glitter here and there with a simple glitter gradient on one. Nothing mind blowing but still fun and totally me.
What I used: China Glaze Mistletoe Kissses (thumb & glitter gradient on ring), Illamasqua Kink (middle), Julep Emilie (ring), LCN Halo of Angels (top layer of index), Orly Here Comes Trouble (top layer of pinkie), Orly Luxe (base of index and pinkie).
How do you celebrate St. Paddy's Day? Did you wear a special mani for the day? What is your ultimate St. Patrick's Day emerald green nail polish? China Glaze Emerald Sparkle is definitely mine and it took all my willpower to not give into the hold it has on me. 
Disclosure: Product samples were provided by reps for the brands. For more info view my Disclosure Policy.