New from Illamasqua – Descend into the riotous scene of erotic adventure that is THE THEATRE OF THE NAMELESS, nocturnal den of the dissident leaders of underworld subcultures. Exotic dancers rub shoulders with expressionist actors and performers; nudists and Boot Girls openly compete for the Conférencier's eye; and all participate in the Club's endless, pleasure-seeking rituals, immersing themselves in a heady world of sensual delight …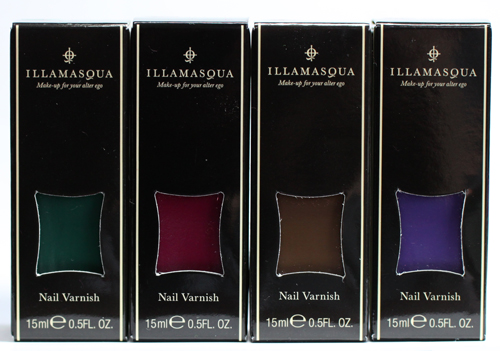 As part of Illamasqua's Fall 2011 collection, Theatre of the Nameless, the cult UK brand is introducing four new Nail Varnish shades with a waxy, rubberized finish. Taking a lead from the colour-coded specialities of the Wittenberg Platz's domineering Boot Girls, Illamasqua introduces confident new shades in Taint (Stone Brown), Kink (Bottle Green), Vice (Deep Cerise), and Faux Pas (Blue Violet).

Formula & Application: Illamasqua is a 3-Free brand based out of the UK that sells their products exclusively at Sephora in the US. The bottle has a removable outer cap that reveals a small ribbed inner cap that can be used for application though I prefer to just leave the outer cap on while polishing. The brush is thin and round and reminds me of the old OPI non-Pro Wide brush. For the Theatre of the Nameless collection, the caps are rubberized to mimic the nail polish finish.
The consistency of all four polishes is thin and a bit jelly-ish but pigmented. Though I noticed that, due to the texture, the polish can look a bit thin at the tip of the nail so make sure you wrap your tips to avoid any opacity inconsistencies. In spite of that minor application road bump, I managed to get all the shades opaque in two coats.
The rubberized finish in this collection has also been called a "wax coat" or "plastic" finish. We've seen this type of finish in the Orly Plastix collection polishes and from satin finish top coats like Orly Nails for Males and Barielle Matte-inee. Like matte nail polishes, in order to sustain the rubberized look you can't apply top coat unless it's one with a similar satin finish.

Illamasqua Kink is a rich forest green creme though the finish gives it somewhat of a garden hose appearance. Obvi I couldn't wait to put it on. Okay, clearly I need to stop watching Awkward. now that "obvi" has slipped into my lexicon. Who am I?  Anywho, I actually swatched Kink before I left for NYC. I dropped everything in the midst of my packing nightmare to put it on.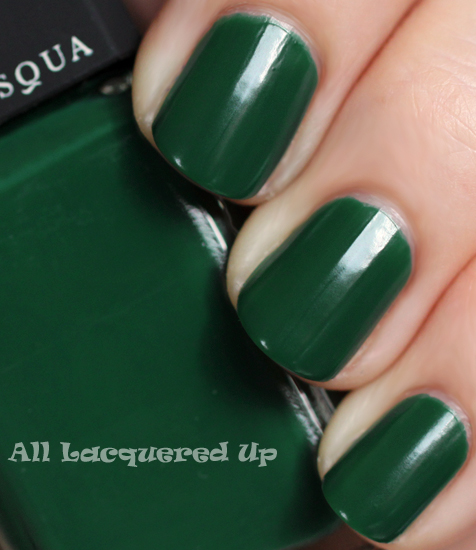 Illamasqua Faux Pas is a sultry purple that leans more blue than red but only slightly so. In comparison with the somewhat dusty looking Orly Purple Pleather, Faux Pas is darker and richer. It looks like a satin version of China Glaze Grape Pop.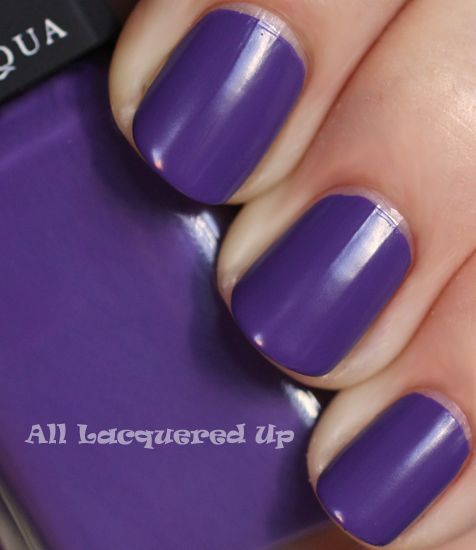 Illamasqua Taint is a muddy, yellow-based brown creme. The jaundiced undertone of this color makes it more suitable to warm skin tones than cool in my opinion. And even though the word has a totally legit definition, I can't help but giggle like a twelve-year-old boy over a brown polish being named taint.
Vice is a lush raspberry creme. It made me think of one my makeup bag staples, Stila Pomegranate Crush Lip & Cheek Stain. I'm a sucker for a stain and that one is so fall, just like Vice. Is it just me or does this color have a bit of a velvet look thanks to the finish?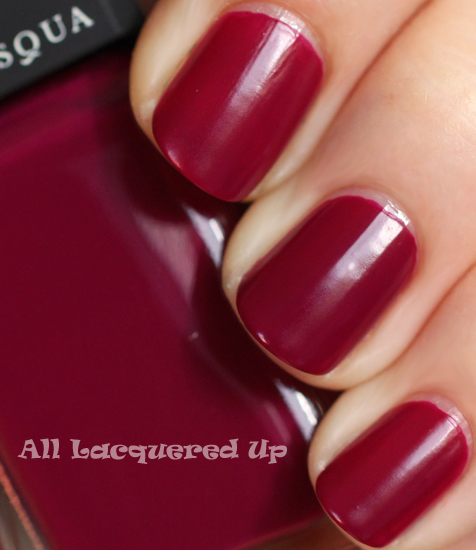 Bottom Line: Matte is so 2009 and even though the satin/rubber/wax look polishes have been around, for some reason, in this collection, they seem fresh. Maybe it's the sexy, bondage feeling they evoke in conjunction with the exotic underworld this collection represents. Kink and Faux Pas are no-brainer favorites of mine but Vice is a solid runner-up in spite of my general aversion to all things red and pink. Taint just does nothing for me, regardless of its name.
Illamasqua Theatre of the Nameless Nail Varnishes are available now at Sephora stores nationwide and online at Sephora.com and Illamasqua.com. Illamasqua Nail Varnishes retail for $14/ea for a .5oz bottle.
How are we feeling about these rubberized polishes? Is this a finish you would wear? Which ones do you plan to buy? Between matte and satin, which finish do you prefer?
Disclosure: Product samples were furnished by Illamasqua. For more info view my Disclosure Policy.