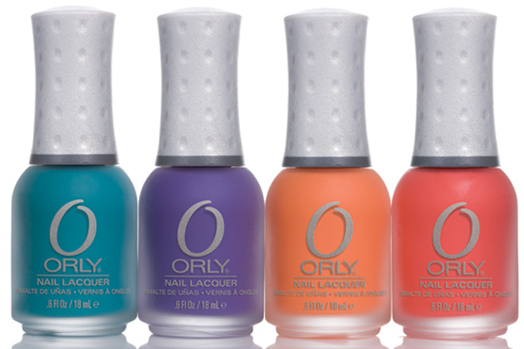 "Gretchen, stop trying to make FETCH happen! It's not going to happen!" – Regina George leader of "The Plastics" in Mean Girls.
For the past year now nail polish brands have been trying to "make fetch happen" with a seemingly never ending barrage of matte nail polishes.  My lazy, always-running-late self loves mattes for their quick dry time and I know I'm not alone but the detractors seem to be in the majority.  I get it.  The wear issues and flat wall paint finish aren't exactly selling points and most certainly deal breakers for a lot of you.
Enter Orly's twist on the game, the Plastix Collection, a set of four satin lacquers.  Like their Nails For Males and now discontinued Matte Top Coat these polishes dry with a semi-gloss "plastic" finish.  This isn't the first time we've seen this type of finish but it hasn't come in fun colors until now.  The Fall runways featured lots of satin nails as well which is why I'm declaring Satin is the new Matte.
Formula and Application – Just like the matte polishes these are meant to be worn without top coat.  There was no warning about using a base coat so I suggest doing so.  Just wait until a few minutes for the base to dry to avoid any unevenness in application.  A tacky base coat like Orly Bonder or CND Stickey would be my preference.
The formula on these is thin and flows well.  It has a bit of a squishy, jelly texture similar to Orly Charged Up.  The pigmentation is better with the purple and teal shades requiring only two coats while the red and orange look best with three coats.
Viridian Vinyl is a cool blue-green teal that is very similar in color to Sally Hansen Fairy Teal.  Since this is a Fall collection I see this as being great transition from the turquoise hues that have been so dominant this season.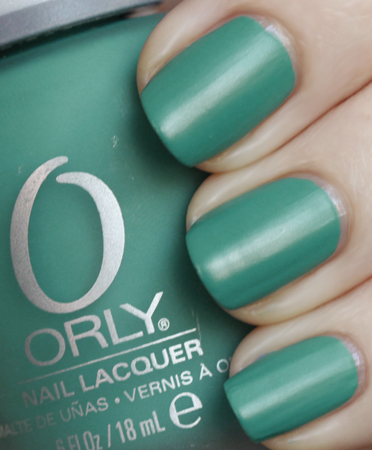 I ended up wearing Viridian Vinyl for five days because I was so smitten with the color.  The cashmere like finish feels both retro and futuristic at the same time, kind of like how I think of The Jetsons.  I wore the polish with a base coat of CND Stickey and as you can see, after five days of showers, hand washing and various other chores it's very well intact though the finish has changed some.  Lotion and water will do that.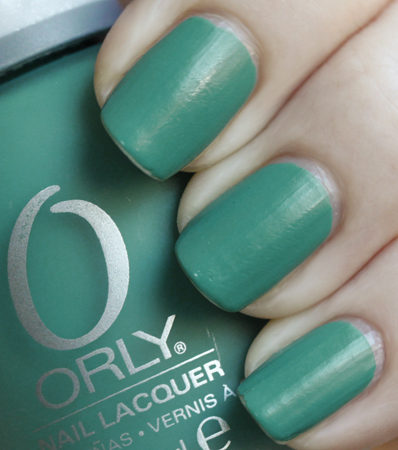 Purple Pleather actually looks a lot like Charged Up when you apply it.  Of course when it dries it tells a completely different story but it still has that cool blue-based purple hue to it.  Though I have to say the word pleather does not bring up positive images though I get the whole alliterative angle.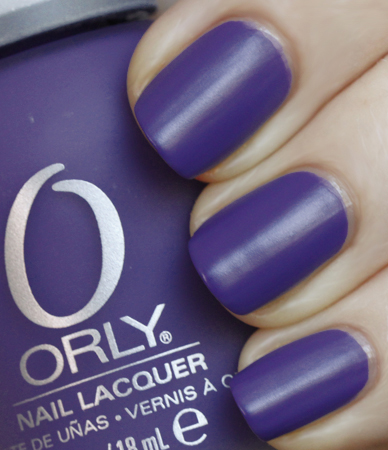 Old School Orange is pretty straight up.  We're talking true Sunkist orange.  It's the perfect blend of red and yellow with no undertones of either in the final mix.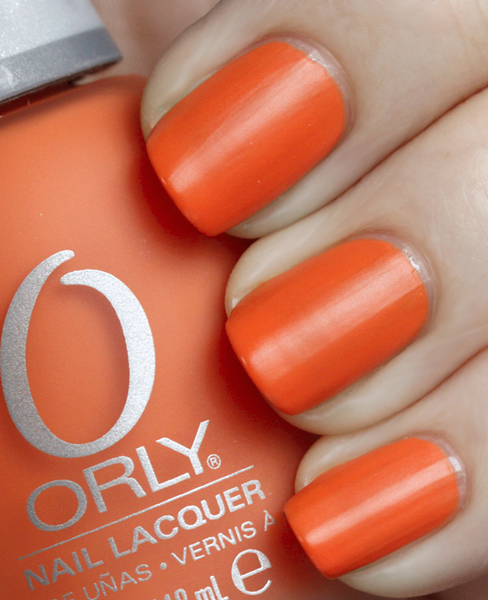 Retro Red is more of a bright strawberry pink than it appears below.  It looks more cherry in my pic and I just couldn't get it to look quite right.  It's got the look of red leather interior in a 50′s Corvette Convertible that's been weathered by the sun.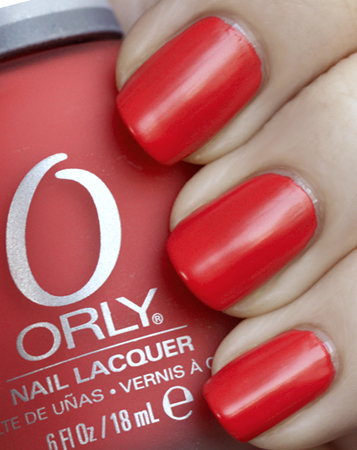 Bottom Line: The satin finish is a perfect middle ground for those who are turned off by mattes but want to switch up their nail game. A satin finish top coat would work as well though they tend to lighten the base color. Viridian Vinyl gets my pick for "must-have" in this group, shocker I know, with a surprising honorable mention for Retro Red. There's just something about that plastic red look that makes me think of Grease and old school diners.  You know Rizzo totally would have rocked it in her day.
The Orly Plastix Collection launches in July 2010. Orly polishes can be found in salons and stores including Sally Beauty and ULTA and online at OrlyBeauty.com and Head2ToeBeauty.com.
Are you feeling the satin finish? Will this make the matte haters cave? Are you standing your glossy finish ground? Do you like seeing more "fun" colors in a non-traditional finish?
Disclosure: Product samples were furnished by Orly. For more information view my Disclosure Policy.