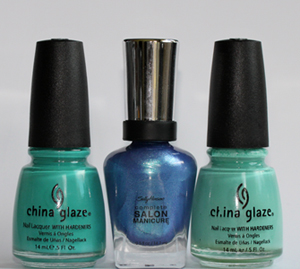 This past weekend the boyfriend and I attended the wedding of one of our favorite people on the planet.  She is funny, smart, charming.  Just an amazing friend.  One of those people that you meet and just know you want in your life.  So you can imagine how happy we are that she found a man who realizes how special she is and treats her a queen.

Of course a wedding means planning the right outfit all the way down to your fingers and toes.  I immediately knew which dress I wanted to wear but deciding on nail color was a challenge.  Do I go trendy because I'm the all knowing nail girl (my friend said that, not me)?  Do I play it safe because it's a wedding?  Or do I march to the beat of my own drummer and go with what strikes my fancy?  I chose D – All Of The Above.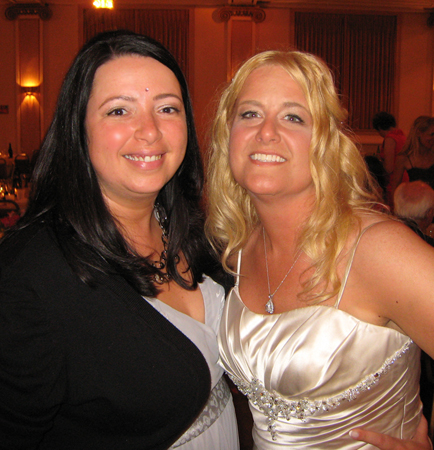 Here I am with the beautiful bride.  This was towards the end of the night after a lot of drinking and dancing so we are a bit beat down.  Plus the humidity on Saturday was unbearably disgusting so it was near impossible to stay shine-free.

Anywho, as you can see I opted for a gray dress with a silver embossed floral overlay so my nail options were pretty vast.  I scheduled a pedicure for the day before the wedding so I would have to commit to color family and not be stuck trying to decide the day of.  Even though I wasn't sure about which shoes I would wear I knew they'd either be black or silver so I wanted something that would pop.

All the talk of turquoise being hot for 2010 has the color pretty ingrained in my brain so that's the first color family I thought of.  After sifting through my blue-green drawer I settled on China Glaze Flyin High.
I love Flyin High because it's vivid but not overly bright.  It feels summery but the creme finish keeps it chic.  It's the perfect complement to the silver heels I picked up the day of the wedding during a lightening fast DSW run.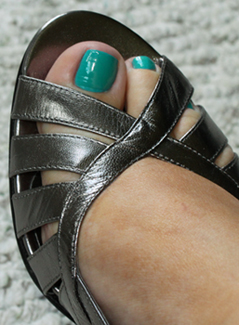 So I had my dress, shoes, jewelry and pedicure all picked out but what should I put on my fingernails?  My rule regarding mani/pedi combinations is to coordinate, not match.  Since I had such a bright turquoise on my toes I wanted either a lighter version of Flying High or a silver for my fingers.  I had pulled Orly Shine but decided there was too much silver/gray going on in my look and ended up with an oldie but goodie, China Glaze For Audrey.
To me For Audrey is the ideal wedding shade.  I would love to see every bride make it their "something blue."  It makes me feel feminine and girly but still unique.  It's soft enough to be wedding appropriate yet colorful enough to add an element of fun. FYI this was taken two days after the wedding which is why you see some growth.  My nails grow like weeds, I tell you!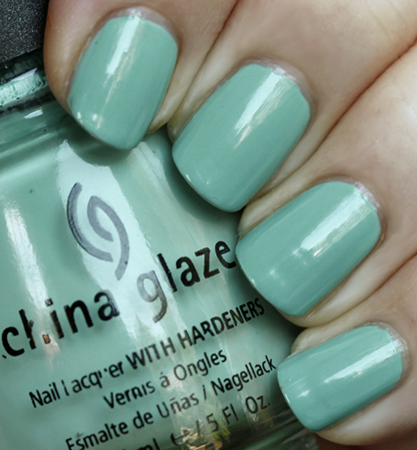 I've been wearing For Audrey for a few days now. I'm enjoying having ten matching fingers at the moment since it so rarely happens during the week.  However, I wanted to switch it up a bit.
I've had this bottle of Sally Hansen Sea And Be Seen sitting on my desk staring at me for a couple weeks now. I picked it up on a recent CVS run and came home to discover that it's pretty sheer.  Such a shame considering  how gorgeous it looks in the bottle.  I guess I've left it out waiting for the right time to layer it and my current manicure just happened to be the perfect fit.
Sea And Be Seen turned For Audrey into a sparkly sky blue dream.  The base color has a sandwashed look to it while the demin blue micro glitter adds a glitzy punch.  This may be one of my fave layering combos ever!  It's so much better in person, you must try.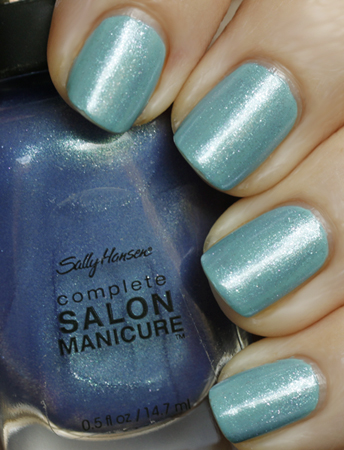 Like I said above, I chose "D – All Of The Above" in plotting my wedding manicure/pedicure combo. I kept it somewhat conservative on my hands with a pale Tiffany hue. Choosing turquoise was definitely an on trend decision but it's still very "me" in that I love blues & greens and everything in between. I seriously can't recommend this color combo enough for any upcoming weddings you may have.
With wedding season officially in gear, what are your favorite nail looks to wear to a wedding? Have you been to any weddings already? What did you wear? Have any of you worn For Audrey to your own wedding? Do you think blue polish is too much for a bride?
Disclosure: Flying High and For Audrey samples were furnished by China Glaze. Sea And Be Seen was purchased by me. For more info view my Disclosure Policy.