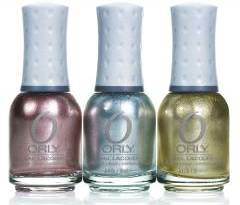 Thanks to the popularity of  the Minx chrome finish appliques, nail polish brands are jumping to give us a "Minx-like" effect.  Let's face it, Minx are super cool but expensive.  They're best for special occasions not everyday wear.  Enter Orly's latest collection Foil FX, a line of three high shine metallic polishes.

While we know that no polish can truly achieve a mirror-like finish, the Foil FX make a valiant effort.  With a silver, gold and bronze-y rose tone, there's a color to compliment all skin tones.  Check them out after the jump!

The Foil FX polish formula is 3-Free and applies extremely smooth if a little thin. With the exception of the gold (Luxe) they required three coats to become opaque. What made a believer out of me is the lack of brush strokes.  I'm just guessing here but I think what makes the difference is the particles. While the average metallic polish uses a metallic pigment, these seem to be packed with metallic micro-glitter.  The result maximum sparkle with a foil-like finish and no brush marks.
Luxe is definitely the most pigmented polish of the bunch.  It's pretty much a true gold but the ribbons of silver micro-glitter running throughout the lacquer keep it from getting too yellow or warm.  While I can't exactly apply mascara while looking into my nails, the finish is quite reflective.  You'll definitely be noticed wearing these colors.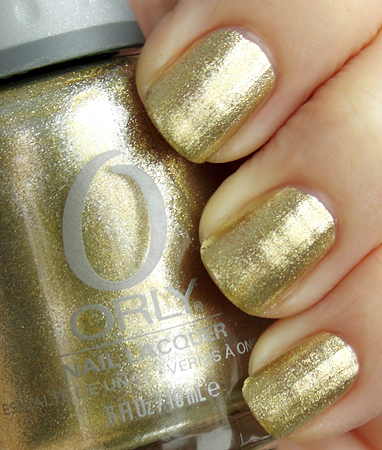 Rage is described as being a rose foil though to my eye it looks a bit more bronze than rose.  I suppose you could call it a rose gold even though it has the same silver foil glitter inside.  Of the three colors, this is the one I adore most though I can already hear my mom calling to claim it for herself.  She's a sucker for these types of colors so I'll probably end up sending it her way at some point.  Not before I get a mani/pedi with it though.  This baby is most likely going with me to NYFW!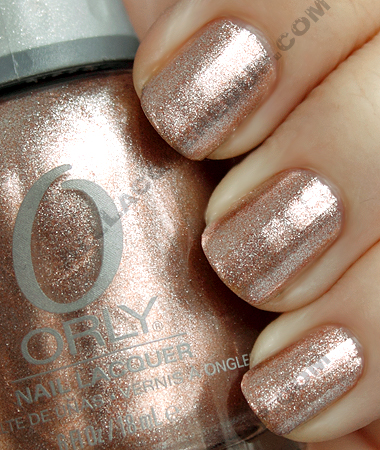 Shine is even more electric in person.  Cameras just can't capture the radiance of these polishes the way the eye sees them.  I'm telling you, if you like metallics these are worth a look.  I love that for a silver doesn't lean green at all, so it never looks dirty or tarnished.  It's just pure flashy goodness.  Even though I'm not normally a silver person, I typically wear gold, I love this polish!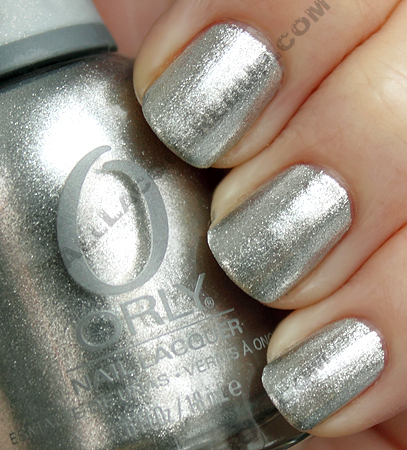 The Orly Foil FX collection is slated to go on sale in March though I have a feeling we'll see it pop up online before that. Keep your eyes on your fave e-tailers Fanatics. Orly is carried at Sally Beauty Supply and in salons like ULTA.

Metallics for spring, what do we think about that? Are you loving this foil look? Which would you choose… Minx or Foil FX?
Disclosure: A product sample was furnished to me by Orly. For further information view my Disclosure Policy.