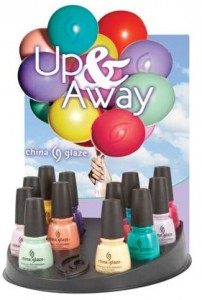 I don't know about you but after this train wreck of a year, I could use some mood lifters to kick off 2010 and the Up & Away collection from China Glaze fits the bill.

I try to keep ALU positive so I haven't really shared the disaster that was 2009 for me.  Professionally it's been a dream year, personally a train wreck. I really won't get into the deets but can we all hope for a happy 2010??  I'm gearing up wearing the fun, uplifting shades from Up & Away, a collection of creamy pastels and bright pops of color.

I'm breaking the collection up into three parts so I can show you color comparisons for each shade.  With 12 colors, that would be one LONG post so I broke it up to make it easier to digest.  Let's kick this party off with the purples and yellows.  Check them out!

So before we jump into the colors I have to talk about the formula.  China Glaze, you know I love you but the pastels were kind of difficult to work with.  It seems there are two types of light colors.  Either they're opaque & thick or sheer & thin.  Finding that happy middle ground is like hunting down a bottle of OPI Rainforest (ie HARD!).
So while the deeper, bright shades have pleased me to no end, the pastels are definite problem children.  They leave stroke marks, don't level out well and are pretty thick.  I know I'm not a pro manicurist but I consider myself to have some skill and if I'm having trouble, I think most people will.  If you really love a color, I suggest three thin coats and a thick top coat to help fix any glitches.
Lemon Fizz is a summery pale yellow creme.  It has a buttery softness but it definitely dries a bit darker than the bottle color suggests.  It makes me think of baby chicks, all fuzzy and sweet looking.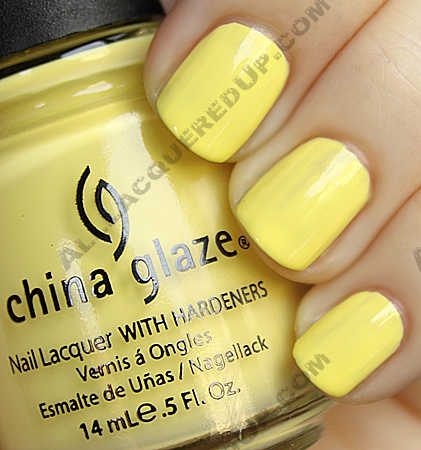 While Lemon Fizz has no dupes in my collection, OPI Banana Bandanna does come close with Lemon Fizz being just slightly more pale.  The other pastels I own in this range are either too yellow/green or too warm.  This one falls perfectly in the middle.  I'm thinking it would make a great spring pedi, no?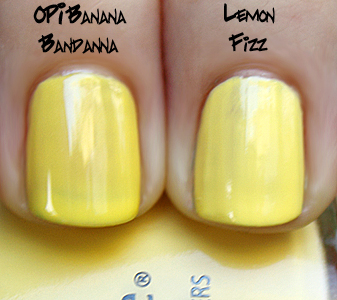 Happy Go Lucky is traffic stopping, taxi cab, sunny side up, egg yolk yellow.  It screams, "Look at me, I'm Yellow!"  I just wish yellows applied better.  There must be something about the pigment.  While Happy Go Lucky is a ton of fun, it's not that fun to apply.  Don't get me wrong, you can get it to look nice but it takes some work.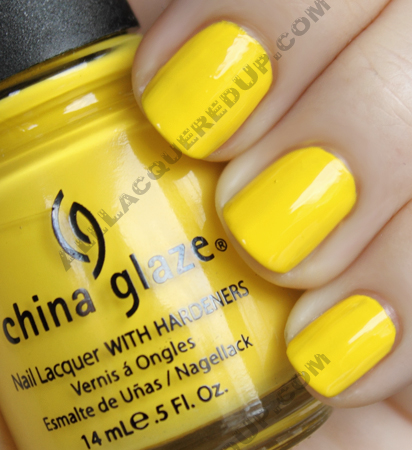 To the polish savvy eye, Happy Go Lucky isn't an exact dupe of Misa Happy Happy but if you already own the Misa, skip this one because no one but you will be able to tell the difference.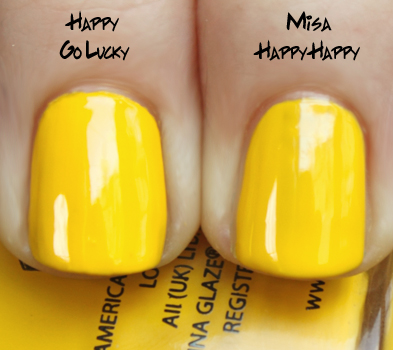 Light As Air has a slight pink undertone that makes it look more lilac than the "periwinkle" China Glaze describes it as.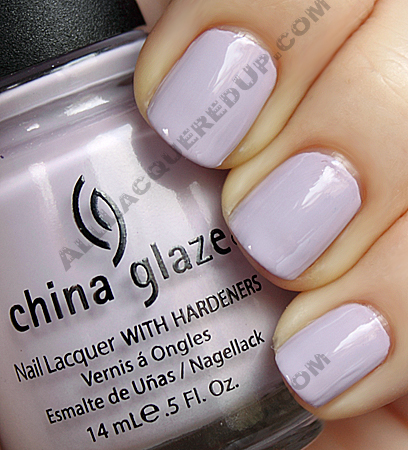 Being that most pale purples give me "alien hands syndrome" very few survive to live in my collection.  One of the few and the one I expected comparison requests for is China Glaze Agent Lavender from Operation Color.  That one is much more of a true periwinkle to me with its bluish tone.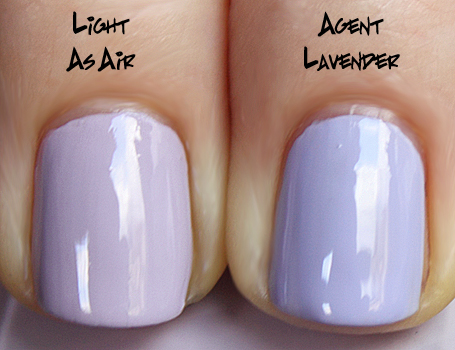 Grape Pop is a love at first sight type situation.  Purples and I are all BFF and all but a creme purple, well do I even need to go there?  Rich, vibrant, smooth, well pigmented.  It's got all the makings of a champion.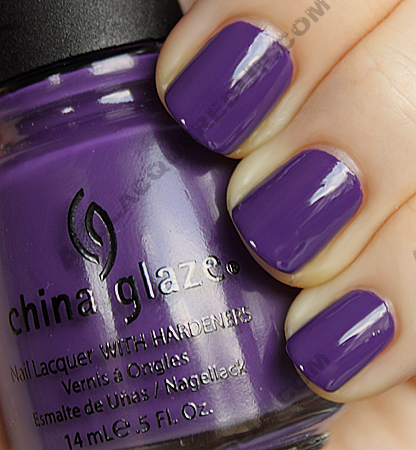 Now this is all tongue-in-cheek but, China Glaze why you trying to steal my thunder?  Imitation is the sincerest form of flattery, right?  All kidding aside, Grape Pop is a gorgeous color and in the same vein as RBL Mismas but they're not dupes.  I have yet to find a Mismas dupe (& Misa Sorry Just Can't Help It or OPI Can You Dig It? aren't even close) but I'll give Grape Pop props for coming close.  It's significantly more blue-based in person but that just doesn't translate on screen.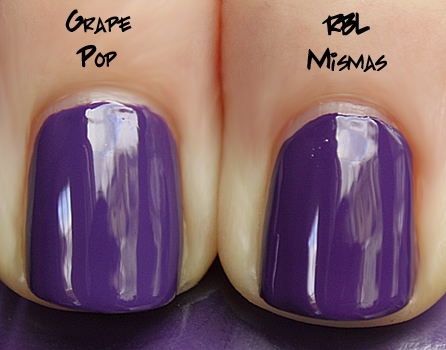 The Up & Away collection from China Glaze is slated to go on sale in January 2010 but if it's ready earlier I'm sure it will start shipping out some time this month. Keep your eyes on your local Sally Beauty and your fave e-tailers to scoop up these colors.
What do we think so far? See any must-haves? Have you found a truly phenom yellow that is opaque and smooth? I'd love to hear your recs.
Disclosure: A product sample was furnished to me by Priti's PR rep. For further information view my Disclosure Policy.