It's beginning to look a lot like…. Well you know how the song goes.  I'm honestly not in the holiday spirit this year.  2009 kinda sucked but the email I just received from Rescue Beauty Lounge perked me up.  I wanted to make sure I had Ji's permission before sharing this with you so here it goes…
RESCUE BEAUTY LOUNGE IS HAVING A 50% OFF SALE!!!!
No, I didn't stutter. For 5 hours only on December 15th, every RBL polish is on sale. Woo MFing Hoo! Get your trigger fingers ready Fanatics and start plotting your cart.  Use code VIP 5 HOUR at checkout!  The sale lasts from Noon to 5PM EST.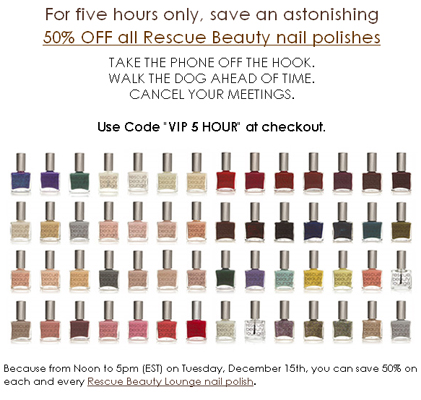 You're welcome!! So what do you think you'll get? Not to brag but Mismas makes a great stocking stuffer and according to my friend Steph, it's a fab color for an appendectomy. She had it on when she went for emergency surgery over the weekend.  Feel better Steph!  Check out all my RBL Swatches for more ideas.