You guys!!  I can't tell you how much I've been missing you all. And I don't mean that in the cheesy, that's what I'm supposed to say, way. I've been seriously going cra cra laying on my back not able to talk polish with you.
I look forward to reading your comments and emails every day and it's been rough not having my peeps to interact with. Also, your comments weren't lost or anything. I'm so behind thanks to an update to the WordPress app for Android. I can't get the stupid thing to open on my phone or tablet, bother!
Anywhoodle, I'm back for reals this time. After seeing a spine specialist I was told I have a severe muscle strain. I was just so happy it wasn't disc related. Though the doc offhandedly mentioned that I have degenerative discs. Um, thanks? I was given a choice of a shot in my back or pills & lots of rest with ice. As much as I wanted get better fast, needles scare the bejeezus out of me so I had to opt for the two week drug induced sleepfest.
I'm not 100% yet but I can sit for more than 20 minutes without wanting to cry and I was able to get through 20 minutes of Zumba so I'll take it. Side note: Those of you curious about my progress with Weight Watchers, I finally hit the 40lb mark this past weekend. I'm almost halfway to goal. Woot!
So I mentioned my NYE manicure in my last real post and while it's WAY after the fact, I'm so obsessed with this polish I just have to share it with you. I have literally worn this color FOUR times since I got it. That's in spite of the removal nightmare that is glitter polish.
China Glaze Tinsel Town is my EVERYTHING in terms of glitter polish. It's so dense that you only need two coats for full coverage. It's a gorgeous graphite silver that looks chic no matter the season. And the variety of the glitter particles is perfection. Tiny square and round glitter pieces are packed in the semi-sheer smokey blue-grey base with larger hexagonal sequins.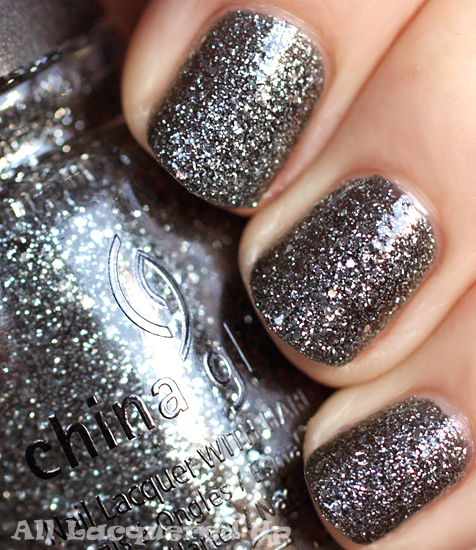 Yes, it eats top coat. To the point that I could still feel texture after using Gelous as a spackle coat and two layers of Out The Door Top Coat. But you know what, it still sparkled like I had little mirrors glued to my nails so I can deal with texture. The removal isn't a joy but you'll have that with glitters.
You can still find China Glaze Tinsel Town and the rest of the Let It Snow collection on my go-to etailers Head2ToeBeauty.com and TransDesign.com. Bottles retail for $3/ea.
Next up, the nomination round for the Fanatic Favorites 2011 and my recap of the Golden Globes. And of course, polish. Lots and lots of polish!!!