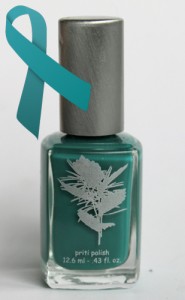 September was Ovarian Cancer Awareness Month but Priti continues to support Nancy's List, an organization that provides resources to cancer patients all year long.  They have committed to donate funds through sales of their teal ribbon colored polish, Tulip Tree Teal.I'm always a sucker for a great teal creme but add in a charitable cause and I'm hooked.  I spoke with the founder of Priti, Kim D'Amato, backstage during Fashion Week and I love that she's as committed to creating a toxic-free, organic line as she is to including fashion forward colors.  She custom blended an amazing green for eco-friendly fashion line Bodkin which you can catch glimpses of in Ecouterre's photo recap of the show.

Check out Tulip Tree Teal and see how it stood up to my 5 Day Wear Test after the jump!

Priti provides a full ingredient list including ingredient descriptions on their site so I won't bother listing it all here but their nail polishes are 3 Free including Formaldehyde Resin. At .43 fl oz, the bottles a bit smaller than the standard .5 fl oz.  The brush is flat but not wide.  Its width and length are comparable to the new CND brush.  The bristles are dense but soft making application easily controlled.  The formula is slightly thick and well pigmented but doesn't completely level itself so careful brush strokes are key.
Tulip Tree Teal is a mid-tone teal creme.  When I first saw it, I thought here's a great Illamasqua Muse dupe but TTT has more green in its base.  I think, if anything, it's the slightly lighter, brighter sister of the teal in StrangeBeautiful Vol. 3.  It definitely looks teal in all lighting but isn't so bright that you look like you're stuck in Summer.
Of course I had to put the formula to my 5 Day Wear Test and decided to switch up my methodology.  I used combos of a ridge filling base (butter London Nail Foundation), a tacky drying base (old formula CND Stickey), a thicker quick dry (Seche Vite) and a thinner quick dry (Olan Quick & Slick) to see whether using a 3-free base/top made a difference.  Apparently it does because the nails with the old CND Stickey formula (middle & pinkie) chipped and showed more wear than the other two.  So I would highly recommend using a 3-Free base coat with Priti.
Priti Tulip Tree Teal retails for $12.50/ea on PritiNYC.com with 10% of the proceeds going to Nancy's List.  Priti sells their own base & top coat as well which I'm currently testing.
How are we loving this teal?  Have you tried Priti nail polishes before?  I've used their Soy Remover in the past and if you're looking for a great non-acetone alternative, you should check it out.
Disclosure: A product sample was furnished to me by Priti's PR rep. For further information view my Disclosure Policy.