Priti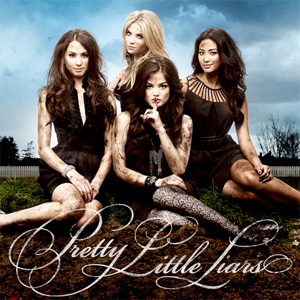 I'm a complete sucker for any type of teen angst drama The CW or ABC Family throws my way. It must be the eternal teenager in me but I couldn't help but get involved in Pretty Little Liars when it debuted on ABC Family last summer.

I am long time Days of Our Lives fan and I was so sad when Privileged was canceled so I was all in when I heard that Ashley Benson (formerly Abby Deveraux on DOOL) and Lucy Hale (formerly Rose Baker on Privileged) were two of the leads in PLL.

Of course, as a nail polish fanatic how can you watch this show and NOT notice the bold, fun nail colors the leads wear.  I have been curious for a while now as to how the polishes are chosen for each character and exactly what they are wearing but I'm not the only one. Quite a few of you have emailed asking as well. Most recently, the bright blue polish Hanna sported this past Monday has us especially intrigued and thanks to PLL's Head Makeup Artist Cindy Miguens, I now know what it is.  Read on as Cindy breaks down what the girls wore in episode 116: "Je Suis Une Amie."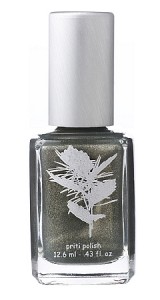 Last week I posted about Priti's Tulip Tree Teal and since it was a new-to-me brand, I did my usual 5-Day Wear Test.  Being that I had Priti's own base and top coat on hand, I decided to give those a whirl as well.  A lot of brands claim that their polishes work best when combined with their own treatment products so I wanted to put that theory to the test.  I chose Powderpuff Cactus for my trial run.

Also, thanks to all you investigative Fanatics, especially Flinty from Polish or Perish, I also discovered something new about Priti's product line.  Find out what and see how Powderpuff Cactus fared in my wear test, after the jump!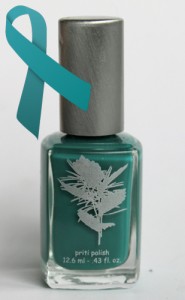 September was Ovarian Cancer Awareness Month but Priti continues to support Nancy's List, an organization that provides resources to cancer patients all year long.  They have committed to donate funds through sales of their teal ribbon colored polish, Tulip Tree Teal.I'm always a sucker for a great teal creme but add in a charitable cause and I'm hooked.  I spoke with the founder of Priti, Kim D'Amato, backstage during Fashion Week and I love that she's as committed to creating a toxic-free, organic line as she is to including fashion forward colors.  She custom blended an amazing green for eco-friendly fashion line Bodkin which you can catch glimpses of in Ecouterre's photo recap of the show.

Check out Tulip Tree Teal and see how it stood up to my 5 Day Wear Test after the jump!