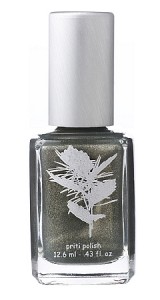 Last week I posted about Priti's Tulip Tree Teal and since it was a new-to-me brand, I did my usual 5-Day Wear Test.  Being that I had Priti's own base and top coat on hand, I decided to give those a whirl as well.  A lot of brands claim that their polishes work best when combined with their own treatment products so I wanted to put that theory to the test.  I chose Powderpuff Cactus for my trial run.

Also, thanks to all you investigative Fanatics, especially Flinty from Polish or Perish, I also discovered something new about Priti's product line.  Find out what and see how Powderpuff Cactus fared in my wear test, after the jump!

First of all, Powderpuff Cactus is a gorgeous olive green shimmer.  It's packed with flecks of gold and silver shimmer though the gold really stands out on the nail.  It's highly pigmented barely needing two coats and it flows on the nail flawlessly.  What's really unique about this shade is the silver shimmer.  While it doesn't stand out on the nail, I believe it keeps the overall hue from becoming too warm and golden, like China Glaze Wagon Trail.  It adds a slight coolness that makes the shade more universally wearable.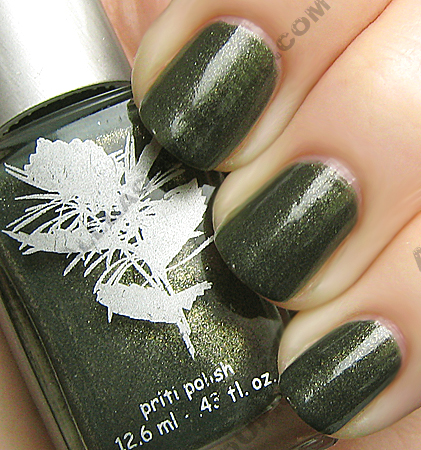 For my wear test, I have the 2-in-1 Base & Top Coat and the Speed Dry Top Coat so I decided to try them both.  I used the 2-in-1 as my base on all four nails and then split the two when it came time to add top coat.  As you can see, the 2-in-1 ended up chipping on my index nail and not even 30 minutes after I took this picture, I got a chip in my middle finger.  So even though Quick Dry top coats are known to not wear as well as traditional top coats, in this instance that didn't hold up.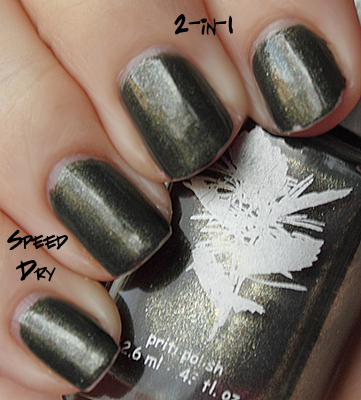 Now on to my discovery.  A few weeks back, my girl Amber from Beauty Blogging Junkie wrote about Kaia House Bio-Polish Seattle, a gorg teal creme.  I just had to get my mitts on it.  Amber was right, it is gorgeous BUT it's the exact same polish as Priti's Tulip Tree Teal!  Couple that with Polish or Perish's post about Priti using Diamond Cosmetic's stock colors and well, you see where I'm going with this.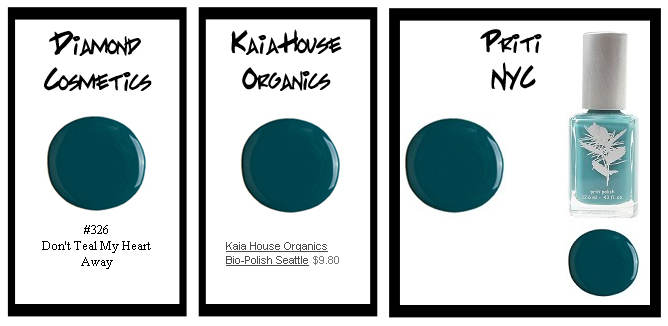 Now to be fair to both brands, I don't have absolute proof that the formulas are identical.  Diamond does make custom formulations BUT the colors sure do look the same.  And the fact that they're using the same polish blobs from the Diamond website doesn't help their case any.  But I'm not one to make false claims without due diligence so I emailed the reps for Priti to inquire about this.  I was told that the creator is back in her homeland of Australia at the moment but hopefully I'll have a response soon.  I assume after the new year.
In the meantime, I see that the polish blob for Priti's Powderpuff Cactus matches the one for Never So Ever-Green on the Diamond Cosmetics site.  So if you love this color, you have two options to buy it.  Also, if the theory holds true, the base and top coat I used from Priti should match GNP Super Dry Top Coat and 2-in-1 Base/Top Coat from Diamond. They retail for $2.50/ea.
This leads me to the question, have any of you purchased polishes from these brands and discovered color dupes? Being that I don't own any polishes from Diamond has anyone compared the formulas? Priti lists their ingredients on their website but I can't find that info on the Diamond website. I'm very curious to see if they're the same, in the same order (that is important).
Disclosure: A product sample was furnished to me by Priti's PR rep. For further information view my Disclosure Policy.