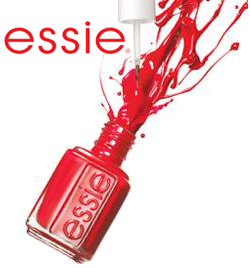 Essie nail polish has become a staple for salons worldwide. It's rare to walk into a nail shop or salon and not see those iconic square white-capped bottles lining the walls. When the news broke about L'oreal acquiring Essie we all wondered what this would mean for the brand. Well now you'll be able to find this manicurist favorite at your local retailer.
Essie has pared down its core color collection to a tightly edited lineup for retail offering 100 nail colors and 16 nail treatments to consumers.
New York, NY – November 30, 2010 – essie, the global brand and ultimate nail color authority, beloved by millions and available in more than 250,000 salons worldwide, is now at retail. 100 classic and of-the-moment colors, hand-picked by Essie herself, will be on-shelf in stores along with 16-skus of custom nail care solutions. It's absolutely everything a woman needs for a salon-perfect manicure – at home!
The essie in-store experience promises a shopping experience like no other. essie brings the salon environment to retail with upscale, bright white merchandising units that make it easy for her to shop the collection and find the colors that speak to her.
Keep reading for more info on where you can find seasonal collections and see the full retail and salon color lineups.

In salons, essie offers over 250 confidence-boosting shades for any fashion adventure, giving every woman the opportunity to express her individuality in fabulous, living color.
Salons will continue to carry six seasonal collections, including: Winter, Spring, Summer, Fall, Bridal and Resort, plus Holiday gift-sets and other specialty promotions.
The retail collection offers 100 classic favorites and on-trend colors and supported by four seasonal collections launching during the year: Winter, Spring, Summer and Fall. It's a fashionably edited assortment, including 11 shades exclusive to retail: Trophy Wife, Beach Bum Blue, Sweet Talker, Dive Bar, Jamaica Me Crazy, Devil's Advocate, Oui Madame, Mango Bango, Master Plan, Mochaccino and Miami Nice.
The retail offering will also include 16-skus of nail care, sold exclusively at retail. A crucial step in everyday nail care, these advanced formulas address the needs of healthy-normal nails, soft-weak nails, or dry-brittle nails.
The award winning essie formula is unchanged. Created from the finest micro-milled pigments and salon grade concentrate in a professional, crystal-clear base for maximum durability and shine. Essie Weingarten herself took great care to design what has become the industry's gold-standard brush: small and thin for maximum control and precision application. It's a dynamic combination that ensures a fool-proof and flawless finish.
"After your face, your hands are your most expressive asset and say so much about who you want to be," says Essie Weingarten. "Cared for hands and fabulous color are all you need."
No matter where you find essie, some things will never change:
Instantly classic, fabulously wearable colors that are sure to become de rigueur.
Unforgettably witty names that inspire cult devotion.
Exclusive, award-winning, high quality formula provides chip-resistancy,
outstanding durability and flawless coverage.
Uniquely designed brush that ensures perfect application
Salon-professional formula so you can color your world as you please.
In both the retail and salon environments, colors are offered in eight shade families: Nudes, Pinks, Reds, Corals, Roses, Plums, Neutrals, Deeps, Blues and Greens. It's never been easier for her to find the perfect color that speaks to her. At retail, the iconic square, white-cap bottle will feature a white essie logo on the glass for stronger in-store branding.
Essie nail colors and care items now available. Pricing: $8 on all nail color. Care items retail between $8 and $9.50.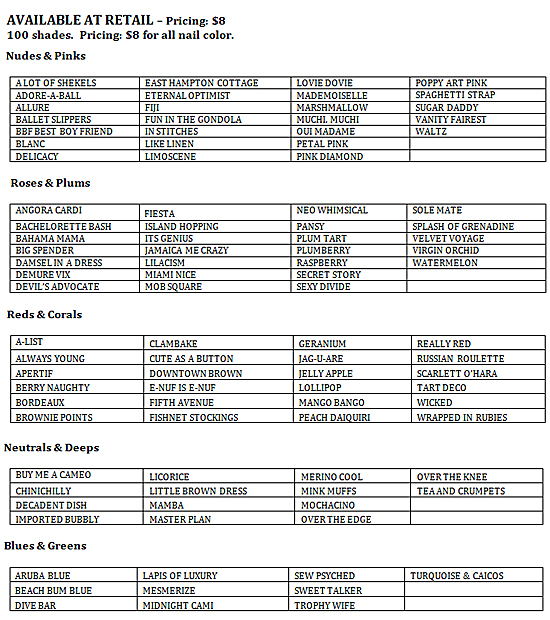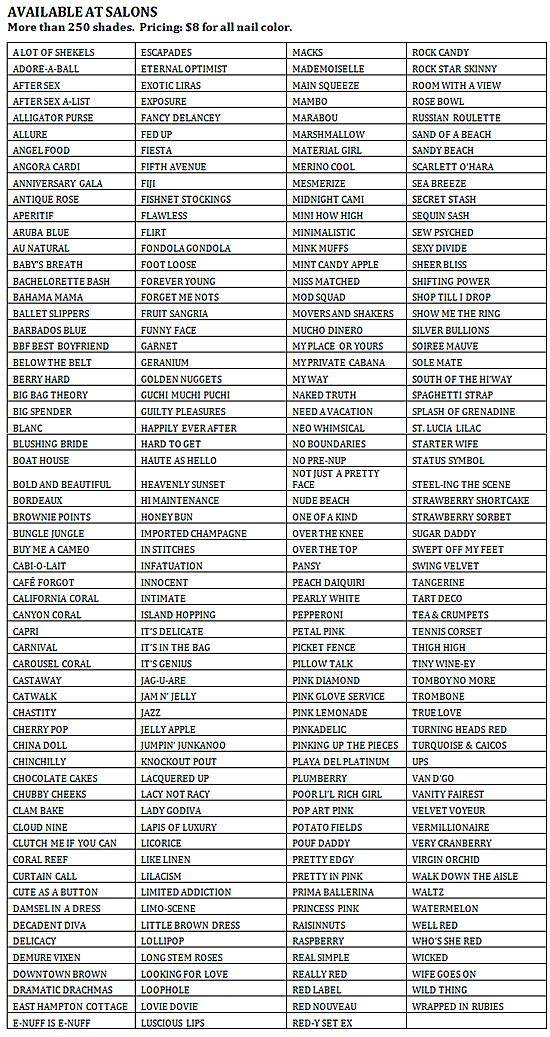 TREATMENTS AVAILABLE AT RETAIL
In-store, there are 16 essie nail care products to address specific nail needs and concerns. Choose from a comprehensive selection of base coats, cuticle treatments and super-shiny top coats.
FOR SOFT, WEAK NAILS
Grow Stronger – Base Coat for Strong Growth – $8
Rock Solid – Base Coat for Strength – $8
Beam Up – Instant Nail Whitener – $8
Build Me Up – Fortifying Nail Mask – $9.50
FOR HEALTHY, NORMAL NAILS
Grow Faster – Base Coat for Growth – $8
All In One – Total Nail Treatment – $9.50
Disappearing Trick – Conditioning Cuticle Remover – $8
Blank Slate – Pre-Manicure Nail Mask – $9.50
FOR DRY, BRITTLE NAILS
Feed Me – Intensely Hydrating Base Coat – $8
Grow Richer – Nourishing Base Coat for Growth – $8
Smooth Trick – Deep Conditioning Cuticle Oil – $8
Dry Stops Here – Intensive Hydrating Nail Mask – $9.50
TOP COATS
Good to Go –Rapid Dry Top Coat – $8
Let It Shine – High Shine Top Coat – $8
No Chips Ahead – Chip-Free Top Coat – $8
Matte About You – Mattifying Top Coat – $8

What do you think of Essie entering the retail market?  Will this help or hurt in terms of their image as a salon brand?  Will you still go to a salon for the seasonal collections that are exclusive to professionals?
Are there any specific colors or products that you'll be happy to have more access to?  Personally I'm a big fan of Matte About You and I never see it at salons so being able to pick up a bottle at a mass retailer would be convenient.