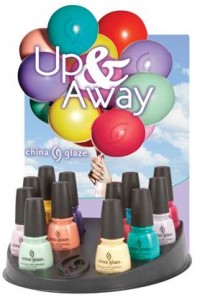 Sorry for the delay Fanatics! Mother Nature has not been playing nice. The lighting here in the Cleveburg has been atrocious so I've been waiting with bated breath to swatch the rest of this collection.

Though over the past few days, I've had plenty of time to stare at the polishes all lined up and they keep making me crave ice cream regardless of the freezing cold temperatures.  It's like looking in the Baskin Robbins case trying to decide between a soft, sweet sherbet or multi-colored scoop of Superman.  Yum!!

Today I have the blues, greens and cheese-stands-alone peach for you.  Check out their deliciousness after the jump!

As I noted in my initial review, the pastels were an issue for me.  There were some comments regarding conflicting reviews of the formula amongst the blogs and all I can do is relate my experience.  For me, the pastels haven't been a joy, your mileage may vary.  The bolder hues, like the three shown here all have that jelly-like quality.  Instead of being creamy, it looks as if you could push down on the polish and have it spring back.  Though I wouldn't recommend trying that unless you want to wreck your mani.  The pigmentation was decent though I opted for three thin coats of each color.
Flyin High is an odd bird, in a fabulous way.  It's like a total contradiction in that the color is slightly muted yet it's a bright.  To me it's more of a true aqua than Aqua Baby, as you'll see below.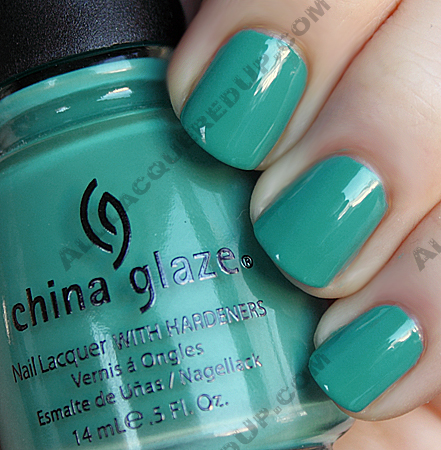 I love Aqua Baby and its doppelganger Shower Together but they never really read as "aqua" to me.  Flyin' High definitely fills that need.  And while I thought for sure I'd find a dupe in my stash, there were none to be found.  I think of this as the Jan Brady to For Audrey (Cindy) and Illamasqua Muse (Marcia), without all those middle child issues.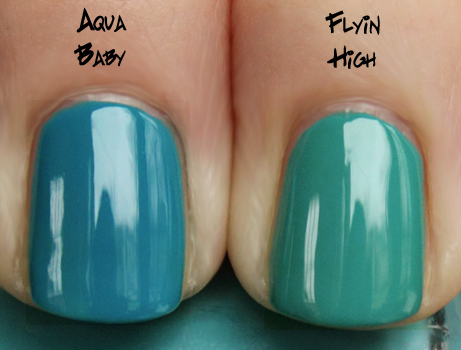 You will not find an accurate swatch of Four Leaf Clover on the web!  Period.  It's just too hard to capture.  It's not quite neon in that it doesn't dry matte but it's so electrified that it just doesn't translate.  I feel I've shown the base color to an OK extent but it's still way more vivid in person.  I don't want to call it a kelly green due to its slight blue undertone.  For this one, comparisons are the best descriptor.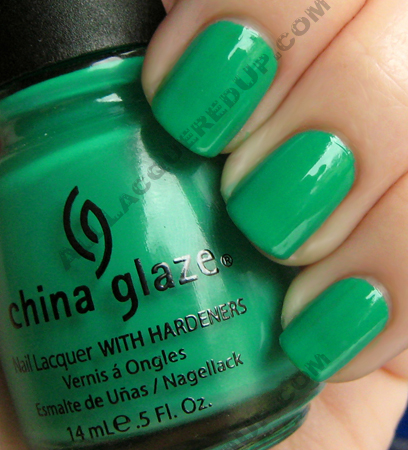 If you own Misa The Grass is Greener on my Side then you'll have a pretty good idea of what Four Leaf Clover's base color is like.  Take away the shimmer, add some jelly-ness to the texture and you're on!  In person, the new Emerald City shade launching this Spring from Sparitual is just a bit more muted even though the image doesn't show that.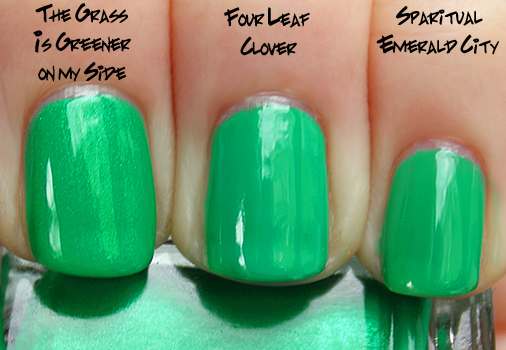 Peachy Keen jellybean!  I have to say, this is one of the first true peach shades I've found.  So many of them lean too pink or too orange.  This one is just dead on perfection.  Even though the color peach draws up thoughts of poofy, taffeta bridesmaids dresses, this stunner gives it a good name again.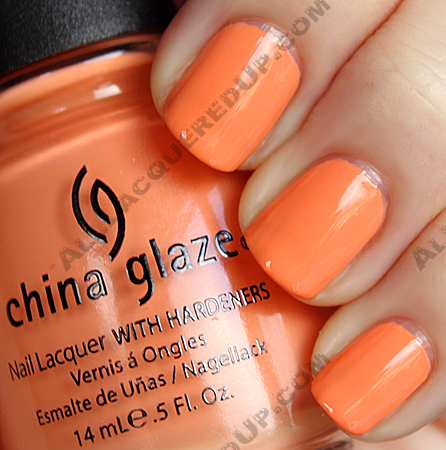 Like I said, most peach polishes lean very pink.  As I kept pulling colors from my collection, I realized just HOW pink the majority are.  Which led me to Orly Festival Lights and China Glaze V as the only shades I could really compare Peachy Keen to.  The Orly is much too orange and V is darker with more pink in its base.  If you've been wanting a true peach cream, here it is!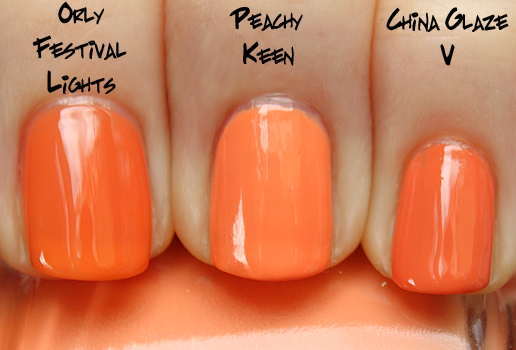 Just when I thought I had all the mint greens I'll ever need, along comes Re-Fresh Mint. I now own 11 mint greens and have no absolute twins.  Re-Fresh Mint is probably one of the truest mint hues in that it doesn't lean blue and it's not too dark.  It does dry a bit brighter than my picture shows but there's only so much my camera can do.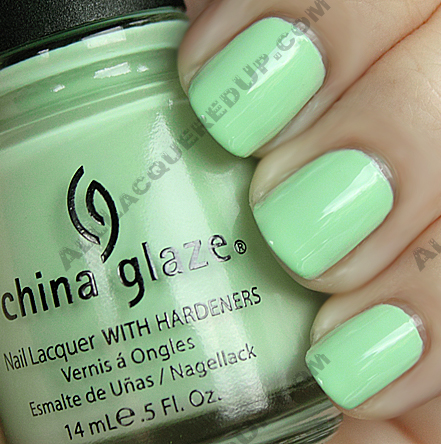 In my mint green range, Re-Fresh Mint falls somewhere between OPI Hey! Get In Lime! and Essie Mint Candy Apple. And between you and me, I'd take Re-Fresh Mint over both of them even with its application issues.  I love the Essie but it's too blue-based to be mint and the OPI takes FOUR COATS.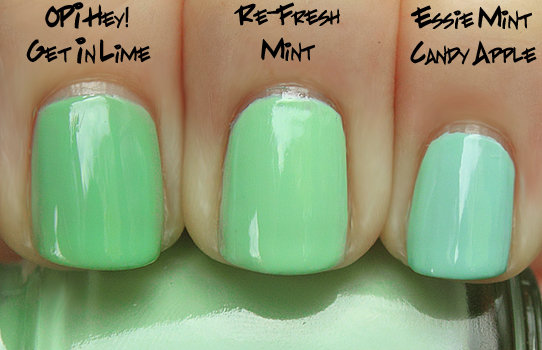 The Up & Away collection is set to launch in January 2010 but if it's ready earlier I'm sure it will start shipping out in December. Keep a watch on your local Sally Beauty and your fave e-tailers to scoop up these colors.
I know you've been dying to see the greens so what do you think? Can you take any more mint greens?  Who's fallen for Peachy Keen?  I want to hear what you have to say!
Disclosure: A product sample was furnished to me by China Glaze. For further information view my Disclosure Policy.