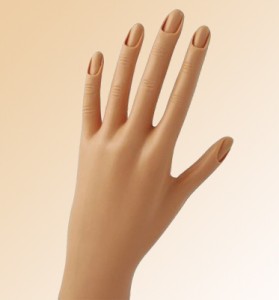 With a few notable exceptions, I spent a lot of my time backstage at Fashion Week saying, where's the color?? It was my first time covering the Spring collections in person and while I expected a lot of neutral nails, it seemed to be a trend that carried over into the makeup and hair as well.
I can't tell you how many times the words "pretty, clean, fresh, young" were bandied about by the hair and makeup teams. That's not to say that the looks were simple but myself and a lot of other bloggers/editors were looking for the color.  So much so that we almost squealed with delight to see a vibrant blue shadow or bold pink lip.
In regards to nails, one of the terms that kept popping up was "Mannequin Hands." The use of a flesh toned nail polish to elongate the hands and give that plastic-y, doll-like effect.
Deborah Lippmann chose her nude creme, Fashion, for the models at Lela Rose and Marc Jacobs requested multiple shades of OPI polish to match his models' complexions.  CND's Putty and Desert Suede popped up on more runways than I can count.  So what does that mean Fanatics?  That like it or not, the "mannequin hands" look is coming our way for Spring.
Though here's the thing.  I'm only one person and what I may consider my Mannequin Hands shade certainly won't work for everyone else.  And as much as I try to recommend polishes based on the descriptions you all give me, a photograph truly is worth a thousand words.  So here is what I'd like you to do. Show me your Mannequin Hands!
Actually, you'll be showing all of us.  Submit swatch pictures to me, showing off the shade that gives you that Mannequin Hands look, and I'll share them here on ALU. Tell me what shade you're using and your foundation color.  If you know your MAC shade, that would be awesome.  It seems that a lot of us know if we're an NC20 or an NW45.  Hopefully this will help all of you out there locate that perfect nude and, who knows, you just might find your hand twin.
Email your swatch submissions to editor[at]alllacqueredup[dot]com with the subject, Mannequin Hands.  Please include how I should credit you in the post (first name only, MUA username, etc), the polish name, your foundation color and anything else you'd like to say about the polish.  I would prefer that you submit polishes that are currently available in your country but if a discontinued shade is your best match, so be it.
I'll be accepting submissions through January 15th but I'll start posting them at the beginning of January so we'll be all set for Spring.  I look forward to seeing your pics and your Mannequin Hands.