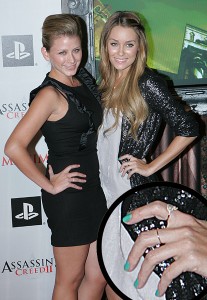 A few weeks back, Fanatic Amelia contacted me asking about the nail polish Lauren "LC" Conrad was wearing at an event.  I couldn't help but notice the bright teal tone popping against  her outfit and had to know for myself what color it was.  I certainly had some guesses in regards to similar shades but I love putting my sleuthing hat on to track down a color.

Thanks to Lauren's makeup artist, Amy Nadine, I found out that my fave Celebrity Green Manicurist, Jenna Hipp, was responsible for her standout manicure.  Jenna tended to Lauren's digits for a Seventeen Magazine cover shoot and used a brand new shade that's launching this Spring.  Check it out along with backstage shots from Jenna, after the jump!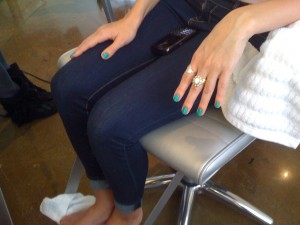 For the cover shoot, Jenna used SpaRitual Emerald City a new permanent collection polish launching this Spring.  Here's what Jenna has to say about it:

"Green tones are generally a tough color to get right for nails but Emerald City has exceeded expectations to become a fast favorite with clients Harpers Bazaar, Lauren Conrad, and Seventeen Magazine! I think Emerald CIty is a phenomenal addition to the permanent collection because this shade is so fun, so interesting, and so uncommon that curiosity alone will draw you in!"
Emerald City isn't quite what I would expect based on the name.  I always think of emeralds as being dark green though I know there are lots of shade variations in the stone.  To me this is more of a spring green.  Not quite teal, not quite turquoise or aqua.
The polish itself is very thin and jelly-like in consistency so you need three coats to go completely opaque yet it flows smoothly on the nail drying to a high gloss shine. If I were looking for dupes, I'd come up short though it's similar to China Glaze Turned Up Turquoise minus the shimmer.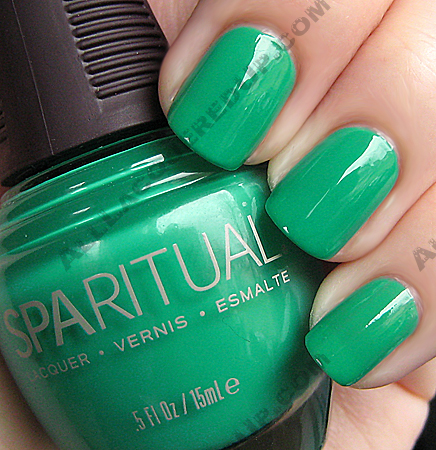 SpaRitual Emerald City will release this Spring and become part of the permanent color collection along with an electric blue shimmer, hot pink neon, sparkling ruby red and colorless sheer.  Visit SpaRitual.com to find a salon near you carrying the line.
So what do you think Fanatics? Are you loving this color on Lauren? Are you excited to see SpaRitual adding some more "fun" colors to their lineup?
Disclosure: A product sample was furnished to me by the PR agency representing SpaRitual. For further information view my Disclosure Policy.