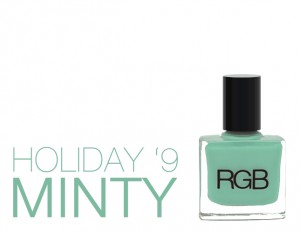 The mint green polish train isn't slowing, are you still on board? I know I am! Give me more, give me more!! RGB Cosmetics announced their holiday offering, Minty, today on their Twitter account which makes it a great time for me to introduce it to you.If you recall, when I reviewed RGB's Fall collection I was a bit let down by the lack of uniqueness as compared to the Pre-Fall colors.  Well Minty certainly piqued my interest.  As if a green exciting me is news, what really gets me is that I have yet to find any true dupes among the ones I own.  You won't find me complaining about that.  Check out Minty along with its closest living polish relatives, after the jump!

If you missed my full RGB review and 5-day wear test, check that HERE. In regards to Minty's formula it was a bit on the thick side and a little problem child-ish in application.  I till got two coat coverage due to the high level of pigmentation but the brush hairs were pretty splayed so I had to be careful to avoid hitting skin.  That could just be my specific brush.
Minty is a blue tinged mint green that dries a bit darker than I can capture in a photograph. It's not at all pastel and chalky. In fact it reminds me of a piece of Chiclet gum on the nail.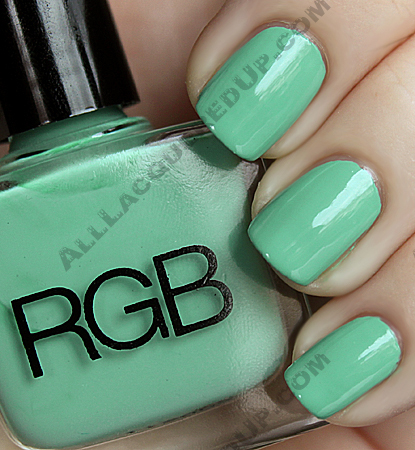 I weeded through my stash to come up with some comparisons and the most blue-based of the bunch are Barry M Mint Green and Essie Greenport. Essie Mint Candy Apple is SO pastel that they don't even look like relatives.  As you can see, Minty falls somewhere between the two and even though the Barry M looks pretty blue based on its own, next to Minty it looks very green.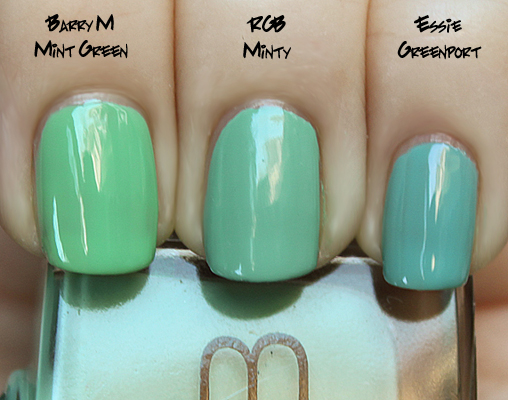 RGB Minty is on sale NOW at RGBCosmetics.com and retails for $14 with complimentary (ie FREE) shipping.
So who's still loving all these mint greens?  Anyone else planning to wear one for the holidays like I am?  Who's tried RGB and what do you think?
Disclosure: A product sample was furnished to me by RGB Cosmetics. For further information view my Disclosure Policy.