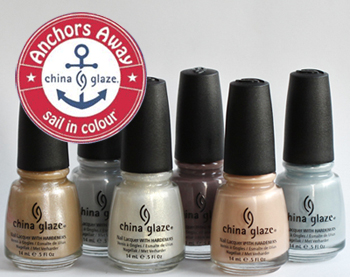 I can't begin to tell you how apropos it is that China Glaze created the nautical themed Anchors Away collection for Spring 2011. You see I grew up sailing. As a child I spent every weekend of my summers on my parents' sailboat cruising the shores of Lake Erie. It was such a huge part of my life that even though I'm not exactly a fan of sailing (it can be boring), being on the water is an essential piece of who I am.

It's always been part of my life plan to have a boat of my own to enjoy everything Lake Erie has to offer. The Lake Erie islands, the Sandusky Bay area, it's all so beautiful and fun. This spring my dream of summering on a boat just may come true. The boyfriend and I are signing up for a safe boating course and starting to shop for our own floating home away from home which has me on an all things nautical high.

I've been shopping for new deck shoes, conjuring up boat names, contemplating the boat themed manicures I'll wear, etc. And after seeing a mani/pedi combo using the navy and orange cremes from this collection, I already know what is going on my nails first.  But before we get into the bold Knotty Nauticals let's take a look at the softer side of the Anchors Away collection, the Sand & Sea six piece set.

Formula & Application: China Glaze is a 3-Free brand with a round brush that is both medium in length and firmness with enough give to allow for ease of control. The cap is slightly tapered and made of smooth plastic that is comfortable to hold.
Because this half of the collection has varying finishes and opacity levels I addressed the specific application issues I experienced in the actual color review.  The three cremes that I showed you in my sneak peek all applied flawlessly in two perfect coats.

Below Deck is a murky purple taupe creme.  It's meant to be a dupe for the discontinued China Glaze Channelesque polish that achieved cult fave status thanks to the message board communities.  As I mentioned when I first showed you Below Deck, I never picked up Channelesque while it was still available.  I wasn't a fan the first time around and it just goes to show how tastes can change.  Now I find this type of color very chic though it's still an ugly-pretty situation.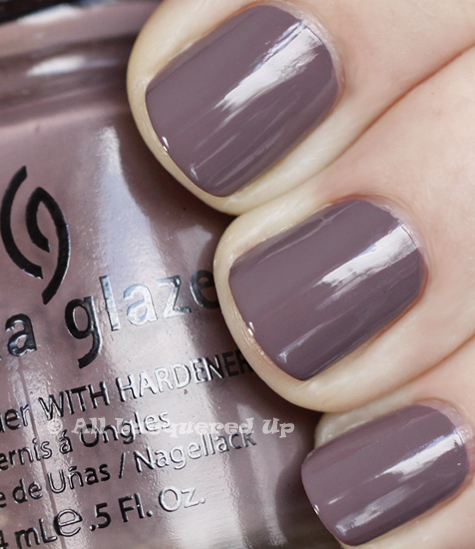 Knotty is a golden tan, semi-sheer glass fleck.  I used three coats and you can still see my smile line.  This color is one that is best left to sheer polish lovers and layering types.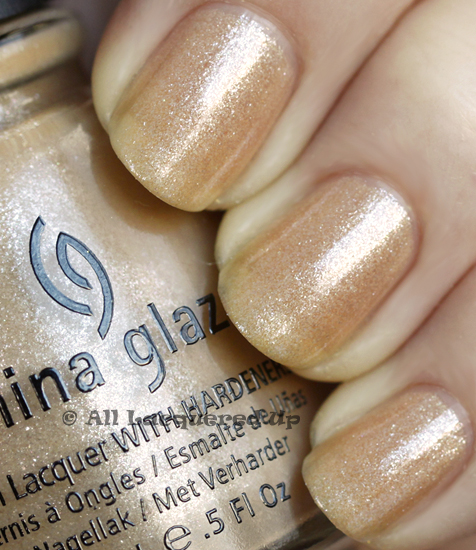 Pelican Gray is a dove grey creme with a hint of micro-shimmer.  It's a bit more apparent on Pelican Gray than on Sea Spray (below).  We've seen pale greys before but none of them tend to stick around.  Prior to this launch I had readers looking for a quality, opaque pale grey and I didn't have anywhere to send them, especially with RBL Concrete Jungle being discontinued.  I just hope China Glaze keeps this beauty around.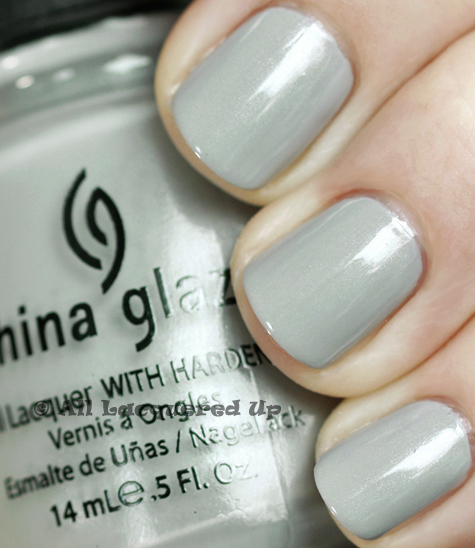 Sea Spray is a soft, grayed blue creme with the tiniest hint of pearl.  The micro-shimmer doesn't really show on the nail, it really adds depth more than anything.  It keeps the polish from looking chalky.  I really can't talk this color up enough.  I've been wearing it since late August and if I had my druthers I would wear it all spring.  It's so fresh without feeling like a typical spring pastel.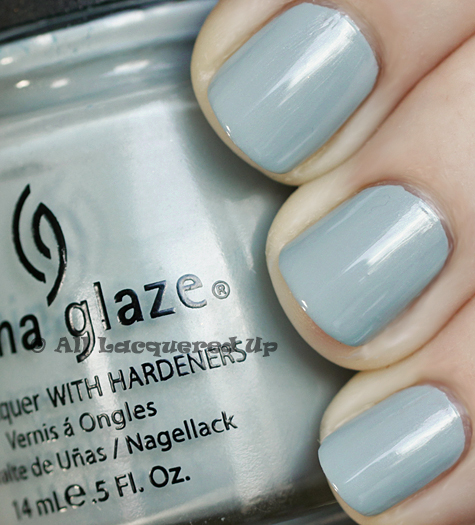 Sunset Sail is a peachy nude with an opaque creme base peppered with silver micro-glitter.  It has that band-aid effect and reminds me of a beloved shade OPI Skinny Dippin In Lake Michigan except I think Sunset Sail is more wearable.  The only thing dragging this polish down is the application.  This polish applied so streaky that I needed four coats on my ring finger to avoid patchiness and dragging at the cuticle.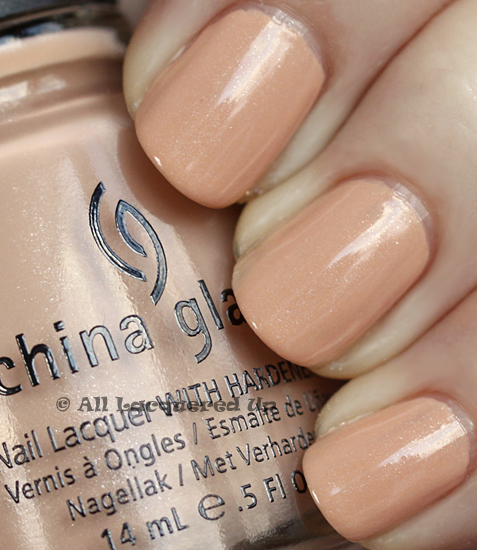 White Cap is a sheer, white-based glass-fleck style polish packed with gold flecks that create a sunshower type effect when the light hits it.  Because it is so sheer I think it's best used for layering.  I think it will look amazing over the orange, green and navy cremes in this collection or you could use it to add warmth to a cool toned shade like Sea Spray.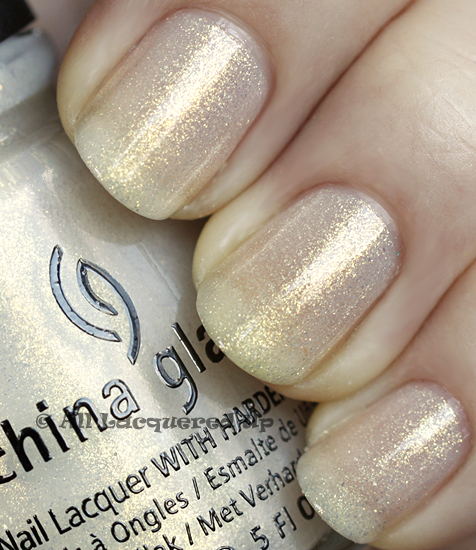 Bottom Line: This side of the collection definitely speaks to the Fanatics who opt for a more neutral palette.  I can't get enough of the three cremes and can't wait to start layering with White Cap.  The application problems that plague Sunset Sail and the unflattering nature of Knotty place them in the "pass" category for me.
China Glaze Anchors Away is available now and can be found at stores like ULTA and online at TransDesign.com, 8ty8Beauty.com and Head2ToeBeauty.com.  China Glaze polishes retail from $3-6 depending on the retailer.  Sally Beauty will not be carrying Anchors Away instead they have exclusive collections Treasures (in stores now) and Tronica (coming in March).
What do you think of the sand-washed neutrals and semi-sheer glass flecks in the Sand & Sea set?  Which colors are on your must-have list?  What would you layer under White Cap and Knotty?
Disclosure: Product samples were provided by China Glaze. For more info view my Disclosure Policy.