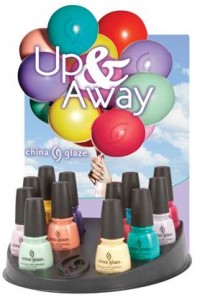 Here we go Fanatics.  It's time to round out the China Glaze Up & Away collection.  This new lineup of pastels and brights for Spring 2010 includes a set of four pink/coral shades in a range of hues to satisfy the cool and warm toned Fanatics out there.

I think we all know by now that this range of colors isn't necessarily my cup of tea.  Give me something that will make people stop and stare and I'm all over it (hello Re-Fresh Mint!).  However, I did end up shocking myself by becoming smitten with a couple of these beauties.  Find out which ones curled my toes, after the jump!
Something Sweet surprised me.  This pale pink with its lilac undertone awakened a love of pinks I thought I had lost.  Regular readers know this isn't my type of shade but I was drawn to its fresh, girly feel.  And it's the lone pastel in the bunch that didn't cause me problems.  It's still on the thick, slightly uneven side but I got away with two coats.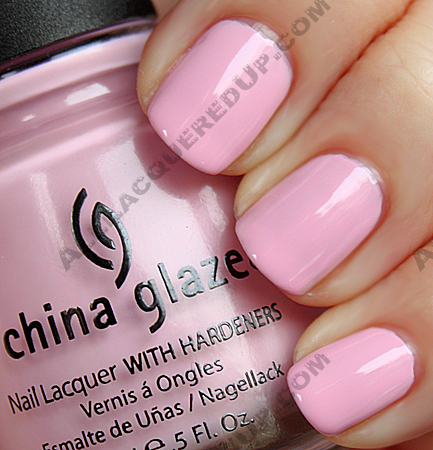 One of the first China Glaze polishes I ever bought was Go-Go Pink from the Patent Leather collection.  I loved the high gloss shine and mod pink tone.  Something Sweet is the cool toned version of that and I have nothing quite like it.  All my pale pinks are either too sheer, too milky or too warm.  CND Tutu comes close but no cigar.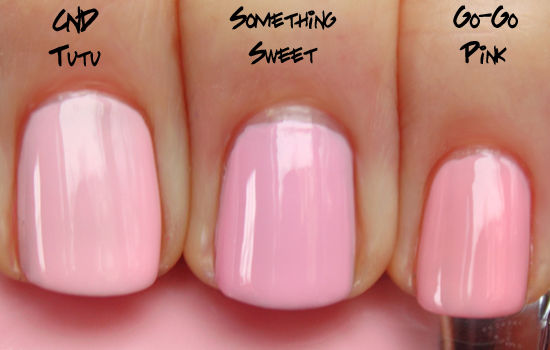 Sugar High is just as the name sounds, a pink candy confection of color.  It's bright bubblegum-y goodness with that same jelly-ish texture of the other brights in this collection.  It's making me want to break out my hidden stash of Hubba Bubba (yes I stockpiled my all-time fave gum).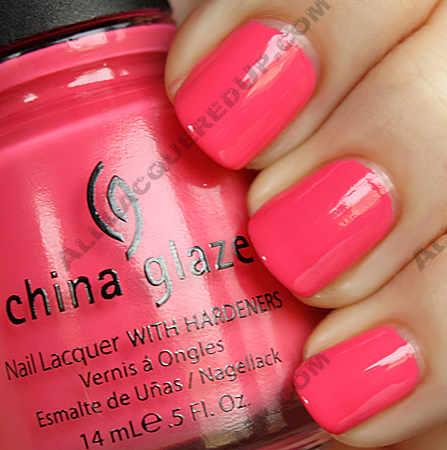 Even though I'm not all up on the pink train, I have a surprising number in my collection.  Way more than I thought and none of them are quite a vibrant or middle of the road as Sugar High.  The two China Glazes that came close are either too warm, Mom's Chiffon, or too cool, Laced Up.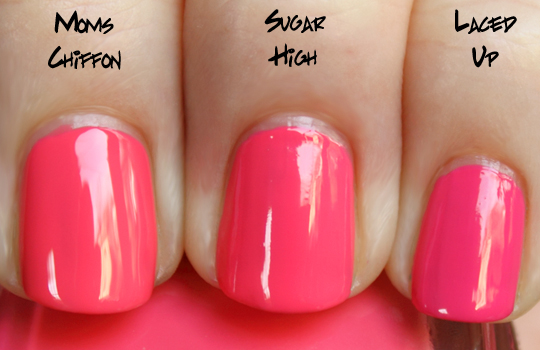 High Hopes is a very vivid coral that veers towards red but stops just before getting there.  It's much brighter in person, much more so than the bottle color suggested.  Ah the deceiving power of glass!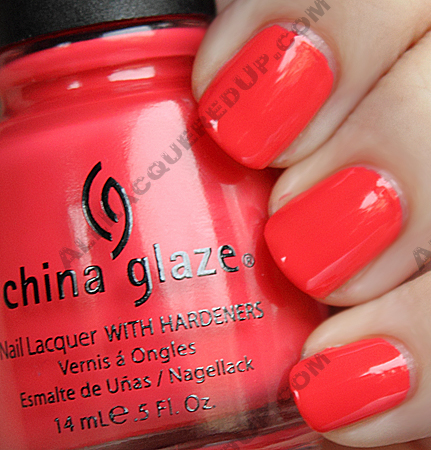 Based on the bottle color, I thought High Hopes was somewhat muted and similar to OPI Paint My Moji-Toes Red but they couldn't be more different.  HH is bolder, lighter and less brick red looking.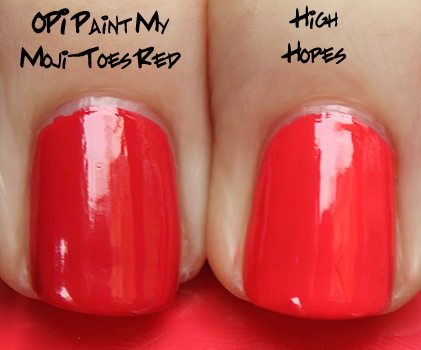 Heli-Yum is a raspberry pink creme.  It dries a bit deeper than how it looks on screen.  The formula is hands down THE BEST in the collection.  Like it was a true pleasure to apply.  It glided on the nail like butter.  It's not even a shade I'm all that into but I want to wear it just to put it on.  Heli-Yum will not disappoint.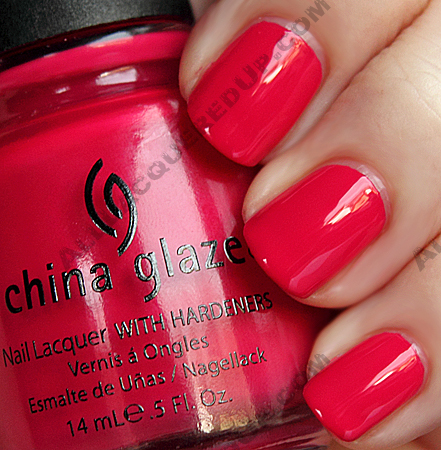 Though Heli-Yum is the one color with a true kissing cousin.  Zoya Dita is so close in color that even discerning Fanatics would have trouble telling them apart.  So if you own Dita, feel free to skip Heli-Yum, otherwise pick it up!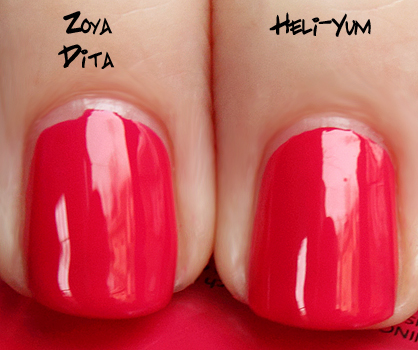 The Up & Away collection is set to launch in January 2010 but if it's ready earlier I'm sure it will start shipping out in December. Keep a watch on your local Sally Beauty and your fave e-tailers to scoop up these colors.
So now that you've seen the entire collection, which ones are your faves?  I know some of you have commented that you'll be getting the whole set.  After seeing this set is that still the case?
***If you missed any of my Up & Away collection reviews, check out Part 1 and Part 2.***
Disclosure: A product sample was furnished to me by China Glaze. For further information view my Disclosure Policy.