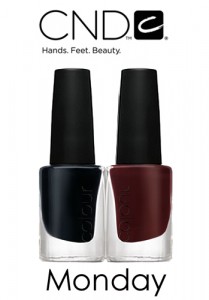 Welcome to CND Monday, a regular series here on ALU. Each week I'll be sharing a new layering combination from CND Colour & Effects to show you the versatility and creativity of the line.

One of my favorite CND polishes from the old line is NFS, a deep teal-based green with subtle tonal shimmer.  You know me and my greens.  It's a shame NFS has reached hard-to-find status but I was pleased to hear that the new Colour & Effects line included a blackened green, Oilslick, in the lineup.

Up until now I've only shown layering combinations using the Effects but I discovered a great combo with the Colours during New York Fashion Week.  The CND Team raved about the look they created for Monique Lhuillier's collection using Oilslick, Raisin in the Sun and Super Matte top coat.  Check out my re-creation after the jump!

If you missed my detailed review of the new CND Formula, Bottle and Brush check out CND Colour, Effects and Henna? for a recap.
Oilslick is a very dark and highly pigmented blackened teal green creme.  What you see below is ONE COAT.  That's right, this baby is so pigmented and smooth to apply you only need one coat.  With two coats it becomes difficult to see the green, it just looks black.  Unlike Sephora by OPI Dark Room with its grayed forest base, this polish has a blue-green base much like its CND predecessor NFS.
In comparison to NFS, you can see that Oilslick is much denser and deeper.  Think of it as NFS's vampier, older cousin.  You know, the cool one that lets you borrow her ID so you can sneak into clubs underage.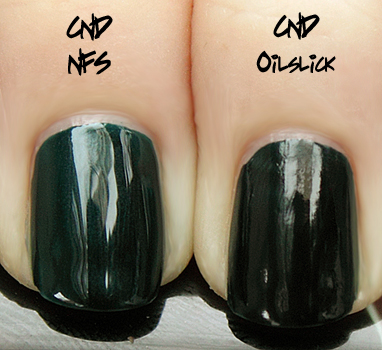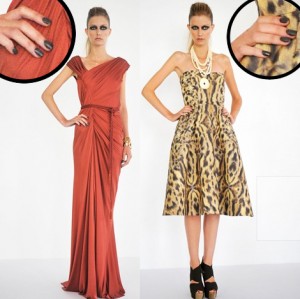 For Monique Lhuillier's S/S '10 RTW presentation, the creative minds at CND came up with a unique look layering Raisin In The Sun over Oilslick to create a mossy brown.  The green in Oilslick brought down the reddish undertones in Raisin In The Sun to create a more neutral brown.  They topped it with CND's new Super Matte top coat which lightened the overall hue and took down the shine.
I included one nail coated in Raisin In The Sun so you can see how red it appears in comparison with the final look.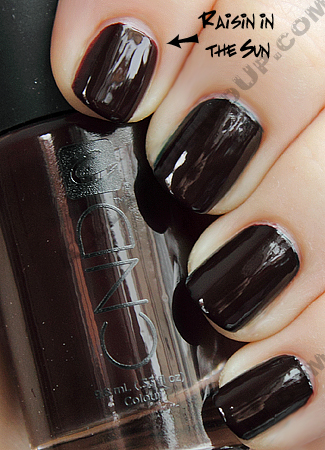 Now I tried CND's Super Matte and for me, it just didn't look right.  The formula is very milky so the finish was uneven.  As you can see, I used too much product on my ring finger and it looks a lot lighter than the other two nails.  I like the satin finish but I need to work on my application to get it right.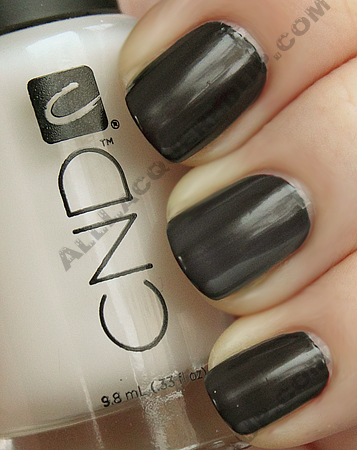 I decided to start over and try the matte look with China Glaze Magic Matte.  I came across a clearance bin of them at my local Sally Beauty over the weekend and stocked up. Score!  Even though I missed a couple spots (I'm far from perfect), I like the more mattified version of this color.  You can really see the difference between Raisin in the Sun on its own and over Oilslick.  I personally prefer browns that are more blackened/yellow based as opposed to reddish browns so, for me, this look is a winner.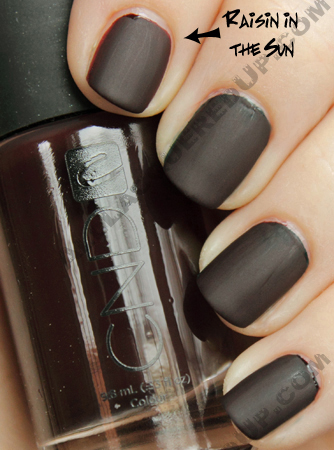 You can find CND Colour & Effects at salons nationwide and online at our fave e-tailers (see sidebar). Colours retail for $9/ea and Effects retail for $11/ea.
How do you like this look?  Since this was a look for Spring, what do you think of such a dark shade for the season?  Have you found any Colour on Colour layering combos that you love?
Disclosure: A product sample was furnished to me by CND. For further information view my Disclosure Policy.