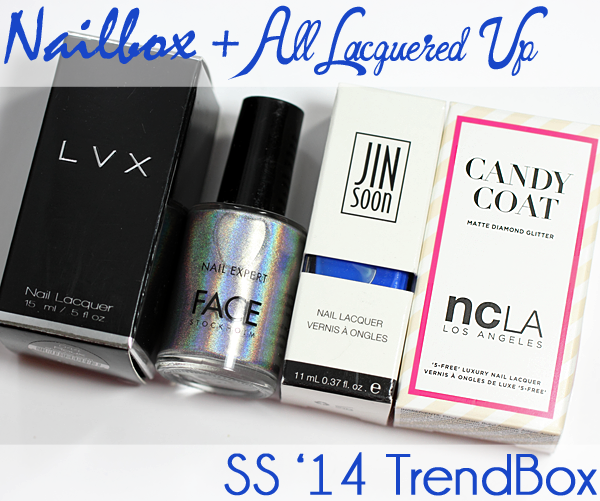 Today, I have something really exciting to share with you. Nailbox, the online nail polish store, is launching a new quarterly TrendBox subscription and they asked me to curate their very first box!
With a range of boutique and international brands to choose from, I selected four shades that best represent the trends of the Spring/Summer season and I hope you all love them as much as I do!


Nailbox SS '14 TrendBox
Narrowing down all the gorgeous colors sold on Nailbox to just four was a challenge but these polishes stood out for their on-trend and unique hues and finishes. You can read more about my selections and why I chose them on Nailbox.co.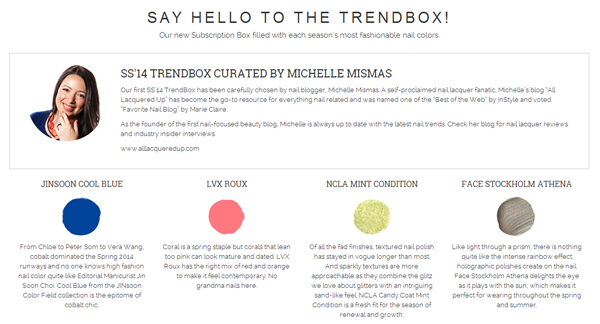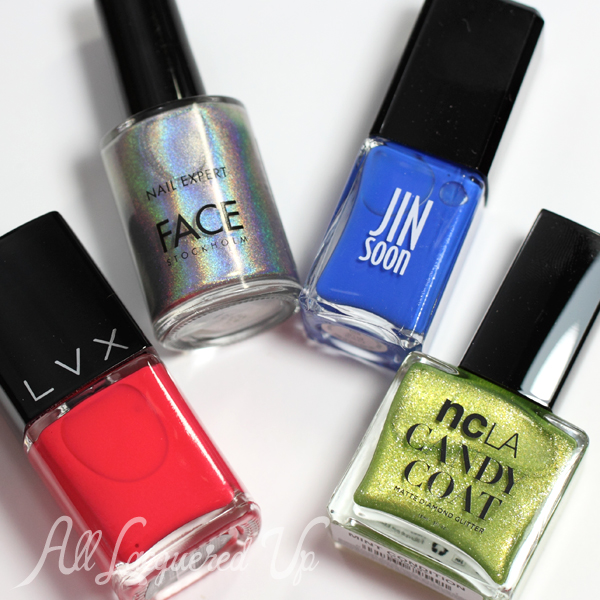 SS '14 TrendBox Colors
Face Stockholm Athena – Who doesn't love a fab holographic polish? I mean, when the sun is shining and those intense rainbows appear on your nails, it's hard to look away. And trust me when I say that the silver-based Athena is even more prismatic in person. The bonus… the formula is kick ass! No aqua/quick-dry base needed. Just make sure your regular base coat is completely dry.
JINsoon Cool Blue – I seriously can't get enough of this color, you guys. It's THE shade of the season. And the chance to get it to you at an amazing price? I couldn't resist! Even though JINsoon isn't carried on Nailbox, yet, I HAD to include it for you all. I just put it on my toes last night and, gah, is it gorgeous.
LVX Roux – Is my perfect kind of hot coral creme. It's the ideal mix of hot pink and red with just a hint of orange. It's poppy and rich and the formula is spot on. This will definitely be my next pedicure color.
NCLA Mint Condition Candy Coat – Texture is still alive and well but I know that hardcore textures turn a lot of people off. What I love about the Candy Coats is that the texture is pretty minimal. Even more subtle than the PixieDusts. And you can cover it with a glossy top coat and all but eliminate its tactile quality. This mix of metallic gold shimmer and lime green in no way matches its minty name but it's unique to the world of texture and will look fab with a faux glow.

The NailBox SS'14 TrendBox is available now at Nailbox.co for $35 (a $62 value). You can purchase quarterly boxes with no additional commitment or pick up a year subscription for $105 (a $260 value).
What do you think of my TrendBox choices? Are you a fan of subscription boxes? Do you plan to subscribe to Nailbox?
Disclosure: I was compensated for my participation in the Nailbox TrendBox. Product samples were provided by reps for Nailbox. Affiliate links appear in this post. When you purchase through an affiliate link, you help support this site. For more info view my
Disclosure Policy
.