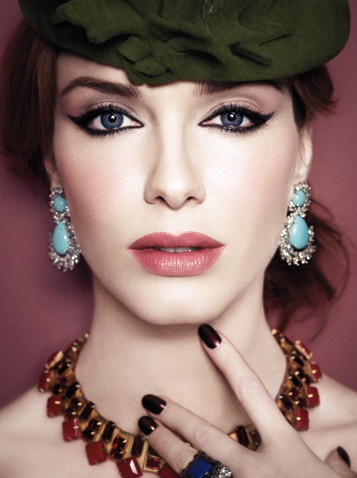 Rather than give any more attention to that other redhead whose nails have been making headlines I'd rather talk about the stunning Christina Hendricks who is gracing the cover of this month's LA Times Magazine.  Is anyone else counting down the days until the return of Mrs. Harris née Holloway and the rest of the Mad Men crew?  Only a a few more weeks!
I just love Christina Hendricks and how comfortable she is with her gorgeous, real shape.  To match pair with her retro look Green Celebrity Nail Stylist Jenna Hipp chose a polish from the China Glaze Retro Diva collection, Stella.  Very apropos, no?  The rich burgundy shimmer looks a lot more scarlet on camera but it's the perfect accent to her auburn locks and moss colored chapeau.  Who says redheads can't wear red?
To ensure a flawless look, Jenna used Kiss Press-On Nails with Nail Esque Press-on Adhesive Tabs that use 3M technology to keep your tips in place.  I must admit that after my Dashing Diva press-on experience I'm curious about whether the tabs will help them stay on longer.
Anyone tried the Nail Esque tabs or something similar?  What was your experience in terms of wear time?
image credit: LA Times Magazine