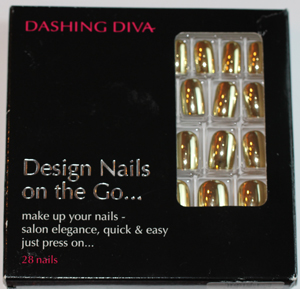 Ever since Beyonce made Golden Lightening Minx an international hit, nail fanatics worldwide have been looking for a way to replicate the look at home. Brands have been putting out "Minx-like" polishes but no lacquer can truly achieve that blinding chrome finish.

Now thanks to Dashing Diva's Design Nails on the Go… you can bling your nails like Beyonce for a fraction of the Minx service price.  These full coverage stick-on nails come in range of chrome finishes and animal prints.

I had the good fortune of running into Pattie Yankee, Product Development Advisor and Lead Educator for Dashing Diva Professional, backstage during Fashion Week where she showed me these fun tips.  She sent me home with a set in Gold Digger to try out and they are just what I was looking for.

As you know, I tried Minx over a year ago when the service first came to Cleveland.  While I loved the look and zero dry time, I had wear issues and wasn't jazzed over the cost.  So to find a product that can give me the same look for a quarter of the cost is music to my ears.
Package Contents: Each Dashing Diva Design Nails on the Go… kit comes with 28 tips in a range of sizes, a Nail Prep Cleanser Pad to help with adhesion and an orange wood stick.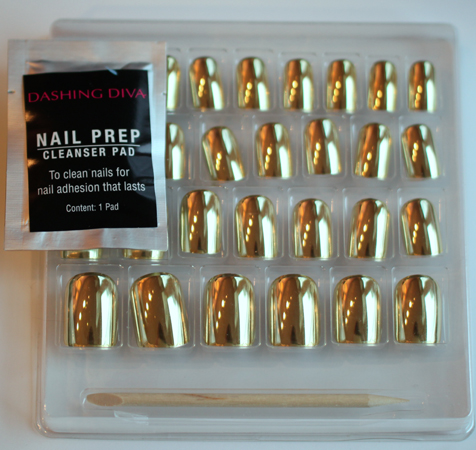 Application: Just like with any press-on nail, you want to remove any polish with remover, push back cuticles using the orange wood stick, prep the nails with the cleanser pad and press on the nail.
I had no problem finding nails that fit me and they easily pressed onto my nail beds.  The drawbacks for me are the thickness of the nails (they don't look natural) and the long square shape.  Though since these are somewhat of a novelty product I don't mind the thickness.  How real can chrome nails look anyway?  The shape was really bugging me though so I was happy to discover that the nails can be shaped without damaging the finish.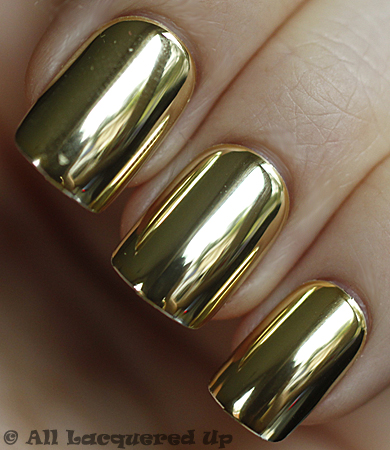 Customization: I used a coarse grit file held at a 45 degree angle under my nail to shape the tips.  I wanted them to be shorter and more round.  I finished with a smooth buffer to make sure there were no jagged edges.  There was quite a bit of dust so work over a surface that you can easily clean.  Of course, I ended up scratching the surface of two of the nails in the process but that's my damage, not any fault of the nails.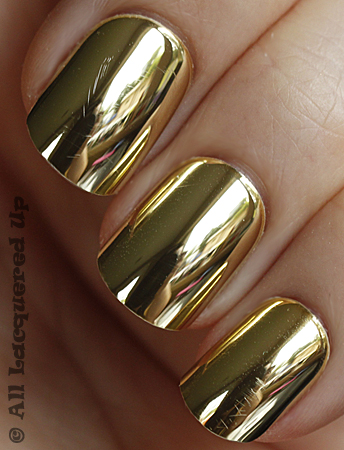 Wear and Removal: I wore these for a day to see how they hold up to everyday tasks. Um, they don't. Taking a shower or washing dishes without gloves (not that you do that) will cause the tips to come off. Since they are removed by soaking in warm water you want to avoid extended exposure to water at all costs. My suggestion, apply them just before you go out so they won't come off while getting ready.  Oh and don't worry about nail damage. The nails came right off and didn't take any of my natural nail with it.
Bottom Line: I have always considered Minx to be a special occasion product due to it's iffy wear time and over-the-top designs. So to get the same look for a fraction of the price is definitely worth it. The fact that they come off so easily is a downside but they'll make it through one night which is all I'm looking for.
Dashing Diva Design Nails on the Go… retail for $8/set and can be purchased on DashingDiva.com. Now Sephora was carrying some special designs on their site but I only see the Black French left.  Those are available at Sephora.com for $10/set.  I bought the Skull & Crossbones set a while back and they are too adorable.  I hope they bring them back.
Are you loving these chrome press-ons?  I totally want the blue and red metallics to alternate for the 4th of July.  It's a shame Sally Hansen stopped selling their chrome tips.  They would have been a sell out hit right now.  How many of you wear full coverage nails on the regular?  Will having options like chrome and animal print encourage  you to start?
Disclosure: A product sample was furnished to me by a representative from Dashing Diva. For more info view my Disclosure Policy.