Dashing Diva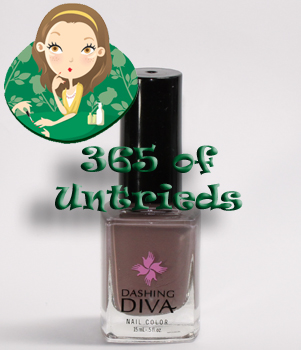 365 of Untrieds is my personal challenge to weed through the polishes in the ALU stash that I've been wanting to try but just haven't gotten around to.
One of my favorite things about Fashion Week is when the nail brands and designers come together to create custom mixes.  Whether it's to match a swatch of fabric or an inspirational image, I am always inspired to come home and franken up a new color or two.
Every so often, one of those backstage blends makes it into production which saves my mixing bottles for other creations.  That was the case with Dashing Diva Tibi Couture.  At last year's Fall 2010 runway show, Tibi's Amy Smilovic requested a greyed mushroom hue for her model's nails and Dashing Diva's Pattie Yankee came up with the perfect mix.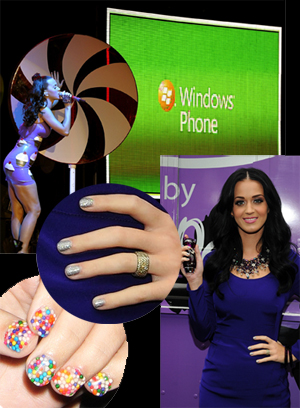 Katy Perry is one busy lady. Between her recent wedding to Russell Brand, the launch of her own fragrance, Purr, and the free concert she put on for the release of the Windows Phone she is probably going blind from all the camera flashes in her face.

Being photographed at so many public, and not so public, appearances means your makeup, hair and nails have to be on point.  To keep her digits looking perfect, Katy has been relying on Manicurist Pattie Yankee, Executive Technical Director for Dashing Diva.

I spoke with Pattie to find out more about Katy's candy coated tips from the performance and the glittering gray nails she wore to the Purr launch event yesterday in NYC.  Keep reading to find out how each look was created.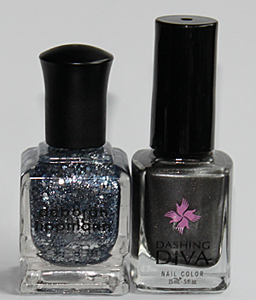 Oh hello there!  I didn't forget about the challenge.  I've just been running around NYC like a madwoman.  I returned late Wednesday night and literally slept my Thursday away.  A week of only sleeping four hours a night will do that to you.  I could actually crawl into bed right now, I'm that tired.

Not that you want to hear about any of that.  I was having an absolutely fabulous time so a little sleep deprivation is a small price to pay.  So Day 4 for me was Sunday.  It's always one of my fave days at NYFW because it kicks off with the triple threat beauty team of Deborah Lippmann, Sarah Lucero from Stila and Ted Gibson backstage at Lela Rose.

Since I knew I'd be seeing Deb, I concocted a layering combo using her holiday color Today Was A Fairytale.  I've been pretty obsessed with it ever since I wore it to an Emmy watching party.  This time instead of using a pale blue underneath I opted for something a little more industrial and gritty, the new Dashing Diva Penthouse Views from their fall color collection.