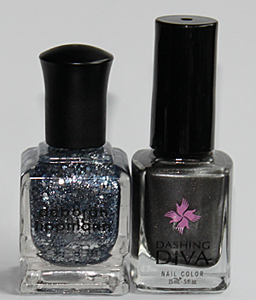 Oh hello there!  I didn't forget about the challenge.  I've just been running around NYC like a madwoman.  I returned late Wednesday night and literally slept my Thursday away.  A week of only sleeping four hours a night will do that to you.  I could actually crawl into bed right now, I'm that tired.

Not that you want to hear about any of that.  I was having an absolutely fabulous time so a little sleep deprivation is a small price to pay.  So Day 4 for me was Sunday.  It's always one of my fave days at NYFW because it kicks off with the triple threat beauty team of Deborah Lippmann, Sarah Lucero from Stila and Ted Gibson backstage at Lela Rose.

Since I knew I'd be seeing Deb, I concocted a layering combo using her holiday color Today Was A Fairytale.  I've been pretty obsessed with it ever since I wore it to an Emmy watching party.  This time instead of using a pale blue underneath I opted for something a little more industrial and gritty, the new Dashing Diva Penthouse Views from their fall color collection.

My day actually started an hour before the Lela Rose show when I went backstage at Derek Lam and got to see the talented Jin Soon again. She showers me with more love than I deserve and always compliments my nail color. We have very similar taste when it comes to nails so getting a compliment from Jin is very high praise.
The base color of this manicure, Dashing Diva Penthouse Views is a metallic gunmetal gray. It looks more shimmery in the bottle but on the nail, you see those telltale metallic streaks.  I hadn't actually worn this color on my nails prior to this so I was disappointed in the application and VERY happy to be layering something over it.  The consistency was pretty thick and while the color is very pigmented I wouldn't wear it on its own simply because the finish is so streaky.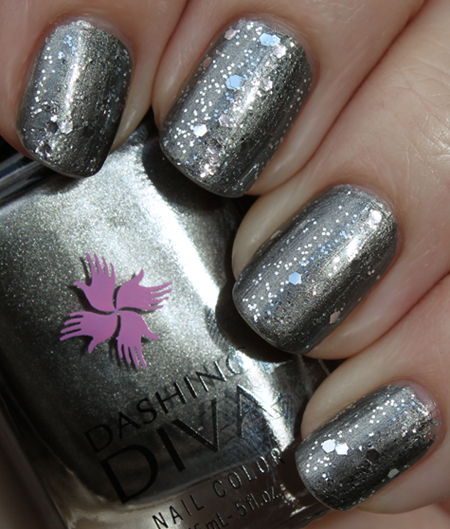 However, applying a coat of Deborah Lippmann Today With A Fairytale on top really saved the day. The streaks were still there but the glitter and hexagonal sequins masked it for the most part. Unless you held my nails up to your face, you weren't going to see any problems including the oops I made on my pinkie finger when I accidentally bumped the polish with an orange wood stick. At 2am mistakes are bound to happen!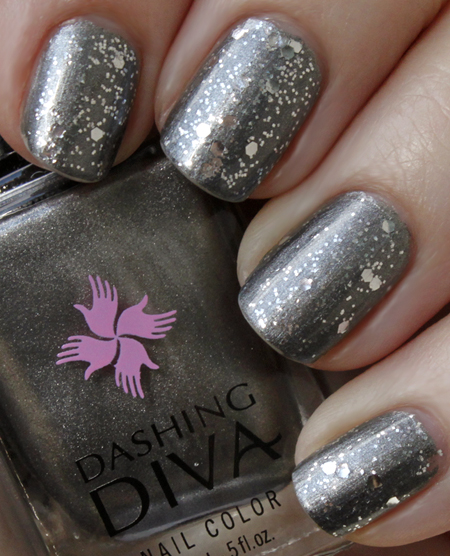 Deborah Lippmann Today Was A Fairytale is available now at Barneys NY stores and will be coming to DeborahLippmann.com in October. Dashing Diva's Fall 2010 nail color collection is available now on DashingDiva.com and at Dashing Diva salons.
What do you think of this combo?  Do you like Today Was A Fairytale better over the light blue-grey or this gunmetal shade?  What colors would you suggest putting underneath it?
Disclosure: Product samples were provided by Deborah Lippmann and Dashing Diva. For more info view my Disclosure Policy.