Covering NYFW means running from show to show, away from your hotel room the entire day and traveling between locations all over town.  That means your handbag needs to hold your life.  To make sure I have everything I need for a day backstage and attending shows a large handbag is a necessity.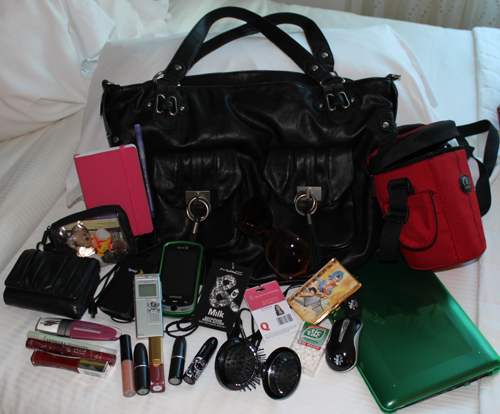 But here's the thing, as much as I love purses and covet ones from Marc Jacobs, Chanel, etc., when it comes to Fashion Week I go for cheap and destroyable because I know this baby is going to get a workout.  I know people, like my roomie Nancy, who prefer to go the quality route but I'm just too afraid of seeing a cup of coffee spill all over me.  This rings especially true after seeing not one, but two nail polish catastrophes backstage.  The mess that comes from a bottle hitting concrete is not something I want an expensive handbag near.

The Bag
Jessica Simpson Satchel. I know, I know but tell me you haven't been to Macy's, picked up a cute shoe or bag and then been amazed to see "Jessica Simpson" on the label. The girl puts her name on some adorable stuff and it kills me. When I saw this bag at TJMaxx all I could think was it's cheap enough that I won't cry about ruining it in NYC and it's big enough to haul all my crap.
The Tech Gear
Samsung Moment – I cannot do the virtual keyboard thing but I love a touch screen. The Moment marries the two perfectly on the Google Android platform. What I love is that because I'm like one of two people in NYC on Sprint, I never have connection issues here. I even get signal on the subway. Top that AT&T!
Sprint Power Pack – As any smartphone user knows, battery life is a fleeting thing. I carry my charger with me but thanks to my power pack, I rarely have to use it.
Olympus WS-311M Digital Voice Recorder – Backstage can be crazy and hectic.  Getting close enough to a key artist to hear them speak is a challenge enough without trying to write it all down.  This baby is my lifeline!
ASUS Eee PC Netbook - My awesome boyfriend gave me this for my birthday and it's been so handy.  My Moment can do a lot but it's no computer.  Having this 3 lb beauty in my bag with help me pass the time between shows and keep me connected.  I decked it out with a green protector I found on Amazon
Travel Mouse with Retractable Cord – I picked this up the other day at the Five Below store that opened nearby.  So handy!  btw, how cool is that place?  I saw a display of Art Club polishes when I was there.
Canon T1i dSLR – Getting great backstage shots is essential and while it's handy to carry point and shoot I would rather lug this beast around and get the pics I need.  I love it so.
The Beauty Gear
I'm not big on reapplying makeup throughout the day outside of my lips so having an arsenal of lippies is key for me.
MAC 4N lipstick & 2N gloss – Together they give me the perfect nude lip look
MAC Most Popular lipstick – A fun bright from the Hello Kitty collection
MAC Twig Twig lipstick – A great rosy neutral.  My go-to shade
Estee Lauder Pure Color Gloss Stick in Rose Dusk – I'm currently obsessed with this product.  I even talked K. from Pumps & Gloss into buying one when we met up in Detroit a few weeks ago.  It's gloss in lipstick form and I am quickly wearing it down to nothing.
Stila Cherry Crush Lip & Cheek Stain – After seeing this stain last all flippin day on my pal Amber during a beauty tour a few years back, I had to get one for myself and it's been a staple in my lip wardrobe ever since.
Urban Decay "David" Pocket Rocket - I gushed over this gloss dubbing it As Amazing As Polish and I seriously never go anywhere without it.  I even have a backup in case UD ever discontinues it.
L'Oreal Infallibale Never Fail Lipgloss in Rebel Red – I've had this tube of gloss for over two years and I can't be without it.  Just don't go calling Tyra to investigate it for bacteria, I don't want to know!  Not only does this gloss last but Rebel Red is the perfect red shade for me.  It's slightly berryish and I can apply it relatively thin to give me a lipstick stained look that lasts all night!
Sephora Cuticle Pen in Healing Eucalyptus – I own at least 5 of these pens in all the formula variations.  I keep them in random purses, on my nightstand and at my desk.  They are my go-to cuticle hydrator and I love that they are mess-free and TSA friendly.
Folding Mirror/Brush Compact - I don't like to carry a compact in my purse for fear that it will crack if I drop my purse so having a cheapie one like this from Target is ideal for me.  I have a gorgeous pink ribbon compact from Estee Lauder that I picked up at the CCO but I never carry it for fear of ruining it.  Something this inexpensive won't leave me crying if it breaks.
Everything Else
Leather Wallet – I have a full size Michael Kors wallet that I love but for FW I like something small like this one I got at one of those leather stores at the outlet mall. I only bring my ID, credit card, minimal cash and my Metro Card with me so a large wallet isn't necessary and just takes up valuable purse space.
MAC Fafi Coin Purse – I'm sure MAC intended this for makeup but this clear Fafi branded pouch is perfect for carrying loose change and storing receipts.  I also use it to carry my blotting papers.  When you're running all over Manhattan you're bound to end up a bit shiny.  Blotting papers are a MUST.
Notebook & pen – I use my voice recorder exclusively backstage but I like having some good old fashioned paper with me as a backup.
Tic Tacs – As Farmer Ted said in Sixteen Candles, "fresh breath's a priority in my life."  I like gum and all but looking for a place to pitch it can be a pain and who wants to be stuck with flavorless, hardened gum in their mouth backstage.  Not I!
Press Passes – I'm not going anywhere without my press badges so I guard them with my life.  I do like that IMG in now including headshots on the badges so people can't share them.  Of course so many people forgot to upload their pic this season that it made the pick-up line WAY too long.
Business Card Holder - It's the one I told about from Etsy.  I absolutely love the design and it got a lot of notice backstage.  So fun!
Yes, these seems like a ton of stuff to haul around and yes, my back is killing me from lugging it all week.  You have no idea how happy I am to be back home and carrying something much smaller and lighter.
Disclosure: Product samples were provided by Estee Lauder, MAC (Twig Twig, 4N & 2N) and L'Oreal.  All other items were either purchased by me or gifts.  For more info view my Disclosure Policy.