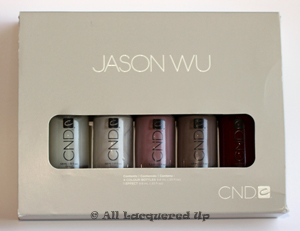 No, I didn't forget how to count, there is no Day 5 in my NYFW NOTD Challenge.  Day 5 was my NAIL FAIL day as I didn't meet my own challenge to change my nail color daily.  The best part, I was totally called out on it by my blends (blogging friends) Amber & Kristen.

Though Amber is partly to blame for my failure as I was out having a few too many adult beverages with her and Nance the night before.  The last thing I wanted to think about at the end of the night was changing my polish.

So with Day 5 behind me I couldn't resist breaking out the CND Jason Wu Collection for Day 6.  Being that I wasn't able to attend the show I couldn't get my hands on one of the special sets gifted to attendees but CND Co-Founder and Creative Director Jan Arnold was extremely generous, giving up her own personal set to me.  Can you even?

As I reported on the day of the Jason Wu show, the limited edition collection will launch in May 2011 and introduce a new Effect that creates a tweed finish on the nail.  Naturally this piqued my interest.  How do you translate tweed to the nails?  Since I'm all about a multi-colored manicure and these colors pair so well together, I chose to use three of the four polishes in my Day 6 look incorporating the new effect, Anna.
From thumb to pinkie we have; CND Sophia, CND Sophia w/Anna, CND Brigitte, CND Miss Wu w/Anna and CND Miss Wu.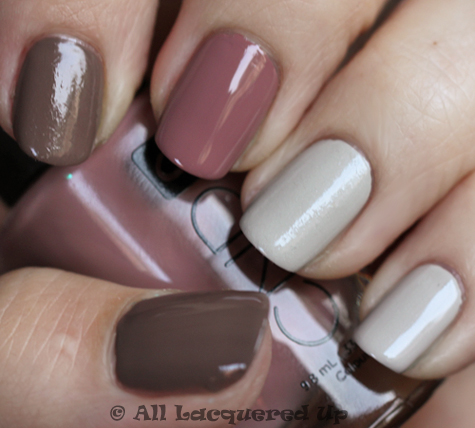 The image above was taken in the extremely cool toned light of my hotel room and it wasn't until I got home that I realized my lens didn't really pick up the finish of Anna so I recreated the look at home to give you a better idea of how it looks on the nail.
Anna gives a nod to Jason Wu's use of texture in his collections.  To bring that look to the nails, CND used silk fibres in a milky base that dries with a satin feathered texture.  Over the dirty gray shimmer, Miss Wu, the look is more subtle, almost pebbled.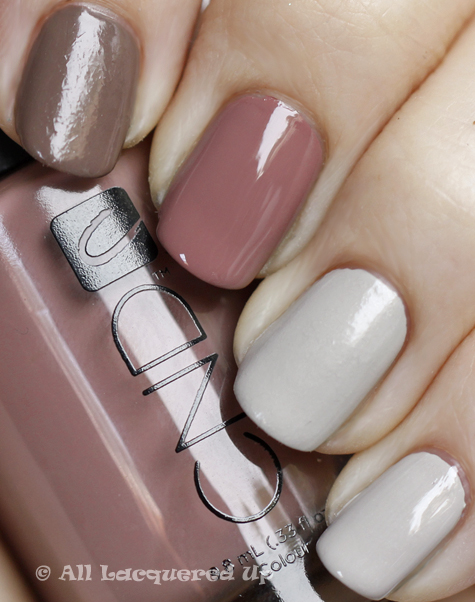 However, over Sophia the individual fibres really stand out.  You can see where the tweed idea comes into play.
Adding a coat of CND Super Shiney dulls the effect though it helps cap the fibres that end up sticking out over the edge of the nail.  Not that that's really an issue.  The fibres aren't sharp or anything so you don't even feel them when they do go beyond the free edge.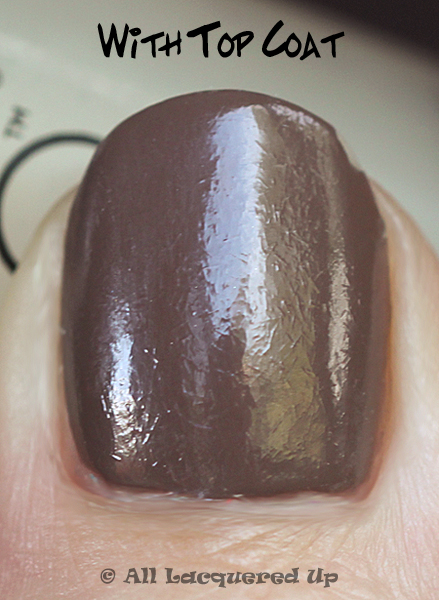 I will be doing a full review of the CND Jason Wu Collection closer to launch but I couldn't help myself from playing a bit. As my boyfriend commented, these three shades all look like different types of clay which is why I think they make sense in a collection together.
What are your initial thoughts on this collection? Does Anna make you think tweed? What other textures would you like to see translated to nails?
Disclosure: Product samples were furnished to me by CND. For more info, view my Disclosure Policy.