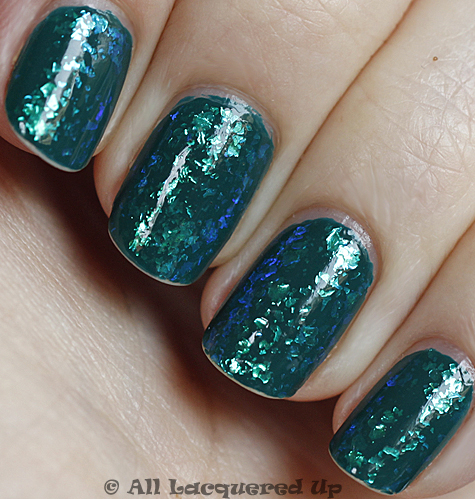 Initially there wasn't going to be a Day 7 in my NYFW NOTD Challenge.  Even though I was in NYC for seven days I purposely didn't schedule any shows or meetings for the last day so I could wander the city.  Every time I go to NYC for blog business I pack my schedule so full I never have time to just explore and I made sure to leave time for that on this trip.

Then I got a call from my pal, Celebrity Manicurist Elle, on Day 6 inviting me to come visit her on a photo shoot.  You don't have to ask me twice.  Naturally I was curious to check out her kit and see what she brings to a shoot.  While I was there, Elle offered to give me a manicure and I couldn't pass that up.  When she started dragging out her Nfu Ohs and playing with different layering combos I knew I was in for something fun.  Check it!
Elle goes to set with a wheeled carry-on containing her bags of polish, manicure supplies and tools.  Being that a lot of her shoots for editorial and celebrity covers require a natural nail look, she carries a LOT of sheers/nudes that she uses in different combos to create the perfect clean manicure.  I know that's the job but how boring.  Show me the colors!
Elle's collection of nail polishes was like a treasure trove.  Old school Dior, Chanel and NARS polishes, Jill Stuart and other Asian brands we can't get here.  It's an amazing sight.  When the Nfu Ohs came out and I spied colors I haven't ordered yet, Elle started playing.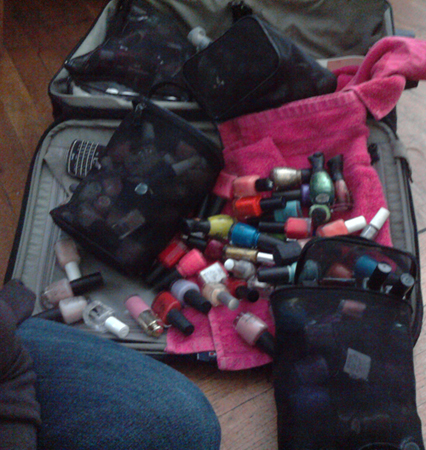 We both liked the green base and foil flakes in 55 but what to put underneath.  Elle originally tried a yellow, no go, and China Glaze Flyin High, a fave of mine, but we both loved how 55 looked over the teal creme 528.  Think of it as a deeper version of China Glaze Aqua Baby/Shower Together.
Elle proceeded to give me one of the best manicures I've ever had, even in spite of my constant hand talking and the lack of lighting.  She called it "Elle's manicure in the dark." Seriously though, she got my nails in such great shape that you wouldn't guess that I swatch polish on a daily basis.  Thanks to her magical bottle of Orly Cutique, she was able to get up a lot of the yellowing that had been plaguing my swatching nails.  She swears by that stuff and I can see why.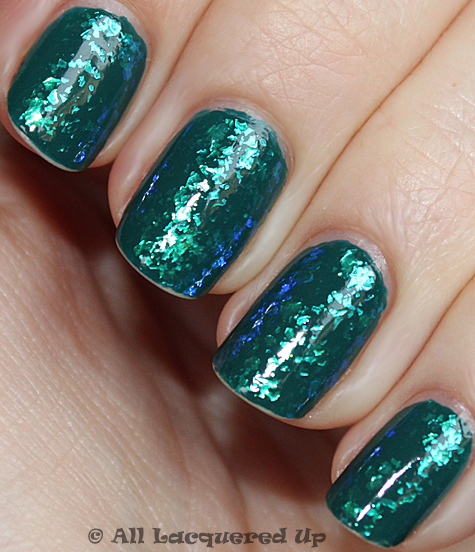 Using two coats of my beloved CND Stickey to avoid staining and a new secret top coat, my nails were dry before I knew it. When we headed out to grab a bite to eat I was worried about wrecking my mani but it was completely dry. AND it held up like a champ. After five days that included packing, hauling luggage and housework my nails barely showed any tip wear.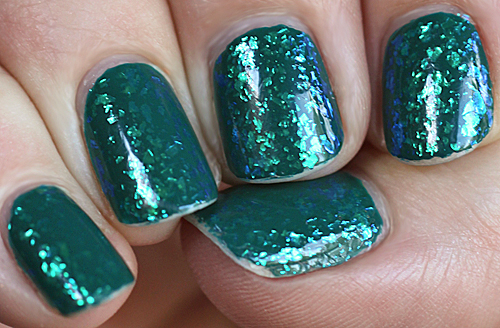 Nfu Oh polishes can be purchased in the US at FabulouStreet.com for $12.50/ea with FREE SHIPPING. Can't beat that!
Have any of you tried this combo?  What do you think of the look?  Am I like the last nail fanatic on the planet to discover how amazing Orly Cutique is?  Where HAVE I been?