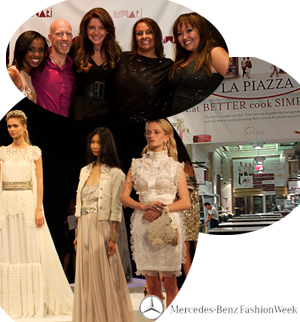 My week in NYC was such a whirlwind that I'm still processing it all.  It goes by in a flash and then I'm standing at the airport with a camera full of images and no clue what I saw.  It always takes me a few days after I get back to decompress and put all the pieces together.

So while I'm compiling my backstage coverage, I thought I'd share some pics from the rest of my trip.  You know, those hours when I'm not crammed in a tiny space with every beauty blogger, editor, model, makeup artist, hairstylist, manicurist and publicist in NYC.  A lot happens in those off hours including a few reality star sightings, meet-ups with friends and fun nights out.

First, here's a photo I missed from Fashion's Night Out at the Chanel SoHo store. This is Julie Kandalec. She's a manicurist from my hometown who is making the move to NYC next month. Julie has worked backstage at Fashion Week and has had her work featured on the covers of NailPro, Nails and Scratch.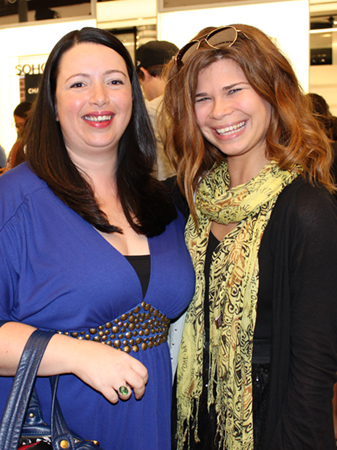 Early Saturday morning I attended the Diego Binetti presentation and it seriously blew me away. And I wasn't the only one. You could actually hear awes from the crowd as they took in his collection of gowns fit for royalty. It was at this show that CND took nails to the next level, turning them into cocktail rings. Just wait til you see my pics of that.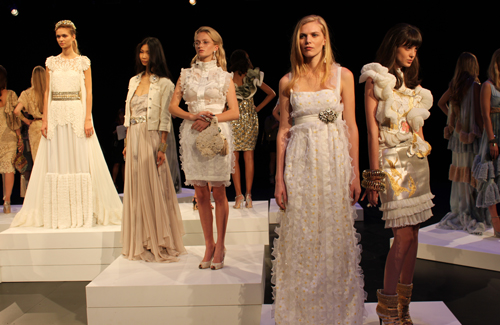 Saturday night I attended the Cocktails & Couture party at the Ted Gibson Salon. Two of my fellow bloggers, Lianne Farbes of The Makeup Girl and Kristin Booker of Fashion Style Beauty organized the event giving bloggers and brands the opportunity to mingle.  Ted along with his partner, Celebrity Colorist Jason Backe, hosted the fete along with title sponsor Mwari Magazine.
Maci Peterson from Mwari Magazine, Jason Backe, Mary Amons, Lianne Farbes and Kristin Booker.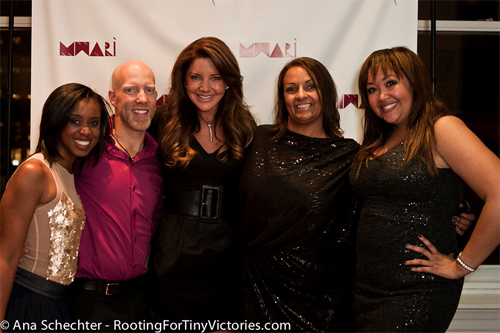 Also in attendance, Mary Amons from Bravo's Real Housewives of DC. You guys, Mary is stunning in person and so statuesque. I had the chance to actually meet Mary the next day at a restaurant while she was lunching with Ted & Jason and she seemed very sweet. She's actually my fave of the DC housewives. She comes across as the most together plus that closet… I'd be making a copy of her fingerprint, Mission: Impossible style, if I was her daughter.
One of the best part's of these types of parties is getting to see my friends from the beauty blogging world.  We run into each other backstage and grab drinks when we get a chance during the week but having an event where we all come together and just relax is the highlight of my trip.
KarlaSugar, LesleyKat and Meredith from Retrodiva's Beauty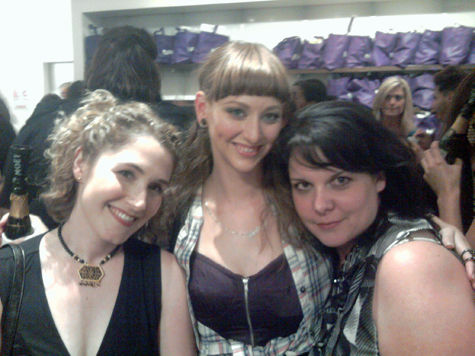 At the party I FINALLY got to meet Manicurist Tracylee Percival. Tracylee and I have been tweeting with each other for over a year now and have yet to actually meet in person. I've heard nothing but raves about her work from my blogging friends and it was great to finally connect in person. You can follow Tracylee on Twitter @LuxeByTracylee.
Kristin Booker, Nancy from Beauty411, Me and Tracylee Percival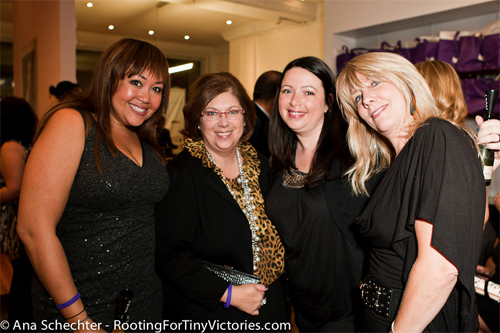 Zoya was one of the sponsors so Leo Reyzis, VP of Art of Beauty, and Erin Giddings, Media Relations and Design, were in attendance. Unfortunately they had to run off to a makeup test shortly after I arrived but it was great seeing some fellow CLE folks in the Big Apple.
Leo Reyzis, Lianne Farbes and Erin Giddings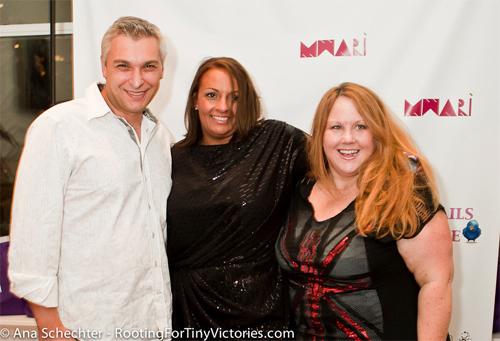 Meredith, Me and Nancy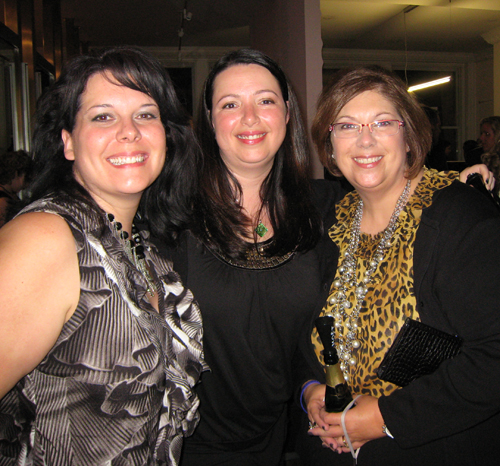 On Sunday I took a break at Starbucks with a few friends and look who walked in the door. It's Brad Goreski from The Rachel Zoe Project. We all kind of flipped out when we spotted him and I just had to get a pic, even if it was on my cell phone. He couldn't have been nicer and he even tapped me on the back as he left to say, "Have a nice day." To which my friend Kirsten yelled, "We love you Brad!" And we do, we really do love him. I can't even begin to tell you how gorgeous he is in person. His skin is like butter. I want to love him and hug him and pet him and call him George!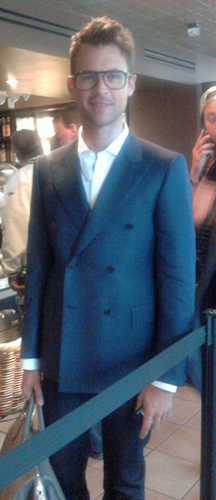 Post-Starbucks high Kristen and I headed backstage at Malandrino where the pouring rain threatened to ruin the outside runway show. There we saw CND's Jan Arnold in her "Camo Jan" look. I just had to snap a shot of her and Kristen together.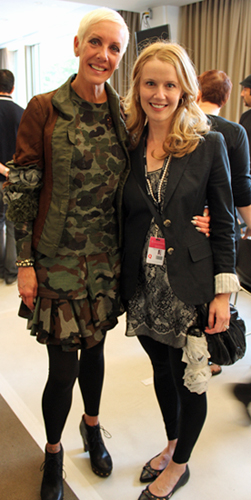 On Monday I got the chance to visit a place I've been hearing so much buzz about, Eataly. It's the brainchild of Mario Batali, Joe Bastianich, Lidia Matticchio Bastianich, and Oscar Farinetti and you MUST visit.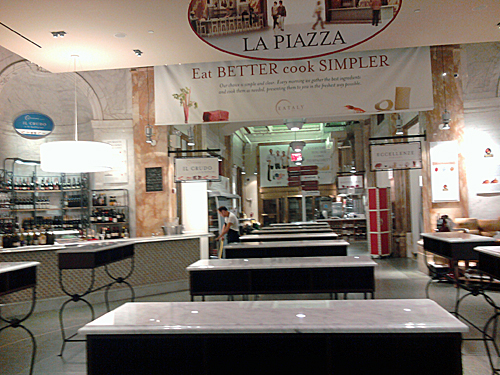 In a nutshell Eataly is a giant Italian marketplace but it's so much more than that. It houses multiple restaurants, produces its own gelato, sells every type of Italian foodstuff you can imagine and offers a Vegetable Butcher. I don't know why that concept amazes me so but I seriously HATE cutting up my own produce.  The idea of buying the ingredients for a salad and having someone cut them up to my specs, for free, sounds like heaven. Even if the produce is more expensive.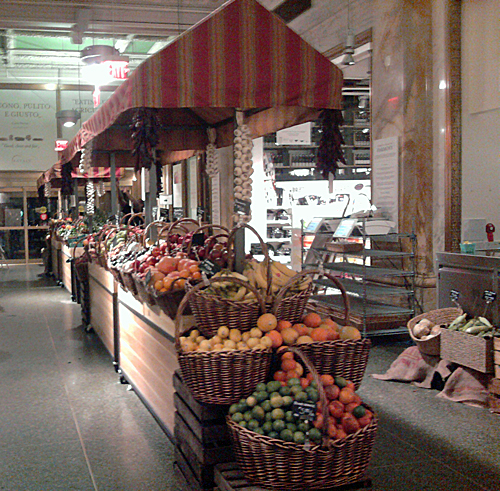 I was fortunate to be there with someone who has a friend that works at Eataly so we got a mini tour after hours. The restaurants are all seated separately and divided into sections; Vegetables, Fish, Meat, Pizza & Pasta. We ate in the Pizza & Pasta section and spotted Mayor Bloomberg stopping in for some takeout. Cool, right?
In the center of it all is The Piazza where you can nibble on meat & cheese boards and caprese salad, like we did, as a light meal or pre-dinner appetizer.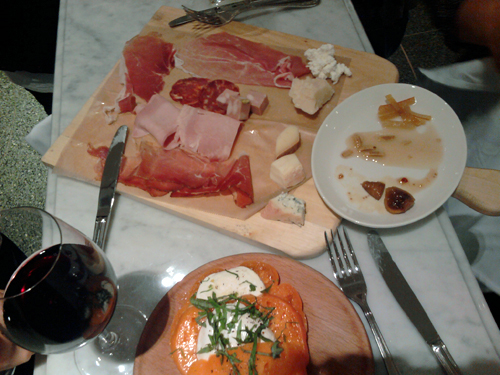 What makes the experience even better is that you can buy everything used to make your meal in Eataly. Every ingredient is sold in-house so you can attempt to recreate what you had at home. I discovered Taleggio cheese and picked up a piece at my local Whole Foods as soon as I got home.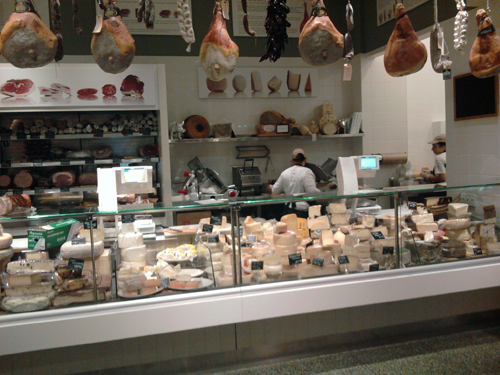 So that's a basic recap of what I did while in NYC though I have so much more to share.  I have tons of backstage coverage that I hope you'll enjoy.  While there was a sea of nude nails hitting the catwalk there were also some wild, inventive looks that I can't wait to show you.
Have any of you NYC girls been to Eataly yet?  Do you know of any places that are similar?  I'm planning a trip back to the city, for fun, with the boyfriend and want to make sure I don't miss anything.
image credit: Ana Schechter & All Lacquered Up