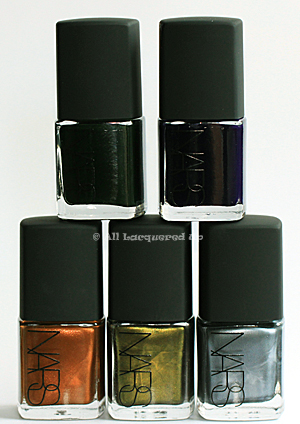 Last year when NARS released its Vintage Nail Polish Collection you could probably hear my heart breaking for nail fanatics around the world.  Where was Zulu?  What about Mash and Midnight Express?  Was I the only one with a fondness for Ziggy and Platoon?

Well I'm happy to see that in the NARS Vintage Nail Polish Collection 2010 they brought back three beloved shades and two I was previously unfamiliar with, King Kong and Full Metal Jacket.

The question is, how do the re-releases stack up against their former incarnations?

Application & Formula: The NARS Nail Lacquer formula is 4-Free (including Formaldehyde Resin).  The brush is thin, round and very flexible.  I was able to do a three-stroke application with each polish.  The collection consists of two jelly finish polishes and three metallic shimmers.
This isn't a collection for the casual polisher.  There's no slap and go application here.  In all seriousness, if you aren't willing to put in the time to work with them, you're going to be bitching.  The application is a bit tricky with all of these colors.
The major downside is the opacity.  Every polish requires a minimum of three coats and if you apply the jellies too thin you'll need four.  All of my swatches are with three coats. You also need to be careful with the metallics to avoid brush strokes.
Application Tips: Normally I apply thin coats but with the jellies it's best to load up your brush a little more than usual to get it done in three coats.  With the metallics, I suggest waiting a few minutes between layers to avoid major streaking.  Also, use a light touch.  Too much pressure will cause dragging and patchiness.  Finally, when doing your three strokes, alternate which side gets the second stroke to make sure you get even coverage.

Mash is an army green punched up with gold metallic shimmer.  It can get a bit brush stroke-y if you aren't careful but for the most part it flows well.  Of all my mossy polishes Mash is definitely a fave which is why I've kept it all these years.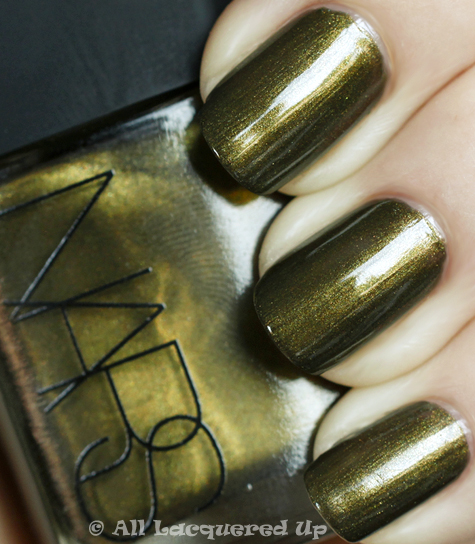 At first glance I thought the 2010 version of Mash was a little more gold than the Original but once they were both dry you couldn't tell the two apart.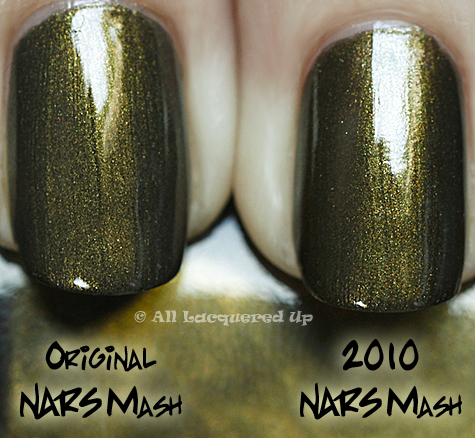 I've talked about the craze Zulu caused when Sephora released it as a limited edition Holiday item which is why I was so surprised to see it left out of last year's Vintage lineup.  Well all of you who missed out on this dark green jelly the first time around can finally have your craving satiated.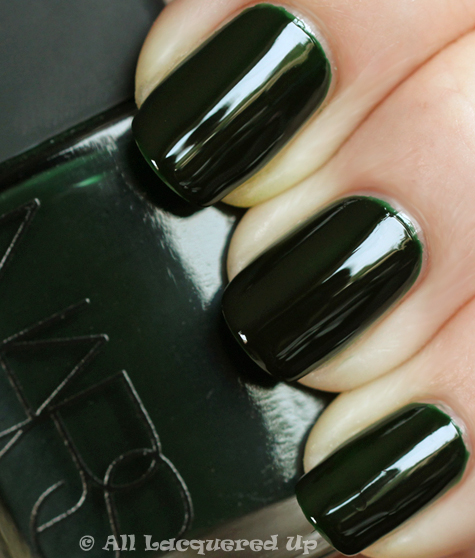 Unlike Mash, the base color of the new Zulu is a bit different than the Original.  Zulu 2010 is a bit deeper with a hint more blue in its base.  I'm showing a swatch with one coat of each so you can see the slight difference.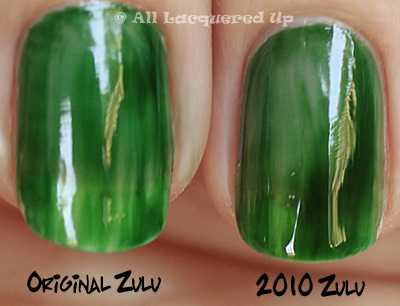 Despite the slight variance in the base color, the finished product is still the same.  Because Zulu is so dark it would take a major difference to be noticeable.  Case in point, Nfu Oh 569.  I've been told this Nfu Oh is a Zulu dupe but it's lighter and brighter.  The distinction is more apparent in person.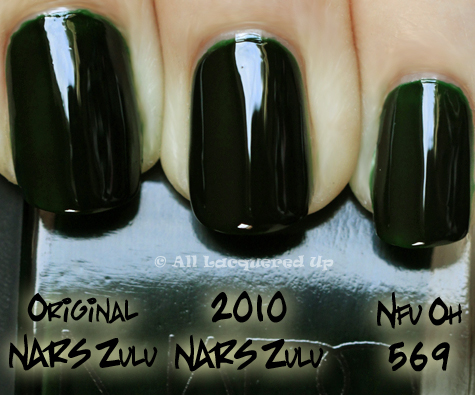 Midnight Express is the NARS that got away so I'm REALLY happy to finally own it.  Back when it was on clearance on the NARS website I had it in my cart over and over again yet I never pulled the trigger.  This the blue counterpart to Zulu with its bright blue jelly base that darkens to a blackened blue as it becomes opaque.  In daylight you can tell it's blue but at night, only you will know.
Full Metal Jacket had me cursing when I first swatched it.  What you see below is actually my third attempt with this polish.  It went on so uneven with so many brush strokes, I was ready to label it a POS and toss it.  Then I stopped, took a breath and WAITED between coats.  What a world of difference that made even though brush strokes are still visible.  This is the number one reason that you shouldn't give up on a polish on the first try.  Play with it and eventually you can make most polishes work.  FMJ is blue-based grey metallic shimmer.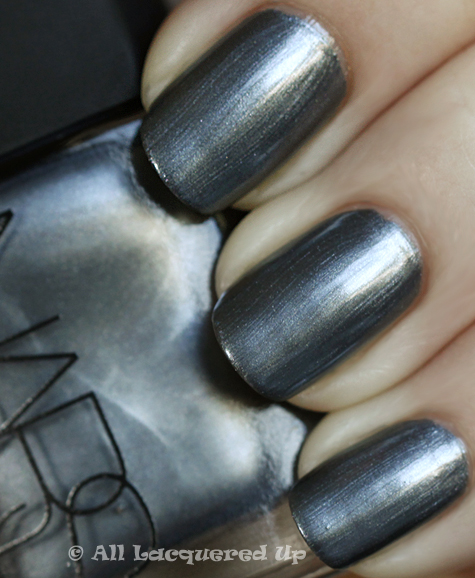 I'm not really sure how King Kong got its name as I've always thought of gorillas as being black or chocolate brown.  Regardless King Kong is a warm bronze metallic.  I may be totally off but it reminds me of MAC Naturally Rich from the N Collection with a different finish.  This one actually applied really well.  It almost didn't need the third coat.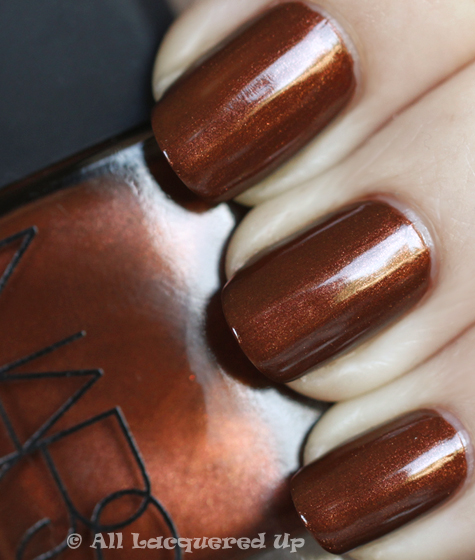 Bottom Line: No matter what I say about Zulu, collectors will be lined up to scoop up a bottle.  I honestly prefer Nfu Oh 568 because it's lighter and you can tell it's green.
As far as the rest of the collection goes, I'd say that Mash is the only must-have.  King Kong gets the runner-up prize though there's a BIG difference between 1st and 2nd place.  The application issues are just too much.  If you're really willing to work with these colors, go for it.  Otherwise, you'll just end up irritated.
NARS Vintage Nail Polish Collection 2010 arrives on October 1st 2010 and will be available online at NARSCosmetics.com and at NARS counters nationwide.  NARS Nail Polish retails for $16/ea for a .5oz bottle.
Okay so how many of you are still planning to snag Zulu?  Will any of the other Vintage colors find a home in your collection?  Do you think Zulu is worth the hype?
Disclosure: I received these polishes as a gift from a friend.  For more info, view my Disclosure Policy.