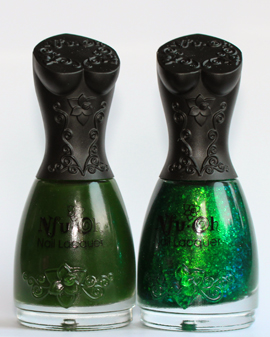 What a weekend! I think I'm still recovering from a wine induced coma. The Vintage Ohio wine festival took place over the weekend and The BF and I hopped in a van with the neighbors to take part in an all day sampling of Ohio wines.

We've been going to this festival for the past 11 years and even though we're there for the wine I still come home every year with a bag of kettle corn the size of a small child.  Popcorn is my one true food vice and kettle corn is my Achilles heel.

Anyway, I thought since I would be outside in the sun all day on Saturday, it was an excellent excuse for Nfu Oh Flakies!!  I started a wear test using #568 (pictured left) & #56 (pictured right) last Monday but I anticipated having to take it off by Saturday.  To my surprise it still looked so fantastic I only had to paint my swatching hand to match.  Check it!

Application & Formula: The Nfu Oh bottle doesn't list ingredients so other than the FabulouStreet website saying it's 3-Free I have nothing to go on.  The brushes are short, round and firm.  For me a firm brush means a light touch so you don't end up with cuticle drag when applying multiple coats.
Because 568 is a jelly it applies a bit streaky and squishy but compared the granddaddy of green jellies, NARS Zulu, it's a flippin dream to brush on.  Three coats give you opaque, glossy, jelly perfection.  Tip: Make sure you wrap your tips/cap your edges.  I was in a bit of a rush on Saturday and as you can see, forgetting that step leaves the free edge slightly lighter.
Nfu Oh 568 is a mossy green jelly.  It actually looks a lot like seaweed salad, which I only recently discovered.  I don't know how I've never ordered it at the sushi bar before.  So good!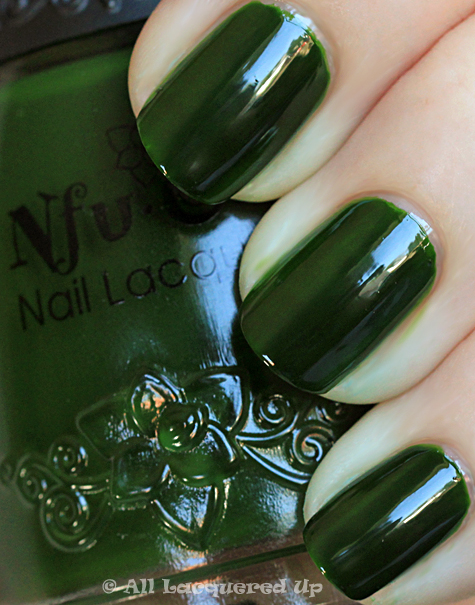 On its own, Nfu Oh 56 is pretty sheer.  From what I can tell all the "flakies" from Nfu Oh are like that.  In the bottle it looks like a vivid emerald hue but due to the sheerness of the base it's a lot lighter on the nail, more of a spring green.  The green flakes and micro-glitter come alive in the light like they've been set on fire.  I used three coats for this swatch and while you can't see it in the pic, I still had VNL.  This polish is best utilized for layering.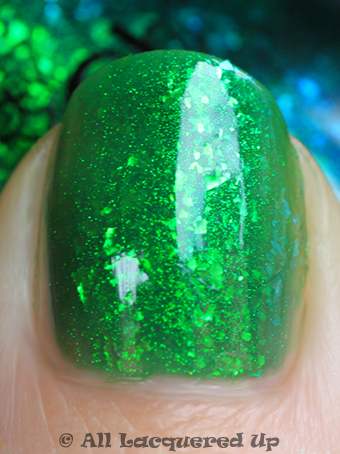 Put 56 over 568 and you've got one hell of a green party going on.  I've been totally mesmerized by my nails for days with this combo.  It's like a green lovers dream come true.  It may even top China Glaze Emerald Sparkle as my all time fave green glitter and those are BIG words.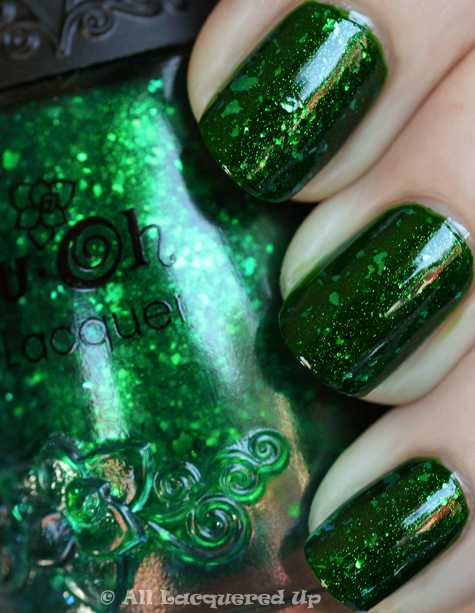 As I mentioned above, I decided to give this combo a wear test last Monday.  I used Essie Fill The Gap base coat, three coats of 568, two coats of 56 and a layer of CND Super Shiney.  That's a lot of layers!  I totally expected it to be chip city due to the thickness but it was the opposite.  I didn't start to see any tip wear until Friday and even today, it still looks like when I took this picture on Saturday.  Consider that a Wear Test Win!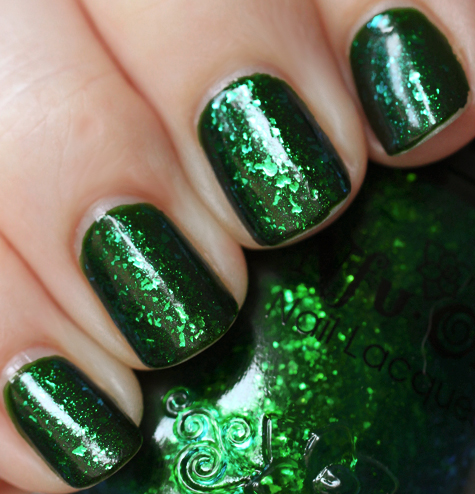 Removal: I really didn't find removal to be an issue with this combo. I had a few errant flakes on my skin but that was pretty much it. I held a HandsDown pad on my nail for 20 seconds and it slid right off. Now when I removed the glitter on its own, it was a little bit more difficult but now what you would generally associate with glitters.
Nfu Oh nail polishes can be purchased online from FabulouStreet.com. Polishes retail for $12.50/ea for a 17ml bottle (appox 5.5 oz) and shipping is FREE to US Residents.
Can you handle the temptation of my Nfu Ohs?  How many of you have caved since I made my first purchase.  Shall we start an ALU Nfu Oh Addicts club?  Because I see this brand becoming a serious issue for my wallet.  THIS is why I didn't buy them earlier.
Disclosure: I bought these polishes from FabulouStreet.com. For more info view my Disclosure Policy.