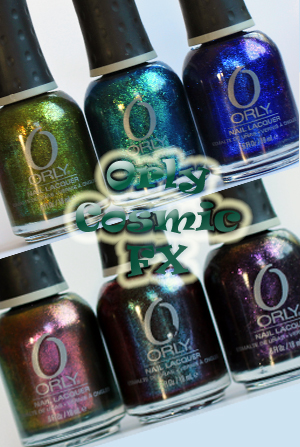 2010 is turning out to be the year of texture.  Satin, glitter, sequins, crystals, etc. have all been making a splash in the nail world.  Orly has certainly stepped up their game with the Cosmic FX collection.

Combining natural rock minerals, crystals, and glass they have taken duo-chrome polishes to a new level. We're talking the multi-dimensional love child of foil and duo-chrome. Each polish flashes multiple colors depending on the angle and how the light hits it. These are certainly not shades for the color shy.

Application and Formula: The Orly Cosmix FX formula is 4-Free (which includes Formaldehyde Resin) and comes in the regular Orly bottle with the fan fave rubberized cap. The brush is long and thin with flexible bristles. I personally would like if there were more bristles to get more coverage in each stroke.
There is a drawback to this formula, opacity. To suspend the multi-sized particles, the base is pretty sheer. Due to that, each polish requires at least three coats.  Also, there's something about this formulation that makes the polish take longer to dry.  Twice while swatching these I had to start over because I would bump something at least 30 minutes after applying and get a huge dent.  That's with a top coat applied.  Granted I was using CND Super Shiney which is not a quick dry top coat but still it shouldn't be denting that easily after that much time.
Removal: The particles do make removal a bit more cumbersome than a regular creme or shimmer polish but not as bad as a traditional glitter.  Watch for staining with Halley's Comet.  You should consider an extra layer of base coat with that one.
FYI: You guys have no idea how hard these polishes are to photograph.  Seriously, I've had them for over a month and I didn't swatch them earlier, in part due to the original September launch date but, because they are a bitch to capture.  The duo-chrome effect only shows up at an angle so I'm showing all of these with a close-up from the side.  I thought about doing photos in sunlight but it just blew out the color and looked really inaccurate.  That's the main reason I rarely take photos in the sun.  I don't think it tells the real color story.
Lunar Eclipse is a vibrant electric blue packed with purple and pink particles.  This probably the most opaque of the polishes.  This one and the purple, Out of This World.  The finish on all these is like the foils we love but on steroids.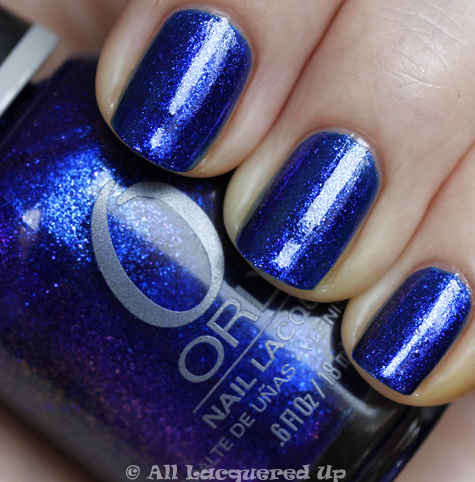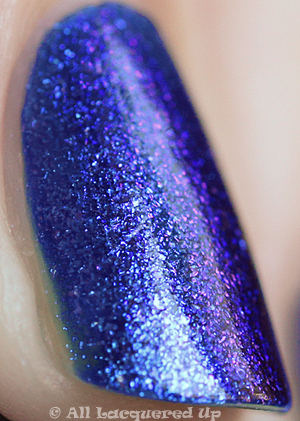 Rocket Science makes me think of Swamp Thing, that early 80s flick with Adrienne Barbeau.  It's this mossy, browned green base with gold and ivy green sparkle.  It's more flattering in person than it looks here but it's still one of those ugly pretty shades that will probably only appeal to small group.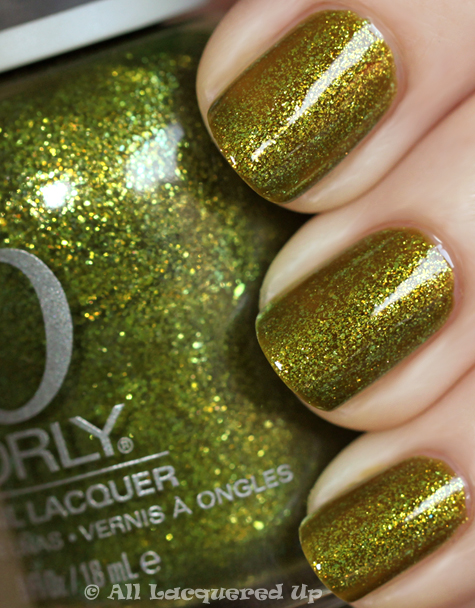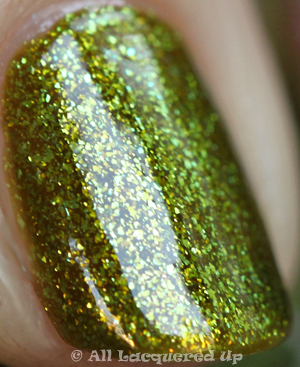 Halley's Comet is the only real let down in this group for one very big reason. It's a dead-on dupe for OPI Catch Me In Your Net and its doppelganger Zoya Charla. Don't get me wrong, it's a gorgeous color.  A stunning turquoise base with gold, green and blue pieces.  I've spotted the OPI & Zoya versions on people all summer long but I can't help but wonder what the difference is between the formulas because on the nail they look identical.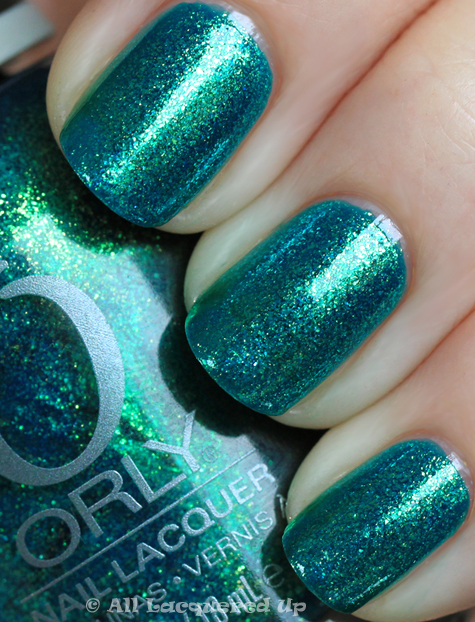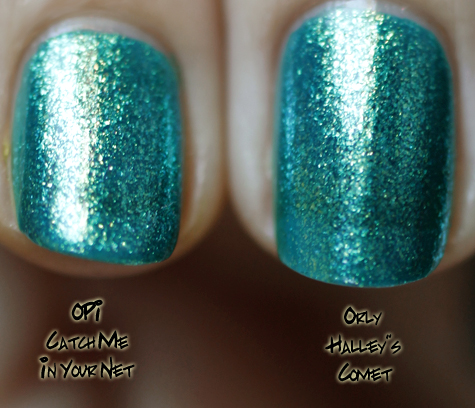 Out of this World has an inky blackened plum base filled with purple and pink glimmer.  The official description from Orly says there is silver FX in this polish but it flashes golden to me.  This color looks like a glitterized grape popsicle on the nails.  The golden flash is pretty minimal.  This is probably the least duo-chrome of the bunch.  What I find interesting is that in the bottle OotW looks a lot like Zoya Julieanne from the Wicked collection.  Are we seeing a pattern here?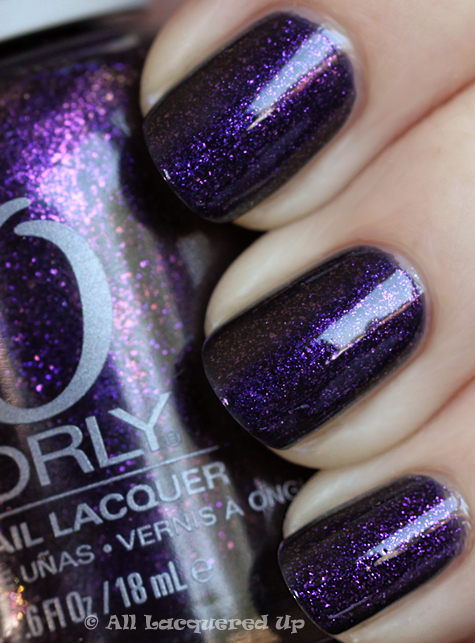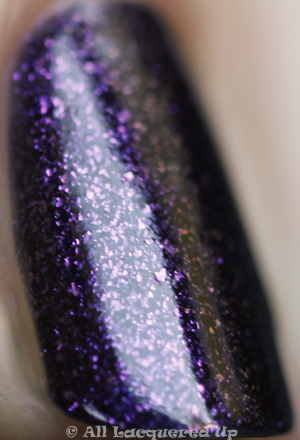 Galaxy Girl looks like a bruise to me with its mix of berry, blue and green.  The base color is reminiscent of dried blood which sounds gross but it's not.  On the nail, the blue FX is the prominent color and the green takes a backseat.  I'm not a huge fan of how this looks on me.  I feel it brings out the ruddiness I try to mask in my skin tone.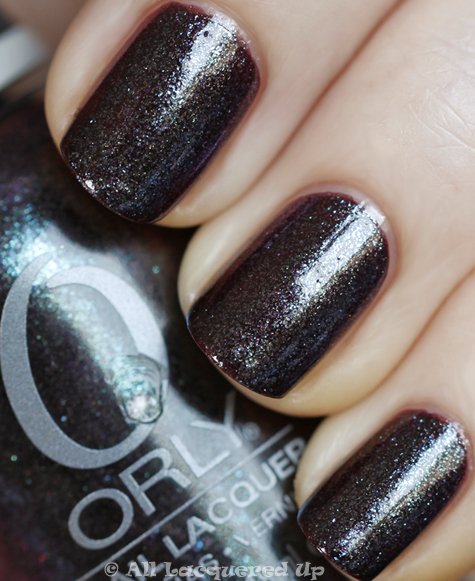 Space Cadet is my absolute favorite polish in this collection and I know that will surprise you but believe me, it's killer.  Photos do it a serious disservice.  It's the most multi-faceted polish in this collection and changes color like a chameleon as you move your hand.  One second it's rosy, then you move and see a coppery flash.  At certain angles it looks mauve and others it's pink.  What's funny is the base is teal so you see this glow of blue-green coming through.  In the bottle I was not loving this color AT ALL.  On the nail, I couldn't stop staring at it.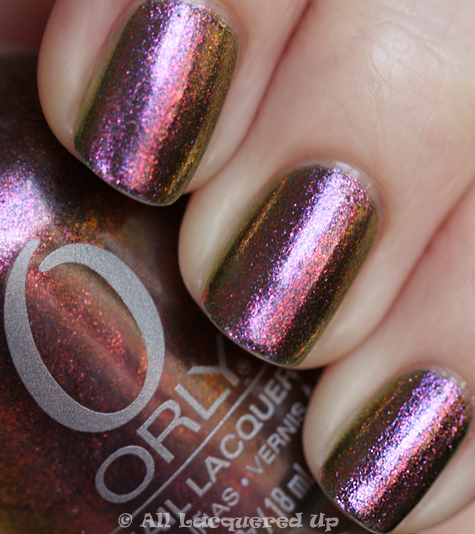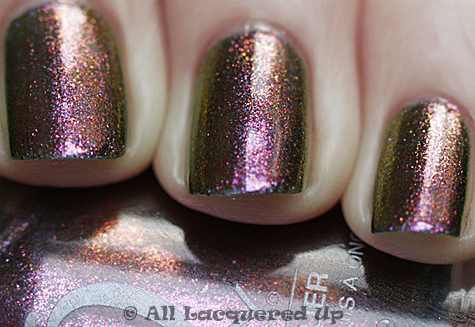 Bottom Line: I don't know that these polishes necessarily justify the higher price tag.  I can only assume that there are some costly ingredients that aren't normally in Orly polishes.  I think I was more excited when I saw them in the bottle because they looked so magical.  On the nail, some of them fall flat.  The only one I'm dubbing a must-have is Space Cadet.  Lunar Eclipse is beautiful and definitely gets the runner-up prize.  I love Out of this World but the jury is out until I compare it to Zoya Julieanne.
The Orly Cosmic FX collection was supposed to launch in September 2010 but I've already seen it online so I would start checking your local Sally Beauty Supply, ULTA, etc. if you want to scoop these up. The Cosmic FX polishes will retail for $10/ea for a .6oz bottle.
Are you feeling the effects of the Cosmic FX?  Do you think the finish justifies the price tag?  Will you be running out to get these?  Which colors are speaking to you most?
Disclosure:  Product samples were furnished to me by Orly.  For more info view my Disclosure Policy.