If you've been wanting to try Deborah Lippmann polishes but your budget has kept you from taking the plunge, today is your day. Deborah Lippmann products will be on Gilt.com today starting at NOON EST. The deals on Gilt are usually pretty good so here's your chance to snatch up some Lippmann shades for less than retail.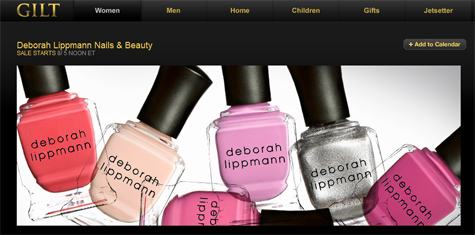 If you aren't familiar with Gilt, it's a sample sale site similar to Hautelook, Rue La La, Ideeli, etc. Every day they list new sales that run for a limited time.  It's designer goods at a discount and it's pretty addictive but some of the sales are so fabulous.  I got the cutest gray leather Betsey Johnson bag during a Bag Borrow or Steal Private Event sale and I've been carrying it nonstop.
If you end up shopping the sale, let me know what you bought.  I'm hoping they have her Steppin Out foot creme since it looks like it's been discontinued and the boyfriend used up my whole tub.  That's what I get for sharing with him!
Disclosure: The links in this post are referral links. If you sign up for Gilt or any sample sale site and make a purchase I will receive a small commission for the referral just like any other member. For more info view my Disclosure Policy.