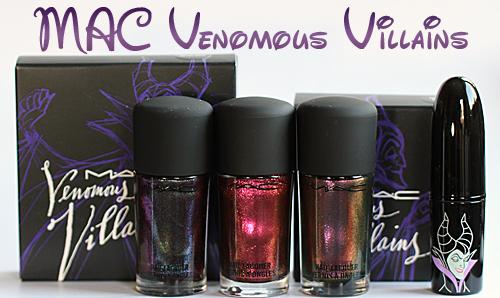 The hotly anticipated MAC Venomous Villains Collection is about to hit shelves and I have a feeling that it will be an even bigger hit than any of MAC's previous collaborations simply because of the worldwide love for Disney.  Yes, Barbie and Hello Kitty both have huge fan bases but the mouse trumps them all.
The collection, broken into four parts, is based on famous Disney animated villains; Cruella de Vil from 101 Dalmatians, Evil Queen from Snow White, Maleficent from Sleeping Beauty and Dr. Facilier from The Princess and the Frog.  Each mini collection reflects the look of that character with Disney providing the actual Pantone shades used in animation to help MAC design the color palettes.
Of course a collection like this must include nail color and three new shades have been included in the Maleficent set. Three foil, duo-chrome glitters named Bad Fairy, Formidable! and Mean & Green.

When asked about creating the color palettes for each character Jennifer Balbier, VP of Product Development, said that Maleficent's look is "more surreal."  Stating that, "she was pure fantasy for us.  That's where we put in a lot of crazy purples, blackened shades and beautiful pearlized nails."
Formula & Application: MAC Nail Lacquers are 4-Free (including Formaldehyde Resin) with a thick, stiff, round brush.  The MAC brush can be your best friend or worst enemy.  It allows for perfect polish placement but if you press too hard you'll end up with patchiness or drag marks, so polish with a light touch.
All of these lacquers have a semi-sheer base packed with foil glitter that reflects two colors giving a duo-chrome effect.  Because of the lack of opacity in the base you need a good three coats to get full coverage.  I find that with MAC polishes applying two thin coats and then one medium-thick coat works best.

Bad Fairy is the unique flower in this bunch.  You may have heard that the other two polishes in the VV collection have twins in the Orly Cosmic FX collection but Bad Fairy does not.  The base color is a rosy magenta with glitter that flashes a warm golden red.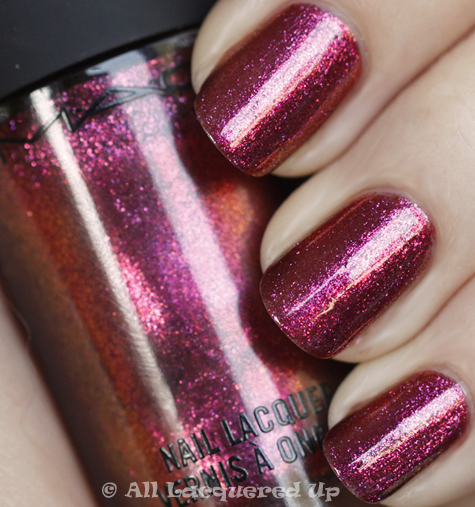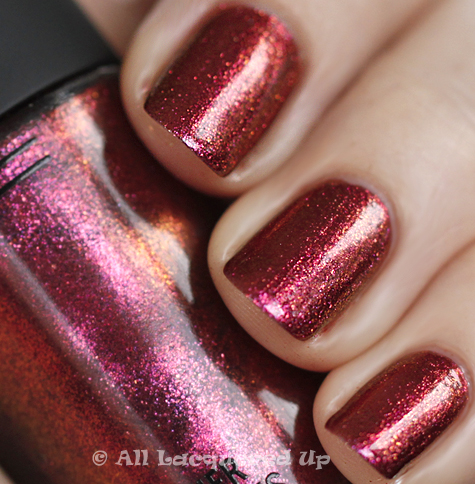 Formidable! has a deep plum base with teal blue sparkle.  Like its Orly counterpart it has that glammed out bruise look to it.  If any of you remember Urban Decay Bruise, this is a blinged out version.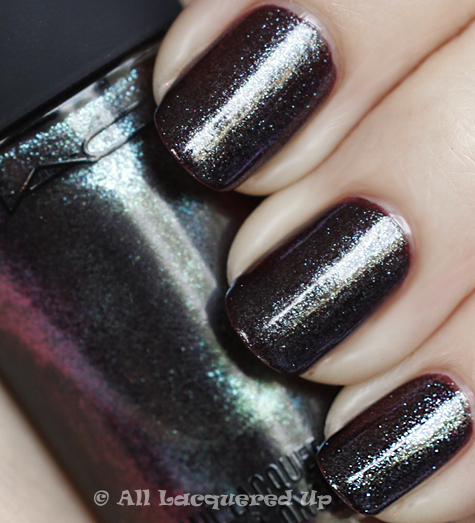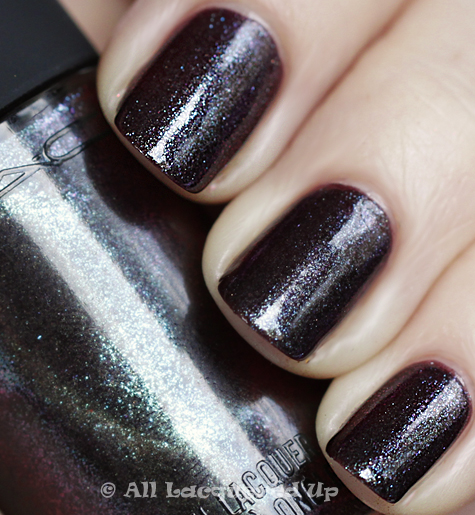 Orly Galaxy Girl looks a little less shimmery than Formidable! due to the camera angle but trust me, they are indistinguishable in person.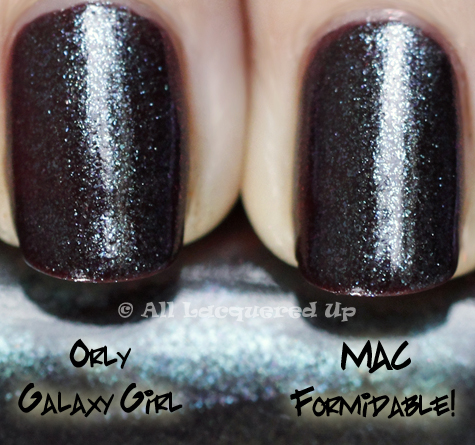 Mean & Green has a murky sea green base filled with multi-faceted shimmer that flashes rose, gold, copper and pink depending on how the light hits it.  The base color adds a greenish glow at the edges.  As you know, its Orly doppelganger Space Cadet was my fave from that collection so this one gets high praise from me as well even if the pictures don't do it justice.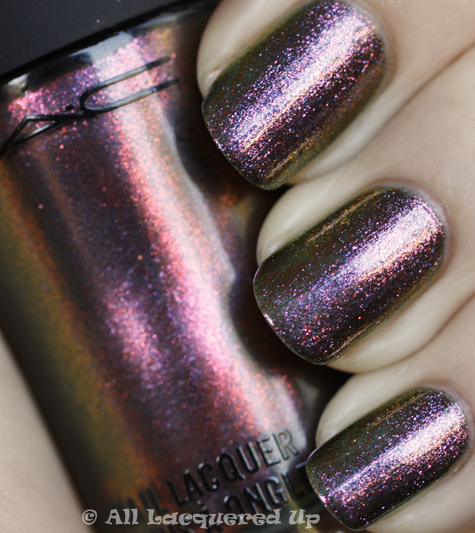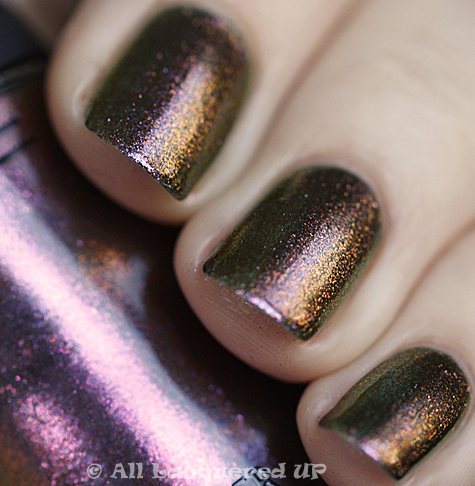 Can you see the differences between Mean & Green and Orly Space Cadet?  Neither can I.  They both apply the same and have the same amount of teal peeking through the glitter particles.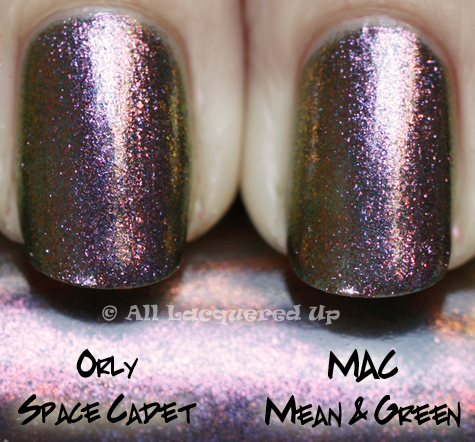 Bottom Line: I really wish MAC has decorated the polish bottles in this collection like they did for Hello Kitty.  That would have made these polishes uber-collectible in spite of their Orly dupes.  Regardless I doubt these polishes will last long once they go on sale.  However, since they didn't brand the polishes with Maleficent, if you already own the Orly twins there's no need to buy them from MAC.  Bad Fairy, on the other hand, is a total must-have if you're into the foil nail look.
MAC Venomous Villains Collection launches on September 30th, 2010 at MAC counters nationwide.  MACCosmetics.com should have the collection up on Tuesday and I know that the MAC Pro website already has the collection on sale.  MAC Nail Lacquers retail for $13/ea for a .34oz bottle.
Thoughts on the Venomous Villains polishes?  Are you loving or hating the foil finish polishes?  Will you still buy the MAC polishes even if you have the Orly's simply because they're part of a Disney themed collection?
Disclosure: Product samples were provided by MAC.  For more info view my Disclosure Policy.