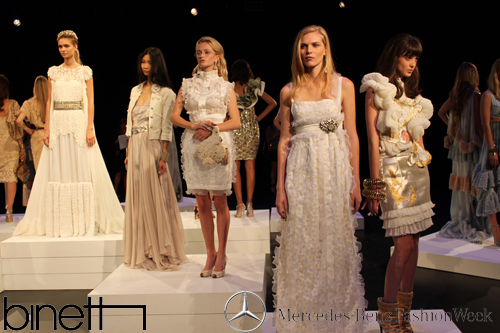 Every season at NYFW I look forward to the Binetti show because there is always something happening on the nails and this year it was all about the Cocktail Ring Nail.  Diego Binetti appreciates and understands the importance nails play in a woman's overall look and he looks to the creative mind of CND's Jan Arnold to bring his inspiration to life.  As in season's past, the nails at Binetti incorporate nail art and new, unique layering combinations from the CND Colour & Effects line including one combo that stopped me in my tracks.

Binetti was having a princess moment with his collection this season creating a number of opulent gowns in a soft neutral palette for an organic, earth mother type feel.  The intricate beading, sequins and jewels in each piece called for an extravagant cocktail ring to match.  However, rather than go the traditional route with jewelry, he asked CND to make him cocktail ring nails.
As you can see from Jan's sketches during the pre-show meetings, there were definite themes for the nails. The Cartier, Pearl and Flower series. Each of the 23 models wore a completely unique nail ring created by CND Global Education Ambassadors from all over the world.  Each of the 10 chosen nail artists submitted nails created with jewels, stones, pearls, beads, etc. for the designer to choose from.  He then hand selected the nails that would be worn with each piece.  Talk about an AMAZING opportunity.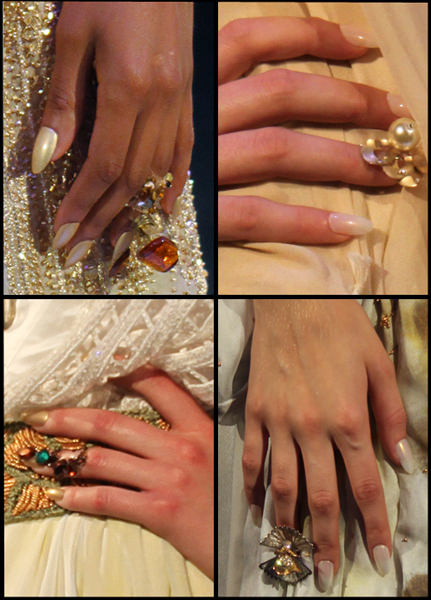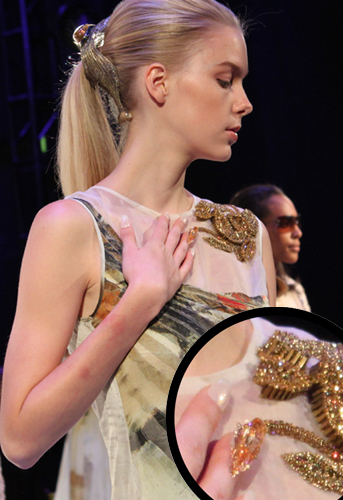 The rest of the nails were all painted in various layering combinations to pair with the clothing.
From bottom to top: Silver Chrome topped with Creamy Cameo and Ice Blue Shimmer.  Gold Chrome. Copper Chrome with Perfectly Bare Shimmer.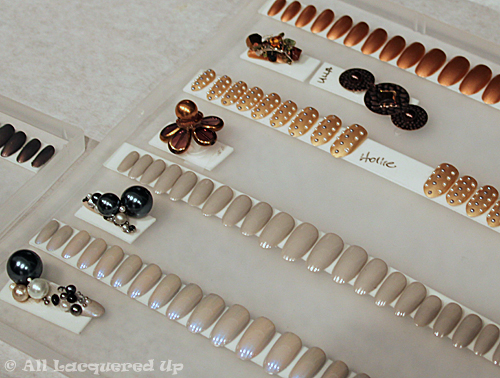 Gold foil squares were individually placed on the nails using tweezers and nail glue.  A painstaking process.  They look like mini disco balls or as Beauty ETC's Karie Frost put it, C3PO from Star Wars.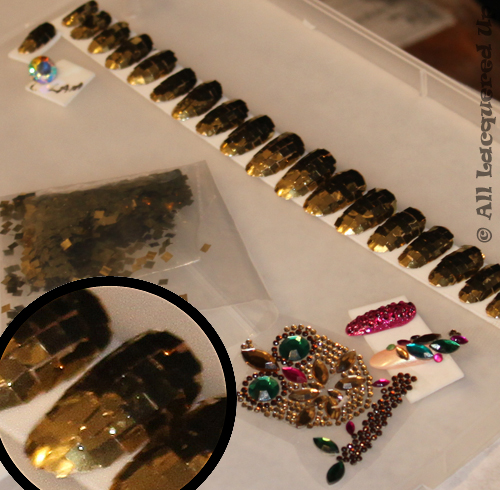 Washed Down White with Perfectly Bare Shimmer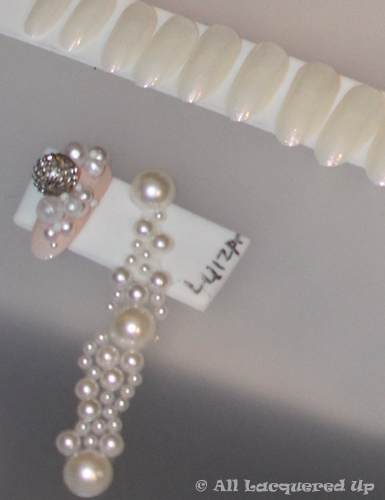 Gold Chrome with Gold Shimmer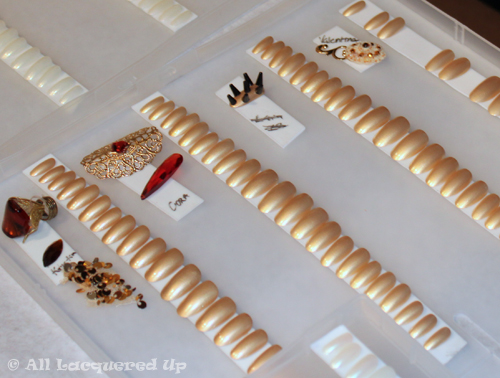 I also got a preview of CND's The Look for Spring 2011.  Launching in March 2011 is the new limited edition Colour & Effect Duo of Perfectly Bare and Perfectly Bare Shimmer.  Perfectly Bare Colour, shown on its own at the bottom, is an opaque peachy neutral creme and Perfectly Bare Shimmer is the gossamer veil that, when layered on top, creates a vintage, rose quartz look.  The set of nails that are second from the bottom are painted in the duo.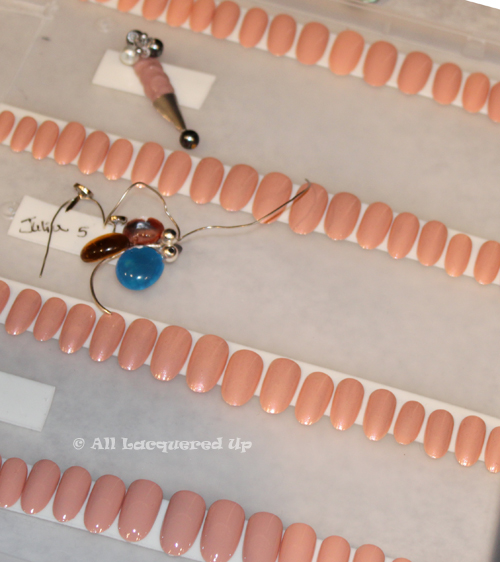 Finally, the color that had me at "Hello."  I seriously couldn't take my eyes off these nails and I was completely surprised to learn that they were created with Asphalt and Copper Shimmer, the top set included a layer of Super Matte.  I guess I'm pretty boring in my layering because I never would have thought of using those two together but they are so gorgeous.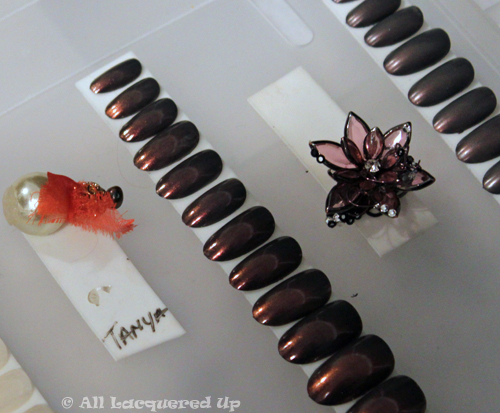 Of course I couldn't wait to get home and try this look myself though I was seriously distraught to find that I didn't tighten the cap on my Copper Shimmer and it got dried out and thick.  I poured in a ton of thinner but that didn't completely bring it back to life.  I'll have to order a new bottle soon.
In spite of the thickness issue I still tried the combo but didn't get the same results.  My Copper Shimmer applied too creamy, lightening the overall color.  It was as though I had used the Copper Pearl effect.  I still dig it even if it isn't an exact match to the look used in the show.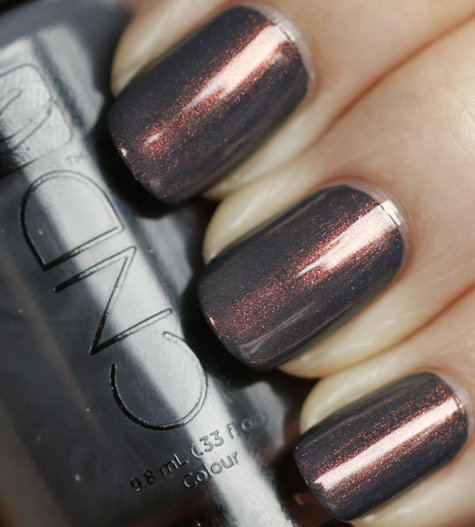 I spoke with Makeup Artist Katie Pellegrino for OCC Cosmetics about the clean "no makeup" makeup look she created on the models.  Because there was so much going on with the clothes, accessories, nails, etc., Katie felt an intense makeup look would have been too much so the goal was to enhance the model's natural beauty using a neutral palette with no mascara or blush.
The team tested prototypes for a new matte pressed shadow and tinted moisturizer on the models. The lips were hydrated with a kiss of color using the soon-to-be re-launched Lip Balm in a custom shade of butterscotch that will be named Putty Beige. Lip balm was the first product in the OCC lineup and now it's making a triumphant return. Katie told me that ideally it will come in every lip tar shade as a sheer alternative that you can use for prep or on its own.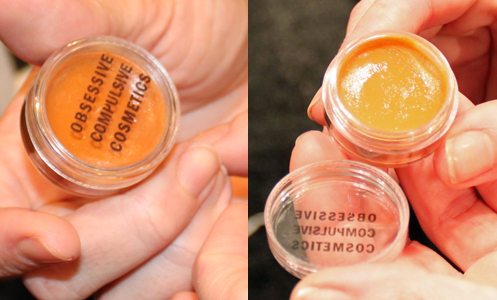 We all kind of died over the clothes, including my pal Sarah Conley from StyleIT who was having a mini-meltdown over how insanely gorgeous Binetti's designs are.  This was the first time his show was at the tents versus west BFE so it definitely got more attention from the beauty blogging set than in prior seasons and it's well deserved.
Okay so maybe I have too much polish on the brain but I couldn't help but think of RBL Look Rich, Be Cheap when I saw these pants.  Am I alone in this?  And LOOK at those boots!!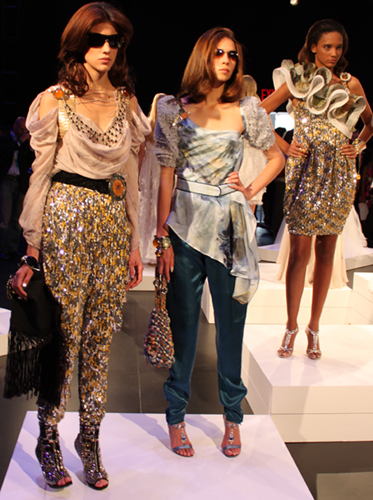 Naturally I to snap a shot of CND Co-Founder and Creative Director Jan Arnold backstage.  I could do a whole blog post on her wardrobe.  She dresses with such an avant garde, flair-for-the-dramatic style that I so admire but could never pull off.  In fact, I told her a while back that she should do a In Jan's Closet post on her blog so we could see what goes into packing for NYFW.  I can only imagine the treasures in her closet and how many bags she brings to NYC.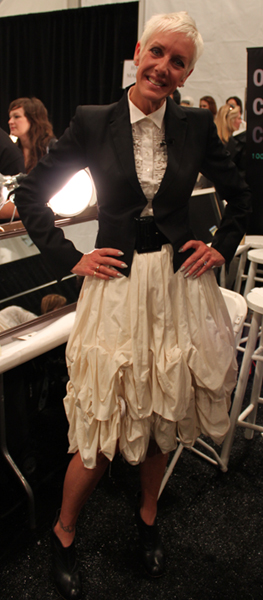 What do you think of the concept of cocktail ring nails? Is it something you could see happening in real life for a special event or is it best left on the runway? Did you spy any new layering CND layering combos you want to try? What's your take on "The Look" for Spring?