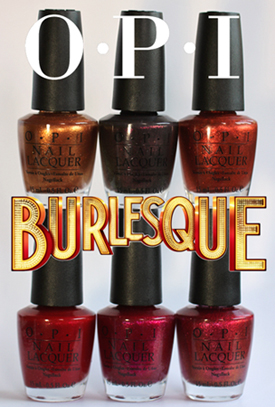 This holiday, OPI hits a high note with the release of Sony Pictures' upcoming film Burlesque. With an all-star cast including Cher and Christina Aguilera, this musical written and directed by Steven Antin opens nationwide in theaters on November 24, 2010.
OPI's Holiday 2010 collection marks the third film collaboration for the brand this year.  Following up the sell out successes of Alice In Wonderland and Shrek, the Burlesque lineup is sure to follow suit.  This year OPI has flipped the script by forgoing their usual six reds in varying finishes to give us six shimmers in warm metallics, a vampy plum and some more traditional reds.
"OPI is thrilled to partner with Sony Pictures' Screen Gems on this exciting movie release," said Suzi Weiss-Fischmann, OPI Executive VP & Artistic Director. "The colors were modeled off the majestic glamour, over-the-top costumes and mesmerizing Cabaret that are typically seen in Burlesque performances. The resulting bright, dazzling shades are perfect for the holiday season."

Formula and Application: OPI is a 3-Free brand. They made the switch to 3-Free in 2008. You can identify an OPI with the 3-Free formula by the green lettering on the label. Bottles with black lettering have the old formula. Always check the labels to be sure. The OPI Pro Wide brush is flat, wide and medium in length. It's of average stiffness and easily spreads out on the nail when pressed. The only downside to the Pro Wide brush is that it can be too wide for slim fingers or little toes.
In terms of application, I was very impressed with the pigmentation.  With one exception all the polishes applied flawlessly in two smooth coats.  Ali's Big Break required three due to the sheerness of its jelly base.  It was also the only color that gave me staining issues so I would double up on base coat with it.  The foil finish metallics were somewhat bothersome to remove only because tiny bits of foil glitter were on my skin but applying a swipe of cuticle oil before removing drastically reduces that.

Ali's Big Break is a jelly based candy apple with flecks of gold micro-glitter.  In the bottle I expected it to be some sort of duo-chrome but on the nail it's more like a piece of lucite with flecks of gold leaf trapped inside.  As soon as I saw this polish I thought of one of my fave old CND colors, Winterfire, though my bottle is MIA for comparison purposes.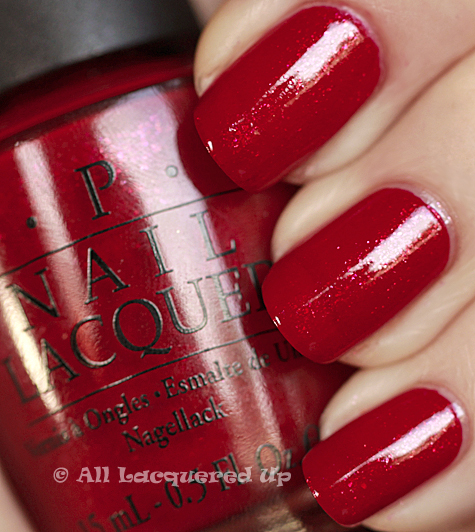 Let Me Entertain You is a bright glimmering fuchsia.  The base looks like a jelly but it's actually pretty opaque.  The finish is like a toned down version of China Glaze's glass flecks. The hot pink micro-glitter looks trapped, similar to Ali's Big Break, only with a LOT more sparkle.
I didn't have a great comparison for LMEY so I am showing it next to an older Holiday shade, OPI Don't Toy With Me from the 2008 collection Holiday in Toyland.  HiT has more red in its base and it's quite a bit darker but they have a very similar finish.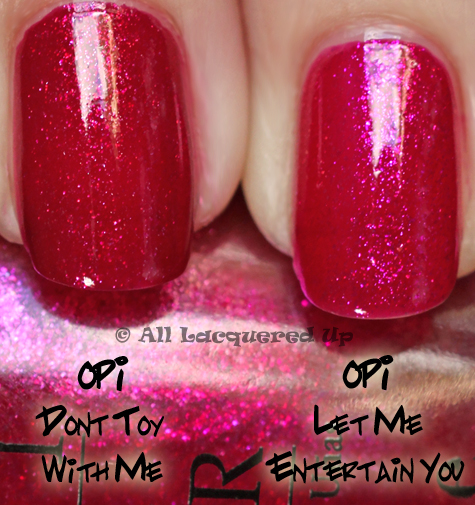 Rising Star is a burnished copper foil metallic.  I love that so many brands are coming out with more foils as opposed to traditional metallics which aren't as user friendly.  The color is not what I traditionally think of as copper but it's not quite gold or bronze.  It actually reminds me of these highlights I got back when I was still coloring my hair dark red.  I had bright copper streaks added and this was back when the whole Kelly Clarkson thick highlights were in so they were pretty dramatic. I loved the color but the style makes me cringe now when I think about it.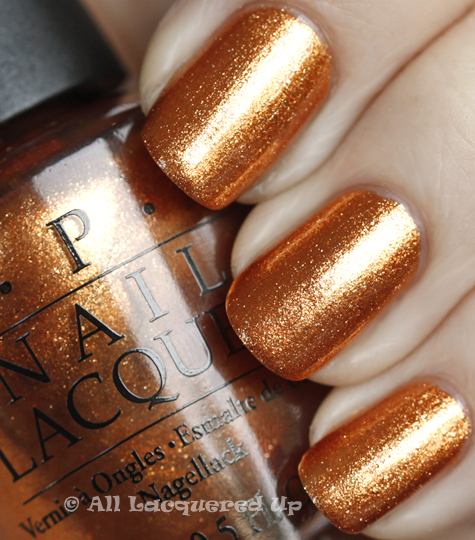 I thought I might find a twin in Nubar Caramello but it's deeper and more nutty, if that's a descriptor, than Rising Star.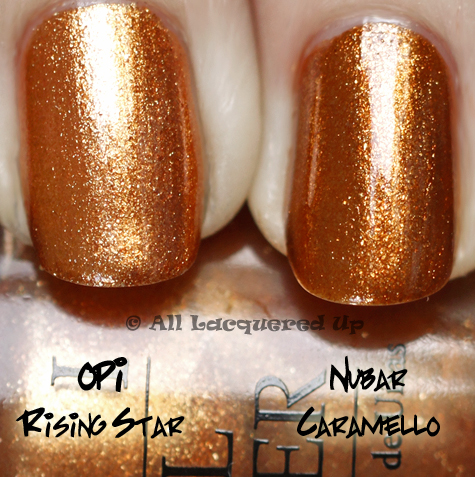 Take The Stage is a reddish bronze foil.  Again it's a great non-streaky metallic, like Rising Star, though I'm surprised that OPI didn't include a cool toned metallic in the collection.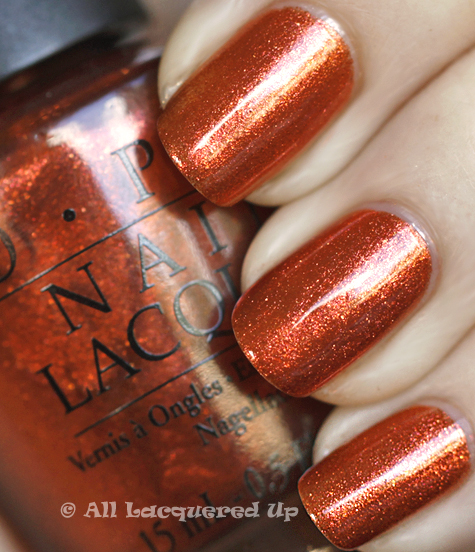 Take The Stage has a pretty close twin in Nubar Bronzo from the Venetian Glass Collection.  The only minor difference is that TtS has a more metallic finish but to the casual observer, it's not that noticeable.  I'm also showing it next to OPI Lighten Up, You're Two Pence! as a reference.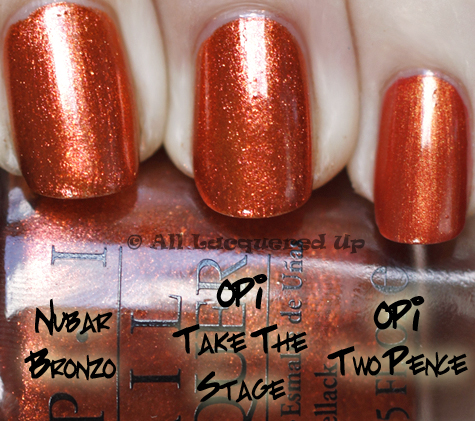 Tease-y Does It! is a vampy, deep plum hue with golden and red micro-glitter.  The glitter looks like tiny burning embers floating on a pool of oil.  In the bottle you would expect it to have a duo-chrome finish thanks to the gold glitter that picks up the light but on the nail it doesn't translate.  Of all the polishes in this collection, this one grabbed me the most. I hated taking it off, it's that gorgeous.  It just feels so elegant and the fiery glitter is mesmerizing.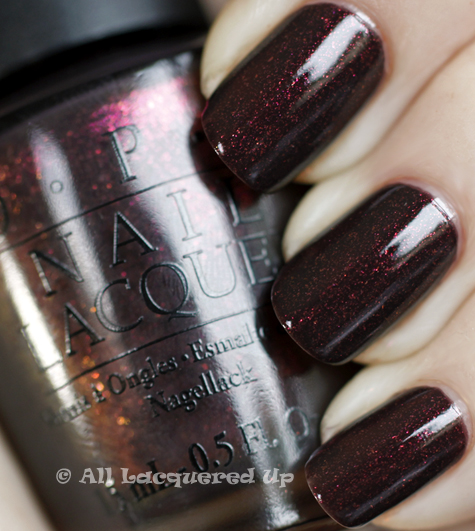 As I was wearing Tease-y Does It, god I hate the name, I kept thinking it looks familiar but couldn't come up with a polish name.  It was driving me nuts.  I was going through my "vampy" bin and still coming up empty until I opened my Chanel Feu De Russie box.  Ding, ding, ding!  While they aren't identical, the polishes are very similar.  The main difference is the base color.  Feu De Russie has a black base while TDI's is more burgundy.  There's an underlying smokiness to TDI that makes it look lighter and more plummy when dry.  However, if you missed out on the Chanel, this is an excellent substitute.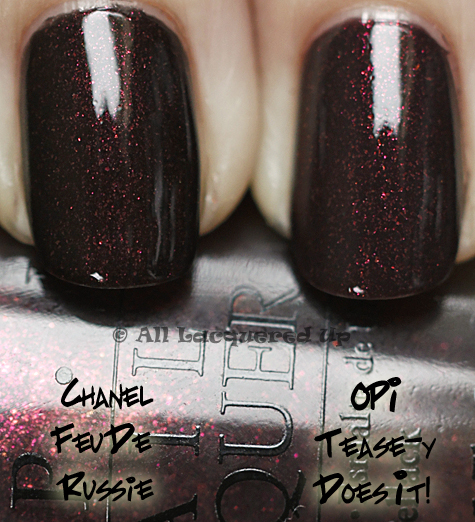 The Show Must Go On is the solo duo-chrome in the collection.  This hot pink shimmer flashes golden orange though it's a pretty subtle effect.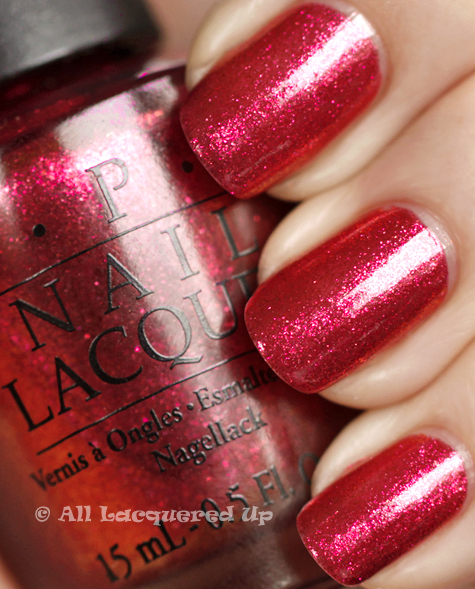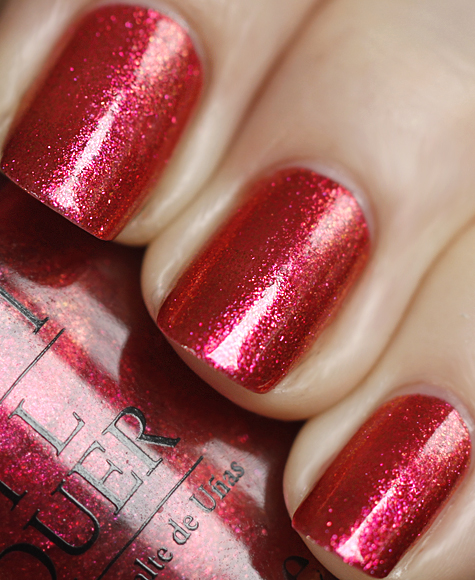 I've heard a lot of people suggest that MAC Bad Fairy from the Venomous Villains Collection is a dupe for The Show Must Go On but you can see that's clearly not the case.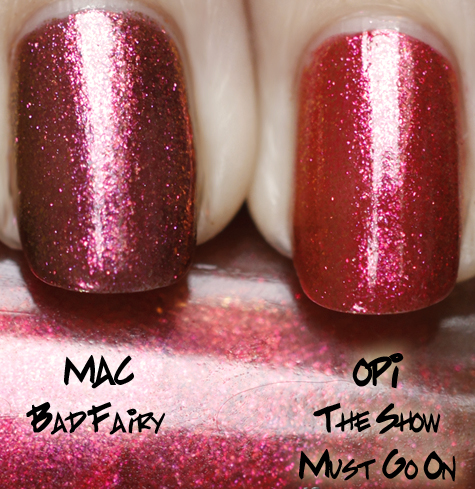 Bottom Line: Tease-y Does It is my hands down favorite from this half of the collection.  In spite of the cheesy name, I'm smitten with the color and am already planning to take it with my on my next pedicure appointment which says a lot.  For almost a year I've been wearing purple on my toes almost exclusively so to switch up my game means the color is pretty special.  The metallics are winners in my book only because I'm still on a foil kick.  The rest are kind of meh for me only because that's not my fave color family.  The shades are pretty but not must-haves for my personal collection.  Though if I didn't own CND Winterfire, I would pick up a bottle of Ali's Big Break.
The OPI Holiday 2010 Burlesque Collection will be available beginning November 2, 2010 at salons including Beauty Brands, Beauty First, Chatters, Dillard's, JCPenney, Pure Beauty, Regis, Trade Secret, and Ulta. OPI nail polishes retail for $8.50/ea for a .5oz bottle.
Are you into these shades?  What do you think of the whole movie collaboration thing?  Should OPI keep partnering with films or do their own thing?  Which shades will take up permanent residence in your collection?  Which duo-chrome do you love more MAC Bad Fairy or The Show Must Go On?
Stay tuned for my review of the second half of the collection containing six GLITTERS!
Disclosure: Product samples were provided by OPI. For more info view my Disclosure Policy.