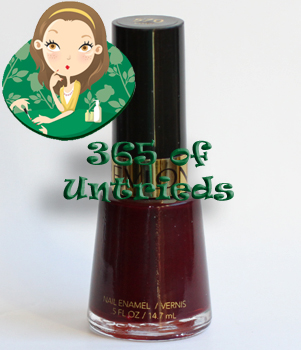 365 of Untrieds is my personal challenge to weed through the polishes in the ALU stash that I've been wanting to try but just haven't gotten around to.
Back when the Makeup Alley Nail Board first started, one of its members started a list of "known dupes." Revlon Vixen was one of the first on the list as a twin for the original Chanel Vamp, not the shimmery version that it became.
Now I had been wanting a bottle of Vamp ever since it first appeared on Uma Thurman's nails in Pulp Fiction but, at the time, Chanel was not in my budget. So I ran out and bought a bottle of Vixen and it has literally sat in my collection ever since. At the time it wasn't necessarily a color I was into, it was more that I just needed to own it. Since then, I guess I've just forgotten about it. So much for that "need" I thought I had.
Outside of its dupe status, Vixen is a staple shade in its own right. One of those classics that most nail fanatics have. Here's the deal though. My bottle is probably seven years old but since it's unopened you would think it would be fine to use. Um, not so much. What a disaster of bubbles. I actually went out to buy a new bottle of Vixen just to see if it is worthy of stashing. So if I say "share" that will be two bottles worth of money I'll have wasted.
Click here to view more pictures and read the rest of this story.