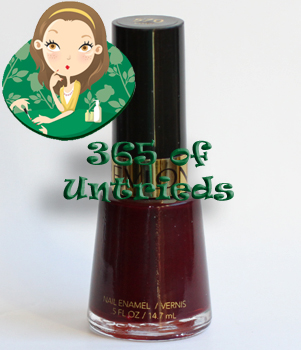 365 of Untrieds is my personal challenge to weed through the polishes in the ALU stash that I've been wanting to try but just haven't gotten around to.
Back when the Makeup Alley Nail Board first started, one of its members started a list of "known dupes." Revlon Vixen was one of the first on the list as a twin for the original Chanel Vamp, not the shimmery version that it became.
Now I had been wanting a bottle of Vamp ever since it first appeared on Uma Thurman's nails in Pulp Fiction but, at the time, Chanel was not in my budget. So I ran out and bought a bottle of Vixen and it has literally sat in my collection ever since. At the time it wasn't necessarily a color I was into, it was more that I just needed to own it. Since then, I guess I've just forgotten about it. So much for that "need" I thought I had.
Outside of its dupe status, Vixen is a staple shade in its own right. One of those classics that most nail fanatics have. Here's the deal though. My bottle is probably seven years old but since it's unopened you would think it would be fine to use. Um, not so much. What a disaster of bubbles. I actually went out to buy a new bottle of Vixen just to see if it is worthy of stashing. So if I say "share" that will be two bottles worth of money I'll have wasted.

Formula & Application: Revlon nail polish is 4-Free (including Formaldehyde Resin) and free of camphor which can be an irritant. The classic Revlon bottle with its signature gold chrome label on the cap come with a long, thin, flexible brush. While the bristles are flexible they don't fan out well which made the application more tricky than a standard 3 stroke process.
Now I've heard people rave for years about the Revlon formula and honestly, I don't get it. It's nice and thin and well pigmented but the brush doesn't do it justice. In fact, I blame the brush, in part, for my unimpressed attitude. In spite of the brush issues, after three coats, I got the color opaque and glossy. I was satisfied and then about an hour later, after I had photographed it, the bubbles and lumps came.
All in all I applied Vixen four times in the past day; two from the old bottle, two from the new bottle and they all ended up in bubbles. I even tried different base and top coats on each nail to see if it was a chemistry issue and I can't get this polish to look good. I feel like a crazy person because so many people love Revlon, more specifically Vixen. Clearly this is not a polish for me.

Revlon Vixen is vampy browned berry creme. It's the high gloss version of dried blood. Sorry if that sounds creepy but I've got True Blood on the brain as I'm all amped up for the premiere next week.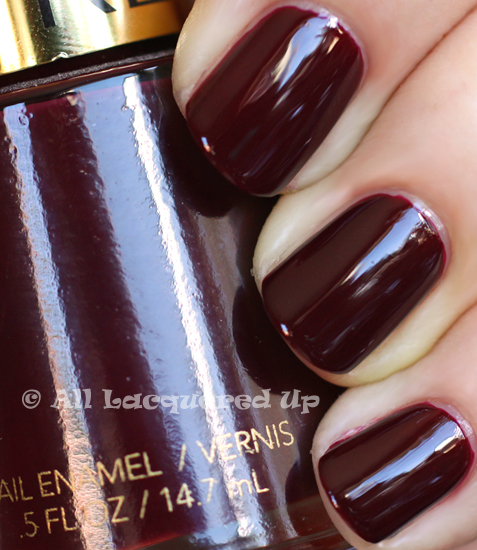 Bottom Line: I'm now really ticked at myself for never buying Chanel Vamp as this formula does not work with my nails for some reason. I know Rouge Noir is the old Vamp but when is that coming back to the US? The only upside is I saved the receipt so I can take the new bottle back to the store.
365 of Untrieds Stash/Share Verdict: Neither! I'm taking the new bottle back and sending the old bottle to the box I have set aside for a haz mat pickup. Remember, you can't throw out nail polish in the regular trash. It's a hazardous material and must be disposed of properly.
Revlon Vixen is available at drugstores nationwide. Revlon nail polishes retail for approximately $5/ea for a .5oz bottle depending on the retailer.
Are there any Vixen defenders out there? What base and top coats do you wear with it to make it work? Did anyone else have major bubbling issues like I did? Or am I the only crazy person on the planet who can't get Vixen to work?
Disclosure: I purchased this product. For more info view my Disclosure Policy.