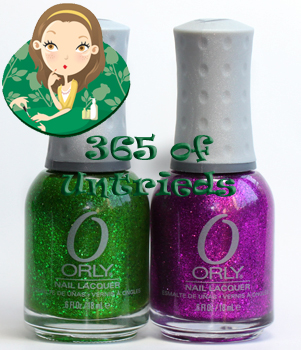 365 of Untrieds is my personal challenge to weed through the polishes in the ALU stash that I've been wanting to try but just haven't gotten around to.
Dear Glitter Polishes,
Why can't I quit you? You're such a pain to remove that the dread sets in before the first stroke of polish hits the nail. Yet, like a magpie, every time I see a bottle I want to snatch it up and take it home to my stash. You're clearly my crack because when the high wears off, I'm just left with thoughts of the removal process looming overhead. In spite of all that, I love you. And if loving you is wrong, I don't want to be right.
XOXO, ALU
The glitter craving struck again when I spotted the display for the Orly Pin-up collection at my local CVS. The four piece collection includes two cremes that I barely noticed. My eyes darted straight to Here Comes Trouble (l) and Bubbly Bombshell (r). For today's untrieds manicure I decided to combine them into one summery sparkle spectacular.

Formula & Application: Orly nail polish is 4-Free (including formaldehyde resin) and does not contain camphor, which can be an irritant. Orly polishes come with the fan fave rubberized cap. That signature easy-to-grip topper makes it easy to control the polish. The brush is long and thin with flexible bristles. I personally would like it if there were more bristles to get more coverage in each stroke.
Both of these polishes are semi-sheer glitters with clear or lightly pigmented base colors.  The pigment in the actual polish doesn't bring much to the coverage party so expect to rely solely on the glitter. Like most glitter polishes, the base formula is kind of squishy which I assume helps suspend the glitter particles, keeping them well dispersed. I used three medium coats of each polish to get as close to full coverage as possible. I can still see bits of my nails through some spots but I REALLY have to look for it.

Orly Bubbly Bombshell is a clear based glitter that was described by Orly as purple but I would call it a deep fuchsia. The glitter particles are very similar in hue to the sequins in Deborah Lippmann Bad Romance and a touch lighter than Nubar Petunia Sparkle, though definitely in the same color family.
Orly Here Comes Trouble has a sheer lime green base packed with vibrant kelly green glitter. The base makes the polish look kind of muddled in the bottle but it comes to life on the nail. Surprisingly, I don't have any polishes, let alone glitter polishes, quite this shade. Zoya Apple shares the same zip code but it's not nearly as vivid. I have some emerald and lime glitters but they're either too dark or too yellow. Looks like my green polishes better make some room in the Helmer.
What makes these glitters unique is that all the particles are one color yet there are two distinct shapes and sizes. There is a boat load of fine, almost powdered micro-glitter, intermixed with larger hexagonal pieces. Whatever color variances you see on screen are simply due to the light.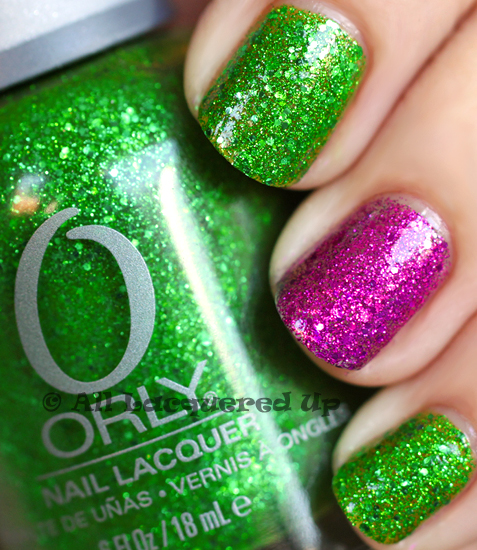 Bottom Line: If you're a glitter junkie like me, you need to get on board with these. The glitz factor is off the charts and the boldness of the color makes them perfect for summer. I really love Bubbly Bombshell as an accent with Here Comes Trouble. It's like one perfect peony in a field of grass. Now I'm not sure what the colors have to do with the concept of a pin-up girl but it's a glitter party, who cares!
365 of Untrieds Stash/Share Verdict: I'm definitely STASHing them both but I'm sending Nubar Petunia Sparkle & its twin Nicole by OPI Glitz & Glisten to the SHARE bin in their place. See, I'm not stashing everything.
Orly Bubbly Bombshell and Here Comes Trouble are available now as part of the Summer 2011 Pin-up collection. They are available at Sally Beauty, ULTA, CVS and online at OrlyBeauty.com, Head2ToeBeauty.com and shipping July 1st from TransDesign.com. Orly nail polishes retail for $6-8/ea depending on the store, for a .6oz bottle.
Are you a glitter girl? Thoughts on today's manicure? Will you be adding either of these to your stash? Do you know of a glitter similar to Here Comes Trouble? What is your favorite type of glitter polish? Smooth glitter? Multi-sized particles? Multi-colored? Do you prefer big chunky sequins or micro-glitter?
Disclosure: I purchased these nail polishes. For more info view my Disclosure Policy.