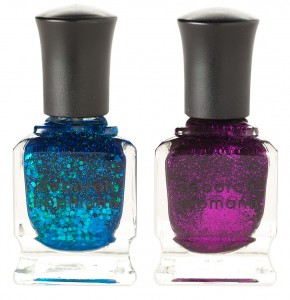 There ain't no party like a glitter party cuz a glitter party don't stop!

Are you ready to kick off the holiday weekend with a blingasm?  I know I am!!  I told you back in February that for the second half of 2010 Deborah Lippmann is hosting a glitter spectacular and it all starts with her Fall 2010 collection.

I've always been a lukewarm Beatles fan.  I own a few albums but I don't live and die for them.  Then the movie musical Across The Universe came out and I was smitten.  Who knew Jim Sturgess could belt it out?

The dreamy, mermaid-esque blue glitter baring the same name is a perfect fit for the trippy, lullaby sounding tune and the whimsical film.  Meanwhile the black-based magenta glitter, Bad Romance, is both hard-edge and feminine much like Lady Gaga.

Across The Universe is utterly spectacular.  It lives up to every expectation I had for it.  The navy jelly base is similar to Lippmann Rehab only more pigmented.  The sky blue glitter and blue and green hexagonal sequins dance throughout the jelly giving each nail its own unique look.  It looks like lights bouncing off a midnight blue sea.  Because this is a jelly base you will need more than two coats.  I felt that three coats gave me the perfect amount of coverage and bling.
Application Tips
Use the least amount of strokes possible to keep the sequins in place.
Only wipe the brush on the side not touching the nail to ensure the sequins aren't dropped back in the bottle.
Wait a little longer between layers to avoid dragging.
Sunlight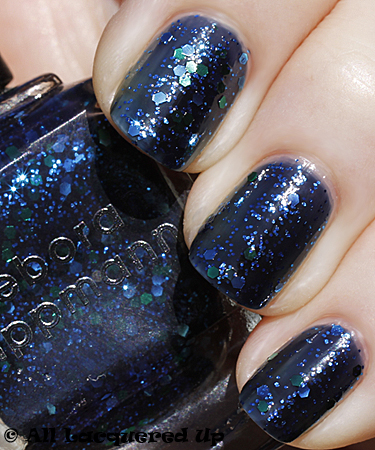 I was rocking out to Bad Romance and the rest of my Lady Gaga tunes while wearing this color and I think this will be the perfect manicure choice when I go to her concert on the 14th.  Bad Romance has a black semi-sheer jelly base that is packed with magenta glitter and hexagonal sequins.  It applies very much like Across The Universe so I used three coats with this one as well.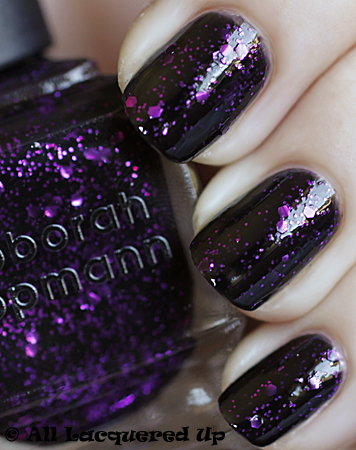 Sunlight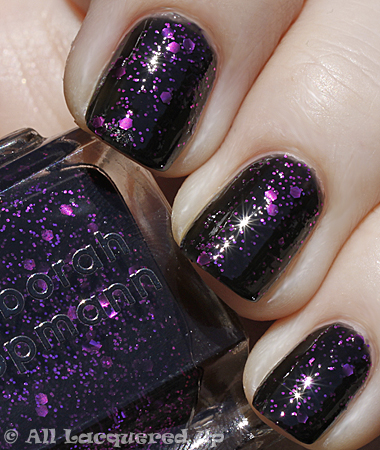 Removal and wear advice: Maybe it's the jelly base but these weren't as difficult to remove as traditional glitters. I applied some cuticle oil around the nail, held a HandsDown pad on it for 15 seconds and the polish slid right off. No real work required.
If you really want to punch up the look try layering these over lighter, brighter colors. I did a quick test of Across the Universe over a bright yellow (its color wheel complement) and the base took on a cool seawater green cast.
Bottom Line: Across the Universe gets my "must-have" stamp of approval. I'm over the moon in love with it. Each nail looks like a little piece of marine art. Bad Romance is fun with a rocker edge but if I had to choose one, ATU would win out.
Across The Universe and Bad Romance are available for pre-order now at Nordstrom.com as part of the Nordstrom Anniversary Sale.  Pre-orders will arrive July 12th. They launch on DeborahLippmann.com this August.  Also, US and international shoppers can purchase Deborah Lippmann polishes through Beauty.com where the colors will be available this August. Polishes retail for $18/ea.
Who's joining Deborah Lippmann at her glitter party? Are you dying over Across The Universe like I am?  What colors do you think would be good to layer underneath?
Disclosure: Product samples were furnished to me by PR for possible review.  For more info view my Disclosure Policy.