Coco Chanel's iconic style was a study in contrasts. She boldly mixed black and white, masculine and feminine, classic and modern. Paying tribute to her unique vision, Peter Philips, Global Creative Director of CHANEL Makeup, has created a makeup collection for Fall 2010 that brings bold emphasis to the eyes, and keeps lips soft and delicate.
I am the furthest thing from a style icon but I can still relate to the contrasting theme of Chanel's Fall 2010 makeup collection.  In some ways I am a walking paradox.  A math and science girl like me could never have imagined a career as a blogger.  As a Chemical Engineering major, I dropped out of Freshman English three times.  True story!
Keeping the emphasis on the eyes and nails, Peter Philips has mixed dark and stormy with sweet and feminine and the star of the show for me is Paradoxal, a grey violet shade that the wordsmiths at AOL StyleList have dubbed "griolet."

Paradoxal is definitely more grey than violet.  It's a deep and mysterious taupe-y grey with an undercurrent of purple shimmer that gives the color a cool sheen in natural light and a hint of sparkle in the sun.  Indoors it looks much darker than it appears on camera but it was pretty bright on the day I shot this.
For me it's a great twist on the greige look of last Fall that gave us way too many warm toned polishes and not near enough options for the cool toned girls.  Consider Paradoxal to be Particulière's violet cousin.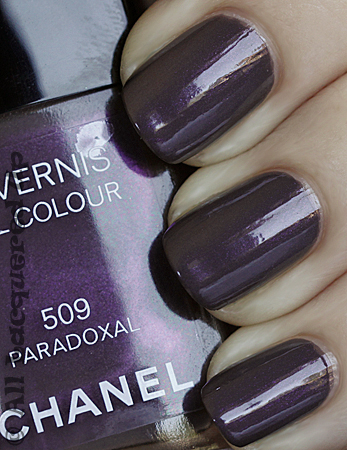 Sunlight
Application & Formula: The pigmentation in Paradoxal is spot on.  It's what one would expect from a Chanel lacquer.  Smooth, flawless coverage in two easy coats.  I had such ease of control over Paradoxal that I was able to create curves along my cuticle that are about as perfect as I can get them.  No cleanup necessary.
The question that remains… does Paradoxal have a twin? Unfortunately no.  I had a hunch that Dior Lemon Balm might be a winner but, even if it was, it's LE and not a cost effective alternative.  Sephora by OPI Metro Chic is a cool toned taupe but it's much lighter than Paradoxal.  In my stash there are no twins but if you already own Lemon Balm it may satiate your need.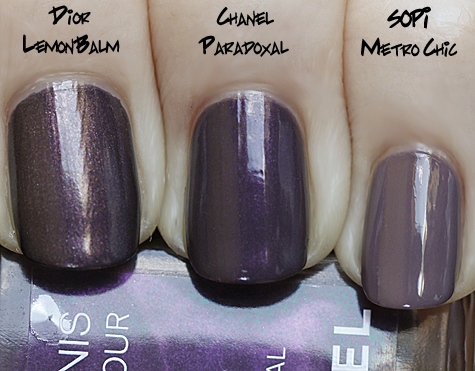 Sunlight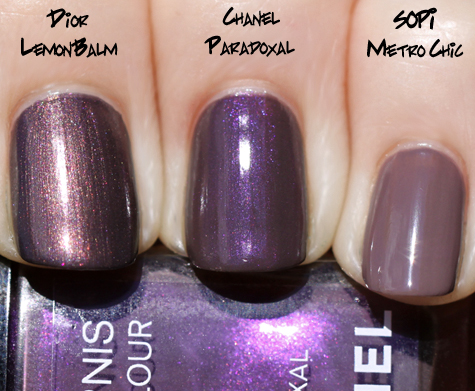 Bottom line: Paradoxal is unique enough to warrant a look.  It's sure to be one of the hot colors for Fall.  Considering that it lives up to the high Chanel quality standard nail fanatics have placed on the brand, you won't be disappointed in your purchase.
Chanel Paradoxal is available now on Chanel.com and at Chanel counters nationwide.  Polishes retail for $23/ea.
So what do we think?  Are you on board with "griolet" as the big trend for Fall?  Do you have suggestions for possible Paradoxal dupes?
Disclosure: A product sample was furnished by Chanel.  For more info view my Disclosure Policy.