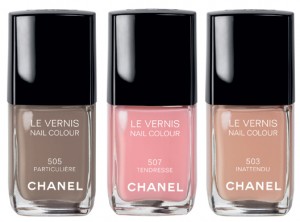 The palette for the Spring 2010 Chanel collection, Les Impressions de Chanel, is all about chic, wearable neutrals.  Creative Director Peter Philips wanted to honor Coco Chanel's legacy of creating classic, timeless pieces with a wardrobe of color that never goes out of style.Included in the collection are three new Le Vernis nail lacquers including Particulière, Tendresse and Inattendu.  You may recall the frenzy that erupted when Particulière was spotted on the Chanel Spring 2010 runway.  We all wondered, is it a khaki, grey, mushroom, dusty purple, mauve?  Would it just end up being a You Don't Know Jacques knockoff?  See for yourself after the jump!

Turns out, Particulière is a grayed taupe creme much lighter than YDKJ and cooler than other taupes like OPI Over The Taupe or Orly Prince Charming.  It's not quite what I was expecting but still unique.  I must admit when I first saw the color on the runway I expected it to be part of an edgier makeup collection.  To think that this type of hue is considered a timeless classic says a lot about where we've come in terms of acceptable nail colors.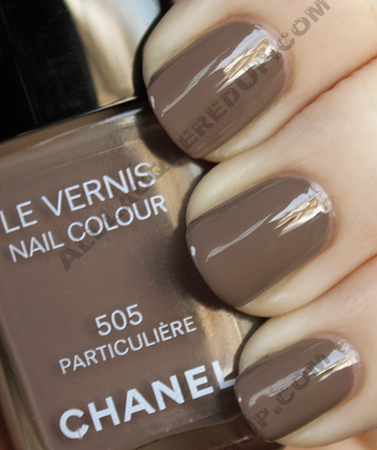 Application of Particulière was pretty much perfection.  It applied smooth and even in two coats drying to a high gloss shine.  I went looking for a low cost alternative and I'm sad to say Particulière has no dupes.  The closest I came was Essie Mink Muffs which is more brown and dries darker even though the bottle colors are similar.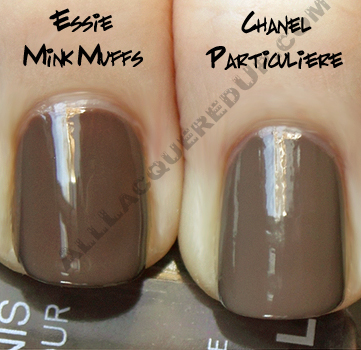 When I first saw Inattendu I thought perhaps I had found my "mannequin hands" shade but it's way too peach.  The peachy nude is actually much more flattering than I expected but the formula left me disappointed.  When you're paying for Chanel quality, it shouldn't take three coats to go opaque.  I can deal with three coats for a unique, special shade but for a neutral, not so much.  Not when there is undoubtedly a dupe somewhere on the market.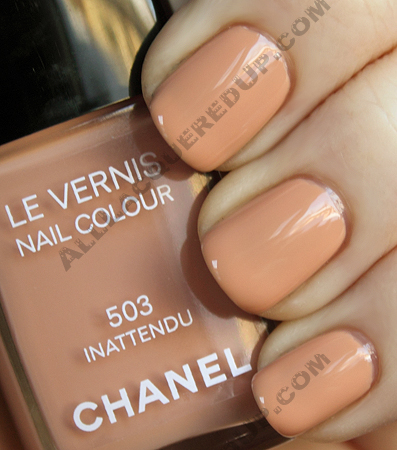 Tendresse is a baby pink sheer.  It's meant to be worn sheer but I wanted to see if it was buildable.  What you see below is three coats and we're still not anywhere near opaque's neighborhood.  Though for you sheer fans, Tendresse is streak-free so one coat adds a healthy pink glow to your tips.  It's got that lipgloss effect.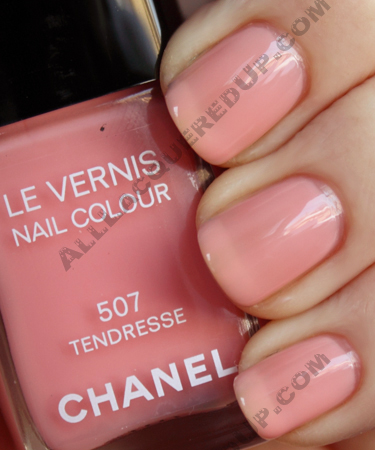 Les Impressions de Chanel is on sale now at your local Chanel counter and online at Chanel.com.   Polishes retail for $23/ea.
What are your thoughts on these polishes?  Did Particulière live up to your expectations or is it a letdown?  What about the other colors?  Are they staples you'll be adding to your collection?
Disclosure: A product sample was furnished to me by Chanel. For further information view my Disclosure Policy.