Mannequin Hands is a new series featuring ALU Fanatics showing off their "mannequin hands" shade. The one polish that best gives that elongated, flesh-toned look to their hands.
Helen from Helen & Sheenie's Nice Things is showing off her mannequin hands using OPI Barefoot in Barcelona which she describes as "a kind of dark, muted pink, with a bit of brown and salmon thrown in for good measure." Since she's not a MAC girl, Helen doesn't have a skin tone description to include.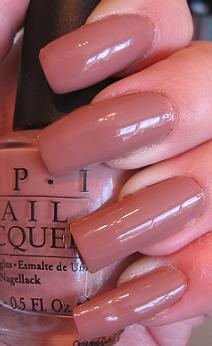 What do you think of Barefoot in Barcelona? Is that your mannequin hands shade?
Don't forget, TODAY is the last day to submit your Mannequin Hands pics. CLICK HERE for more details.