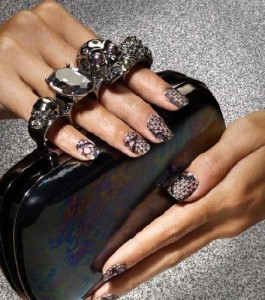 I'm sure you remember seeing these amazing lace nails created by Celebrity Manicurist Elle.  I posted about the lace nail trend back in September when Blake Lively and Jennifer Lopez were spotted wearing the look.  Scratch Magazine loved it so much, they featured it on their December cover.

Since then I've seen various tutorials pop up on YouTube but none of them have looked as good or been as detailed as this one by LovelyInstinct so I thought I'd share. She uses a different method than Elle in that she applies a base coat of color underneath the lace and a lot more products. Those of you that aren't a fan of seeing your natural nail through the lace, this is a great alternative.

To recap, these are Elle's instructions:
1. Start with a clean nail  2. Brush on Gel Resin  3. Pick a thin Parisian piece of lace and attach   4. Spray with Glue Dry  5. Cut and shape using an embroidery scissor   6. Re-Resin  7. To remove, soak in acetone
Have any of you tried lace nails yet? Do you have any application tricks or tips? If you're not a DIY gal, would you request this look from your manicurist?