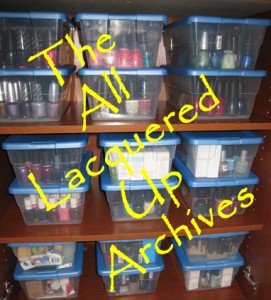 The ALU Archives focuses on older, beloved shades from the All Lacquered Up stash.Talking about Illamasqua's new colors yesterday reminded me that I had never showed you one of my fave shades from their core collection, Phallic.  First of all, you gotta love the name.  Like my blogging pal Mel with her Penis Tuesday series, I love a fun penis reference.  I even won a knit, purple, penis-shaped lip balm holder (link NSFW!) from her site. The fact that Phallic is a stunning blue shimmer makes it all the better.  Check out the gorgeousness after the jump!

Phallic is an eye catching jewel-toned navy with royal blue micro-glitter dispersed throughout.  As you'll see below, the glitter gives a "lit from within" glow when it catches the light.  The formula applies flawlessly.  It's not at all thick or gummy, just smooth perfection going opaque in two coats.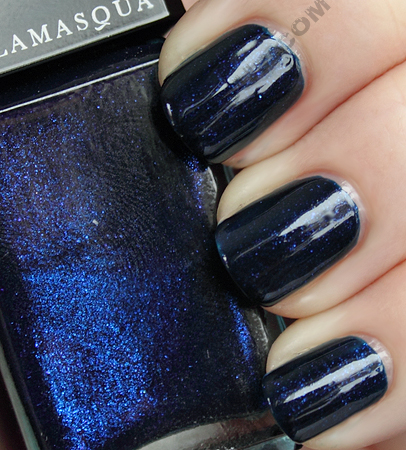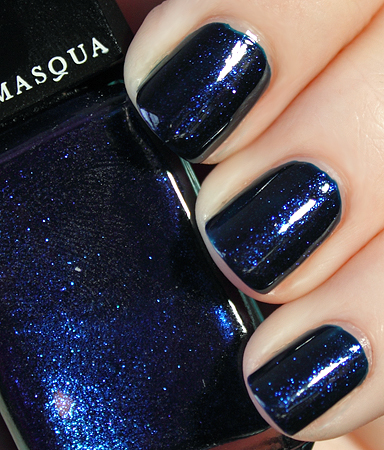 Illamasqua Phallic is available on Illamasqua.com, Sephora.com, select Sephora stores and Selfridges in the UK.  Prices vary by retailer.  In the US they retail for $14/ea.
Who else is a fan of Phallic?  If you haven't joined the cult of Illamasqua yet, will this one get you to succumb?
Disclosure: A product sample was furnished to me by Illamasqua. For further information view my Disclosure Policy.