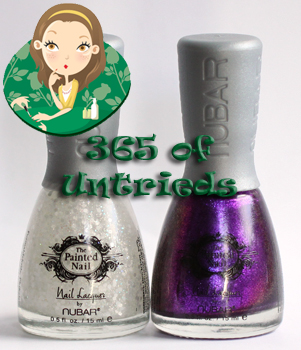 365 of Untrieds is my personal challenge to weed through the polishes in the ALU stash that I've been wanting to try but just haven't gotten around to.This morning I had the pleasure of speaking with the gregarious Katie Cazorla, owner of The Painted Nail salon, and star of the upcoming reality show Nail Files premiering the TV Guide Network on June 21st at 10pm EST.

Having seen the premiere episode, I can tell you that Nail Files should be added to your summer TV schedule. It has no shortage of over-the-top fun, drama and, most importantly, NAIL talk.

What impresses me about Katie is that in the two years since opening her salon, it has become a celebrity beauty haven and grown to include a boutique and product line with her own branded nail polish in collaboration with Fanatic fave Nubar.

I'll be sharing more of my interview with Katie in a separate post along with a fun giveaway but today I want to focus on the polish. I was sent a set of The Painted Nail's Spring/Summer 2011 collection and let me just say, it delivered on the glittery goodness that Katie is known for loving. The rich purple sparkler Legendary Lavender immediately caught my eye and I couldn't resist adding a touch of Moon Drops Top Coat. Check it!

Formula & Application: The Painted Nail nail polish is produced by Nubar, therefore it is 4-Free (including formaldehyde resin), free of camphor which can be an irritant and cruelty free. The bottle is the signature Nubar shape with the silver caps that appeared on Nubar's Prisms collection. When I spoke to Katie she mentioned that The Painted Nail brush shape is flat so it's easier to use but the bottles I received had the standard round Nubar brush so I don't know if there was a brush mix-up.
I'm sure the big question on everyone's mind is, is this just rebranded Nubar product? Katie assures me that her formula is different, a variation on Nubar's, and the colors are exclusive to her line. When I asked how the formula differed, she said the consistency of her polish is more jelly-like to make application easier for the DIYers.
While the ingredient lists are identical, I did notice a noticeable jelly texture to Legendary Lavender. It flowed on the nail like a sweet, candy-filled dream. I've always been a fan of Nubar so it didn't surprise me to end up smitten with The Painted Nail's formula as well.
In terms of pigmentation, it gets high marks. I did use three coats but I could have stopped at two. I just wanted to see if the color intensified with a third coat and it did. I achieved full coverage with two coats but preferred the color with three.

I'm going to give you a second to gawk at this color before we move on. It deserves it. I'm head over heels in love with The Painted Nail Legendary Lavender, named for the late Elizabeth Taylor with a portion of the proceeds going to the Elizabeth Taylor AIDS Foundation.
Seriously, I was flashing my nails in the sun while stopped at a traffic light, telling the boyfriend, "Will you look at how AH-Mazing this is?? Can you get over the sparkle." Obviously, he could get over the sparkle but I can't. Photos don't even do it justice. The red grape base is packed with blue and purple smooth micro-glitter that create this duo-chrome effect on the nail. It looks like five different colors based on the light and angle at which you view it.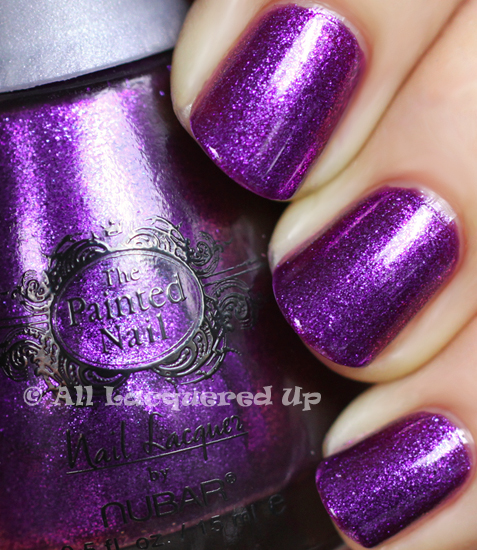 In doing my research I found a comment by Katie where she mentioned that her polishes are inspired by her clients' favorite Nubar shades. This makes total sense as Legendary Lavendar looks like a  jelly version of Nubar Pasadena Purple packed with a whole lot of glitter.
In addition to the six colored polishes in The Painted Nail's Spring/Summer 2011 collection, there is a glittery top coat called Moon Drops. It has a clear base with tiny holographic glitter particles and large dove gray sequins. Unlike other sequin filled top coats we've seen, these sequins aren't metallic or reflective. They have a satin finish to mimic the pale grey moon. I added a layer of Moon Drops to my ring finger as an accent.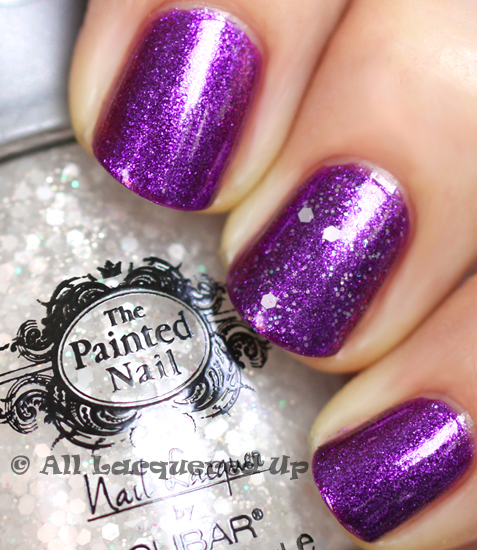 At this angle you can see the micro-glitter better. Now the glitter does dry with a bit of texture to what is otherwise a silky smooth surface so I would suggest adding a layer of traditional top coat.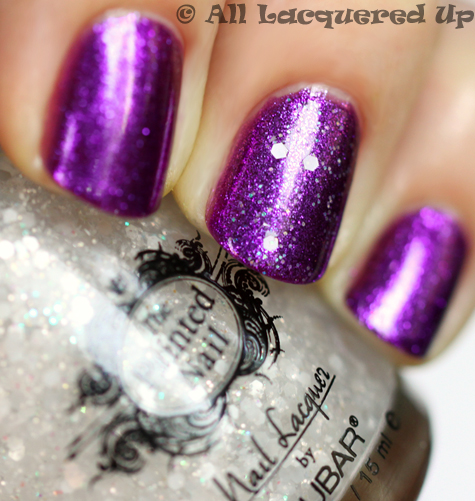 The Painted Nail Spring/Summer 2011 Collection: Malibu Dreams, Mestiza, Citrus Sparkle, Legendary Lavender, Fairy Wings, Electric Blue. As you'll see in the first episode, Electric Blue was named by Debbie Gibson but you will have to watch to see why. And Mestiza is a pet name that Vanessa Hudgens grandmother called her which means "Golden Child" in Filipino.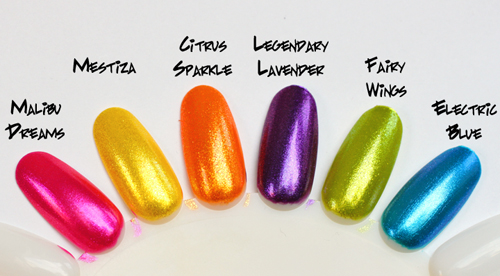 Bottom Line: As Barney Stinson would say, Legendary Lavender is "Legen… wait for it… DARY!" I feel like a giddy schoolgirl gushing over a new crush but I can't help myself. I want to pass Legendary Lavender a "Do you like me? Check Yes or No," style note in study hall. I'm going for a pedicure this weekend and for once, there's no question of what polish I'm bringing with me. I'm telling you, GET INVOLVED!
365 of Untrieds Stash/Share Verdict: Um, hmm, let me be coy for a second. Oh screw it, STASH!!! That goes for you too Moon Drops.
The Painted Nail Legendary Lavender and Moon Drops and the rest of the Spring/Summer colors are available now at The Painted Nail salon in LA and coming soon to online retailers ThePaintedNail.com, RonRobinson.com and Amazon.com. The Painted Nail polishes retail for $12.50/ea for a .5oz bottle.
Will you be tuning in to Nail Files this Tuesday? Thoughts on Legendary Lavender and Moon Drop? Have you visited The Painted Nail or tried their polishes before? Are you a reality TV junkie like me who is THRILLED to see a show focused on nails finally happening?
Disclosure: Product samples were provided by reps for The Painted Nail. For more info view my Disclosure Policy.