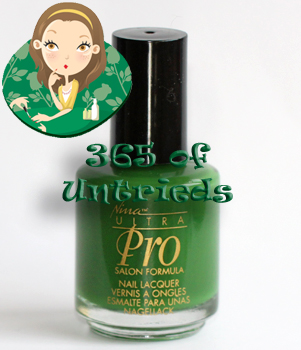 365 of Untrieds is my personal challenge to weed through the polishes in the ALU stash that I've been wanting to try but just haven't gotten around to.
I was recently telling a friend that my holy grail of greens, the thing I don't have, with the exception of a green holo (STILL waiting for that), is a dark emerald jelly polish. NARS Zulu gets all sorts of buzz but anyone who has tried it knows the formula is a train wreck. Even the Nfu Oh green jellies, while a huge improvement over Zulu, aren't perfect.
On a similar note, I stumbled across a FANTASTIC green jelly today while I was attempting to reorganize some of my polishes. It's not my dream emerald green jelly but it's still unique. I have no idea when Nina Ultra Pro Salsa came into my life. I think it was last summer when I purchased Never Glum Plum but can't be sure. Check it!

Formula & Application: Nina Ultra Pro polishes are 4-Free (includes formaldehyde resin). The fat, round glass bottles are topped with smooth, plastic caps. The brush is round, thick and pretty average in length. As I mentioned in my review of Never Glum Plum, the brush is a little too thick for my liking but now that I'm used to it, I was able to leave the proper amount of polish on it to avoid pooling.
The formula itself amazed me. It applies like a jelly, with the first coat going down a bit sheer but that's when the surprise comes. You see just how pigmented this polish is when you add a second coat and it's almost opaque. Now I applied Salsa really thin and BARELY needed a third coat so most users can probably get away with two. Like traditional jellies it dries super glossy.

Nina Ultra Pro Salsa is this incredibly vibrant grass green creme. It has some yellow undertones but not to the point where it becomes unwearable for the cool toned peeps. What I love most is that it has this delicious jelly texture yet it isn't streaky or sheer. It's my ideal for a green jelly and feels very similar to the creme/jelly polishes that Deborah Lippmann has been putting out lately, ie I Know What Boys Like.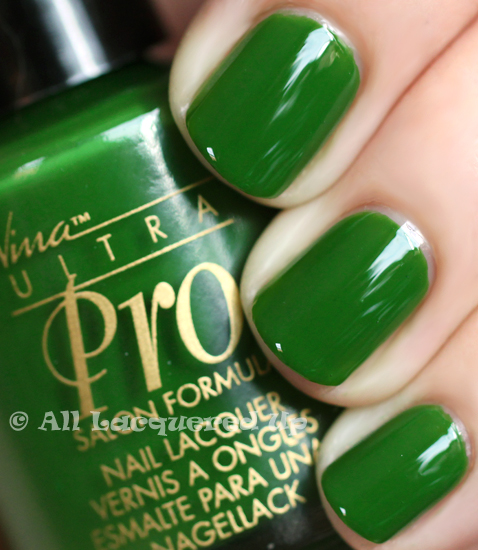 Bottom Line: Even if I do own a dupe to this color, I highly doubt that the formula can compare. That alone makes Salsa a winner and a must-buy in my opinion. The color is not only brilliant for summer, it would be fabulous for fall, spring, St. Patrick's day or the winter holiday season.
365 of Untrieds Stash/Share Verdict: In case my gushing wasn't enough of a clue, I'm STASHing it!
Nina Ultra Pro nail polish is available at Sally Beauty stores nationwide and online at SallyBeauty.com. I didn't see Salsa listed on the website but I hope it can still be found in stores. They retail for $4.29/ea for a .5oz bottle but are regularly on special and even cheaper with a Beauty Club Card.
Who else is smitten with Salsa? Do you own this beauty? Do you have a favorite green jelly that I'm missing out on?
Disclosure: I purchased this nail polish. For more info view my Disclosure Policy.