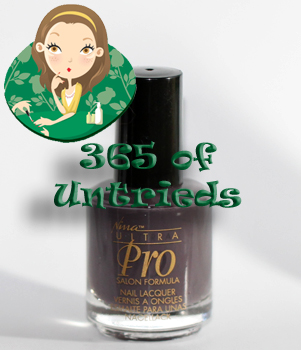 365 of Untrieds is my personal challenge to weed through the polishes in the ALU stash that I've been wanting to try but just haven't gotten around to.
While I love to shop, I tend to avoid actually going to stores as much as possible. You see, those "impulse buy" items were put in the checkout lane for me. I get easily distracted by something shiny and new and snap it up without even thinking about whether I need it.  For that reason alone, I prefer to shop online.  I find I'm much more methodical in my purchases that way.
Nina Ultra Pro Never Glum Plum is a casualty of one of my frenetic Sally Beauty shopping sprees, as are a lot of my untrieds.  Even though I own Chanel Paradoxal and various clones I still felt the impulse to buy this polish after reading about it on my friend Steph's blog.  You know, just to see for myself.  Oh the excuses I'll make to justify my purchase.
Long story short, the polish I just had to have that day has sat, untouched, for months and months… until now.

Formula & Application: Nina Ultra Pro polishes are 4-Free (includes formaldehyde resin).  The fat, round glass bottles are topped with smooth, plastic caps.  The brush is round, thick and pretty average in length.  I found the brush to be a little too thick for my liking.  It really sucks up the polish so I found myself having to really wipe it off between nails to avoid pooling.
The formula itself is really lovely.  They pack a lot of pigment into the polish without sacrificing texture.  In two easy coats I achieved full coverage and a finish so glossy you would think I had applied top coat.

Never Glum Plum is one of those funky greyed plum cremes, along the lines of Chanel Paradoxal.  Though it's missing that unique and distinctive shimmer that makes Paradoxal so special, you can see why comparisons were drawn.  Unfortunately, we've been dealing with overcast skies and huge rainstorms so doing any sort of real comparison was out of the question today.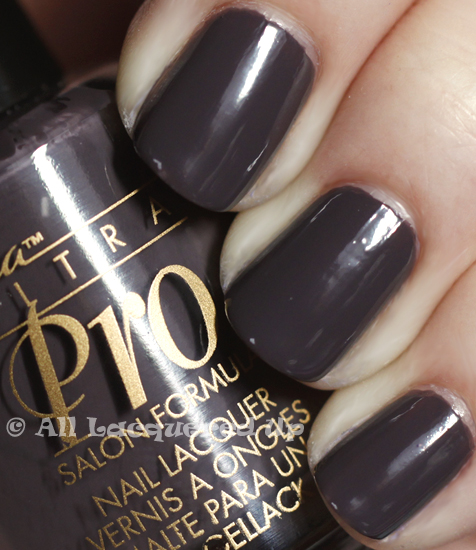 Bottom Line: If you're into these kind of funky grey/taupe/purple mixes, Never Glum Plum won't let you down.  It's budget friendly and accessible with a kick ass formula.  The brush could use improvement but if you can over look that, it's a great buy.
365 of Untrieds Stash/Share Verdict: Since I already own multiple colors in this shade range and Paradoxal trumps them all, this one is a SHARE.
Nina Ultra Pro nail polishes are available at Sally Beauty Supply stores and online at SallyBeauty.com.  They retail for $4.29/ea for a .5oz bottle but are regularly on special and even cheaper with a Beauty Club Card.
Will Never Glum Plum make your next Sally's shopping list?  Do you already own this color?  What do you think of it?  What are some other Nina Ultra Pro shades worth owning?
Disclosure: I purchased this polish myself. For more info view my Disclosure Policy.