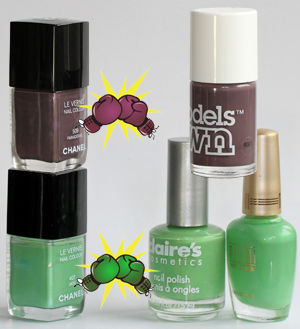 With every new Chanel nail polish launch the inevitable question is, are there any affordable alternatives?  More often than not the answer is no.  Chanel seems to find a way to add a little something special to their nail colors that make dead-on dupes an impossibility.  Of course there are plenty of nail polishes that come close but Chanel twins are usually hard to come by.

After the Chanel Jade craze last fall a number of brands came out with their own less expensive version of the pale green shimmer, most notably Charlotte Russe Jade and Claire's Dream Catcher.  And now Milani has entered the ring with their interpretation, Dress Maker. Back when I reviewed Chanel Paradoxal I was hard pressed to find any decent comparisons and then a reader email led me to Models Own Purple Grey.

Read on to see how these budget conscious versions stand up to two of Chanel's most buzzed about nail creations.  Let the smackdown begin!

First of all I have to send huge shout outs to The Daily Nail and Midwestgrrl for helping me get my hands on the Chanel Jade dupes.  I seem to have no luck with these types of searches.  Especially considering the Midwestgrrl lives in the CLE.  So big, big smooches to you both!
In comparing Chanel Jade to Milani Dress Maker and Claire's Dream Catcher I found that the latter are actually twins.  Don't get me wrong, they are excellent alternatives to Jade but neither one is a dead-on dupe.
They're both a little darker and a little more green.  They are also a lot more sheer.  I needed four coats of each and Dream Catcher gave me cuticle drag no matter how long I waited between coats.  Though considering how many people love that subtle Chanel shimmer I am happy to report that the shimmer is very similar in size and concentration.
Chanel Jade vs Claire's Dream Catcher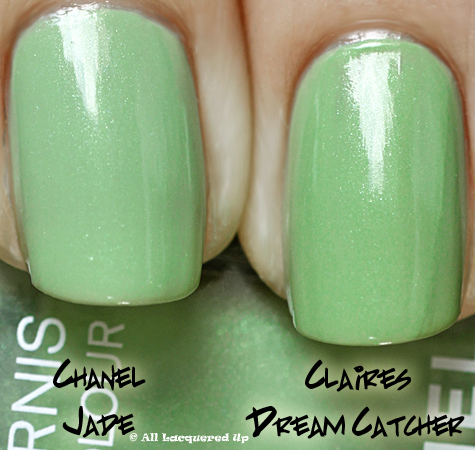 Chanel Jade vs Milani Dress Maker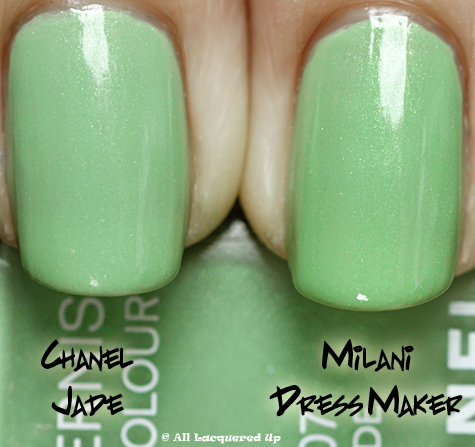 As I mentioned above, my stash is seriously lacking where colors like Chanel Paradoxal are concerned.  This murky purple-taupe hue is so on trend right now but Chanel does not fit into everyone's budget.  Enter Models Own Purple Grey.
No, the polish doesn't have the same fine purple shimmer but the base color is pretty close to Paradoxal.  And while the shimmer adds a bit of sheen to Paradoxal, it's not as detectable as Jade's.  Now Purple Grey's base is a shade lighter than Paradoxal so it's not a true twin but it's REALLY pigmented.  Like it totally kicks Paradoxal's butt in terms of opacity.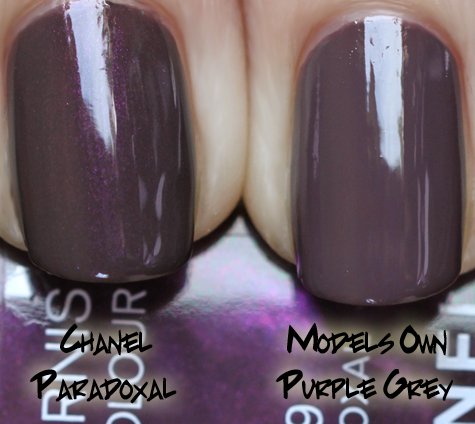 I attempted to replicate Paradoxal's shimmer by adding a layer of CND Violet Shimmer to Purple Grey but it lightened the color too much.  All the CND Shimmers lighten the color they are applied over, I just didn't expect it to be so dramatic.  One might have better luck mixing the two rather than layering.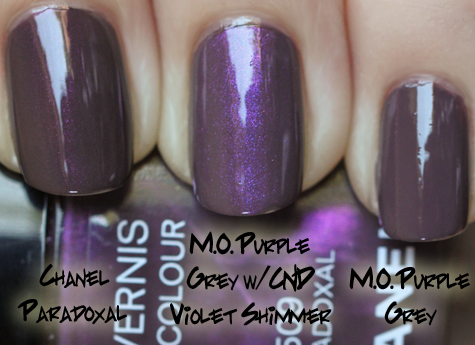 Judges Decision: In terms of dead-on dupes, the Chanel polishes still reign supreme.  Though if you don't mind the slight variance in color or lack of shimmer any of these dupes will satiate your lemmings and make your wallet very happy.
Milani Dress Maker is available on MilaniCosmetics.com for $4.49/ea or check your local Milani retailer to snag one.  Claire's Dream Catcher has been out for a while now and is still be found so you should have better luck than me in picking up bottle at a Claire's near you.
Model's Own recently reached its 10,000 Facebook Likes goal so they are running a 50% off sale from now through August 27th.  Use code FACEBOOK50 on orders of £20 or more at ModelsOwnIt.com.  While you're ordering make sure you get Slate Green, Jade Stone and Top Turquoise.  You'll thank me.
How many of you have opted for any of these Chanel dupes rather than take the plunge on the real deal?  Are you just as satisfied?  Who feels there is no substitute for the interlocking C's?  If you make a Models Own order, let me know what you picked up.
Disclosure: Product samples were provided by Chanel and Models Own.  The Milani and Claire's polishes were gifts from friends.  For more info view my Disclosure Policy.